Growing number of Latinos lead to evolving marketing techniques
For the first time, DePaul's College of Communication in conjunction with the Office of Global Engagement presented the Latino Media and Communication Series. The inaugural event titled "Engaging the Latinx Community with Dr. Sindy Chapa" was hosted on Monday, Oct. 9 at DePaul's Loop campus.
Kicking off the evening, Chapa addressed the crowd of students, professors and alumni with an eloquent, "buenas tardes, pueden levantar la mano los que son Latinos" or translated in English, "good afternoon, those who are Latino can you raise your hand?"
Half the room raised their hand. It was a fitting way to begin her presentation on the developing relationship between the growing number of Latinos in the United States and its influence on the marketing industry.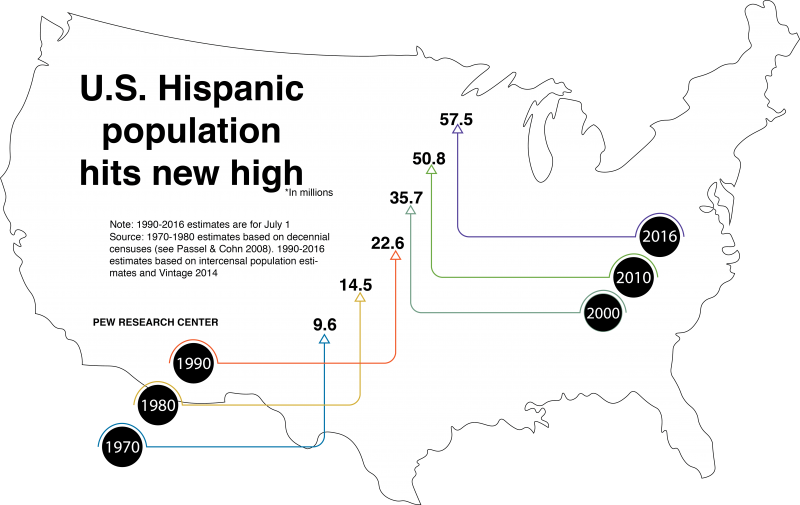 "We had two main objectives. One, to bring together students, alumni and industry friends around issues important to the Latinx community," said Maria DeMoya, a Latino Media and Communication faculty adviser and assistant professor. "Two, to educate the audience about the nuanced differences in engaging with Latinx consumers."
Chapa is the associate director for the Center for Hispanic Marketing Communication at Florida State University. Having been invited to speak by DeMoya, along with Ester Quintero-Guzman, the associate director of regional initiates, Latin America from the Office of Global Engagement, Chapa used her marketing research to give insight on how to better communicate and engage with a growing Latino market.
According to the U.S. Census, the Latino population in the year 2050 is projected to be 119 million people, translating to 28.6 percent of the nation's total population. This compares to the 54 million, or 17 percent, of Latinos reported in the most recent 2015 census.
"Before we talk about the importance of the Hispanic market, we want to know why (is it important)," Chapa said. "Everyone has said it is because of the growing population and that's the answer, but there are some other stuff about the Hispanic community that also makes it a very important market."
Chapa explained the key characteristics of the Latino community that appeal to marketers. Latinos have the highest usage of social media when compared to other ethnic groups. Latinas are becoming a significant demographic due to their rise in buying power as more are graduating from higher education and entering higher  paying careers.
Chapa presented a video showcasing the rising number of Latinos in America throughout the decades, as well as the ethnic group's growing market power.
"It's not just about numbers, graphs or projections. It's about the heart and the values behind it all," Chapa said as she reemphasized a point made in the video.
Culture and values play key factors in successfully reaching the Latino community, but Chapa emphasized looking deeper into core values of the Latino demographic in order to best predict and engage into the demographics' buying power.
Chapa explained the key consumer behaviors and core values of Latinos as collectivism (family orientated influence), power distance (respect for authority), masculinity (characteristics associated with gender), uncertainty avoidance (lack of risk taking decisions), indulgence, gender roles, time polychromatic (different perception of time) and high communication context.
"So how is this important in business and marketing?" Chapa asked. "Well, understanding attitudes and behaviors is important for the growth of the Hispanic market because of all the different opportunities and challenges we have in our field."
Chapa explained how the role of marketers and advertisers is to communicate in an effective way and create messages that will resonate with the target audience, which both will help engage Latinos. She emphasized the need for an emotional connection. 
"We can learn a lot more about these core values when we look into the cultural studies," Chapa said. "Hispanics in the U.S. have a transformation. It's because of the acculturation. It is because of our integration with other identities and it is because we have two languages…Then we also have those who are second and third generation or maybe those who are part of a different identity."
She went on to explain the varying multi-faced identities of Latinos throughout the United States. Those identities being Chicanos, Tejanos, Caribeños and Nuyoricans. She emphasized the importance of marketers recognizing each Latino identity because of its effects on different communicating forms in advertising. Creating ads that were bilingual are key to reach the targeted audience because it is an accurate representation of a Latino living in America today.
Media and Communication graduate student Stephanie Alban attended the event. She explained how she would apply Chapa's research in her work.
"We keep evolving culturally all the time so I will keep it in mind for the next one or two years but we are always evolving," Alban said. "We will be the leading targets for private and corporate organizations so I think there is going to be even more research done especially on all the subcultures within the Latino community. There's going to be different research on the generational groups especially with high use of social media."
Chapa also emphasized the importance of not resorting to stereotypes if marketers want to successfully thrive in the Latino community.
"To be honest, I haven't yet seen anything that breaks away from the stereotype in the U.S. They need to know how to do it before they do it and I don't think we've gotten to that point yet," Alban said. "You need to grow and continue to develop and advertising majors know that. There are a lot of things that need to change of our representation from how way we talk, the status we hold in the country, the jobs we have to even how we dress. I'm not sure what should change first, I think it's a process."
About the Contributor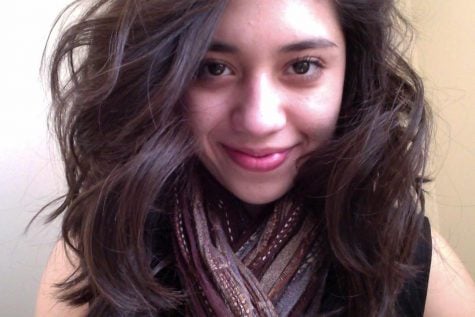 Yazmin Dominguez, Online Editor
Yazmin is the online editor of The DePaulia. She enjoys house music, storytelling, tough editors, and people who can make her laugh. Follow her on Twitter...