Red Bull Sound Select Presents: 30 Days in Chicago has officially kicked off. The Los Angeles-based event has brought its talents to Chicago to spotlight Chicago artists in a month long event at various venues throughout the city.
On Nov. 2, Metro held its second concert for Red Bull featuring Chicago artist's Ne-Hi and Whitney. Opening for them was Mt. Joy, an indie-folk band from Philadelphia. The sold-out show gathered its indie Chicago scene for a 3-hour night of tunes.
One of Chicago's very own rising indie-rock bands, Ne-Hi, released their album "Offers" back in February 2017. Ever since, the band has been touring the album across the United States, performing with other Chicago bands like Twin Peaks and, of course, Whitney.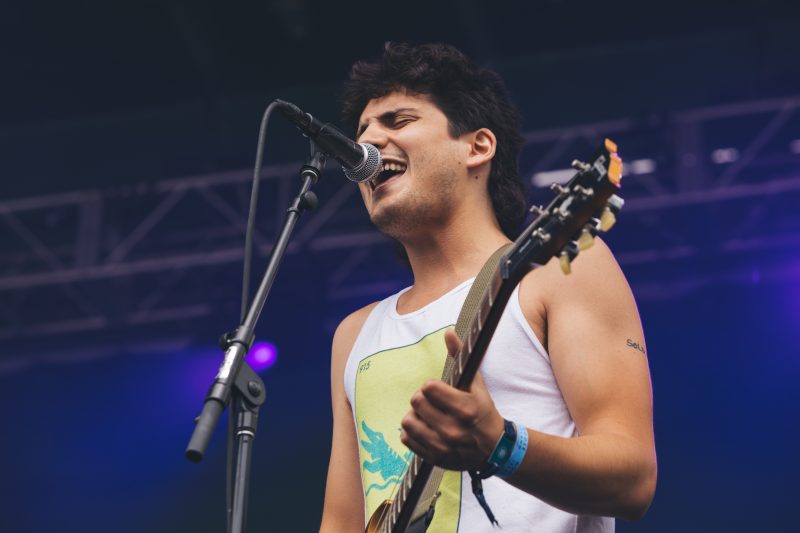 The four piece band consists of guitarists Mikey Wells and Jason Balla, drummer Alex Otake and bassist James Weir. In 2013, while college students, the band's local Logan Square basement spot became their own humble abode.
Now, playing sets at Pitchfork and securing their first ever show at Metro before the rapidly growing Whitney, the band has come a long way with their sound. The energy, though, hasn't gone anywhere.
The DePaulia spoke with songwriter and guitarist Mikey Wells before their Red Bull Sound Select show.
"We had three months of playing and when you just play every night and you learn what is working and what isn't. The Pitchfork set was the end of all of that routine," Wells said. "We've been a band for awhile now so you learn little things with three other guys that you don't even think you're learning."
The rockers opened with their 2017 single "Stay Young" and swiftly segued into their 2014 self-titled LP track, "Since I've Been Thinking."
"Chicago is a big city with a lot of music and art. You can afford to live here without breaking your back. You still have to work hard and make your rent," Wells said.
Wells also works at the Ukrainian Village bar, The Empty Bottle. Back in February, Ne-Hi's album release show for "Offers" occurred at his place of employment.
"I meet bands there that I really dig. I also get to see bands that aren't necessarily my thing. It helps because I see things and I can say, 'well, I don't want to do that,'" Wells said.
Before all of this, Ne-Hi initially came together to score a friend's film. Unfortunately, the film never got made. But fortunately for Ne-Hi, they did.
"Musician or not, anyone can say that music becomes some of the most memorable parts of a film. Outside of the visuals and the acting, it's something that I look for. Even the placement of songs in 'Goodfellas' is so stylized, it creates its own story," Wells said.
Both Ne-Hi and Whitney have never played at the Metro. The show kicks off a busy November month for the Red Bull Sound Select.
"Playing the Metro as a band for the first time is very exciting. It's cool that Whitney asked us to play. Doing different venues is always sweet and playing Chicago is always the best," Wells said.
Ne-Hi ends the year with a New Year's Eve set with Chicago's Twin Peaks at Thalia Hall.