Concert preview "For Emma, 10 Years," celebrating Bon Iver's legacy
Bon Iver announced a 10-year anniversary show to take place in Milwaukee, Wis. on Feb. 17 at the BMO Harris Bradley Center. The one-time concert, For Emma, 10 Year, is going to celebrate Bon Iver's debut album "For Emma, Forever Ago." The concert will feature Wisconsin bands Field Report and Collections of Colonies of Bees as the openers.
This anniversary show is more than just a celebration of an album, it's a reflection on the intricate career Bon Iver has cultivated in just 10 short years. A career that was developed with the influence of the openers Field Report and Collections of Colonies of Bees through their deep roots with the man who started it all—Justin Vernon.
Born and raised in Eau Claire, Wis., Vernon is best known as the frontman of Bon Iver.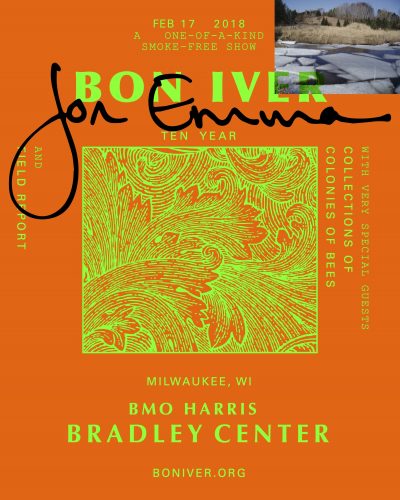 He has altered the sound of music across the board through his love for collaboration and creative nature. Vernon has collaborated with bands similar to his style such as The National, James Blake, The Staves and even to the far side of the spectrum, Kanye West.
There were two bands Vernon was involved in around the start of Bon Iver that helped mold Bon Iver's sound. Both of these bands involved the members of Field Report and Collections of Colonies of Bees.
The first is DeYarmond Edison, who is named after Vernon's middle names. This is the band that pushed him into the music scene before Bon Iver had even come to be. This band was created with the help of indie-folk artists Phil Cook and Christopher Porterfield of Field Report.
DeYarmond Edison explored their talents in North Carolina for the duration of their short career and then Vernon moved back home to Eau Claire following the break-up of the band and with his girlfriend at the time. It was this move back to Eau Claire that sparked the making of "For Emma, Forever Ago."
Before Bon Iver, there was "For Emma, Forever Ago." This album was ultimately a byproduct of Wisconsin's cold, dark winters and the break-up from DeYarmond Edison. As many indie fans know, Vernon is the guy who recorded an album while isolated in a cabin in northern Wisconsin.
This album coined a quiet, folky sound that would change the indie genre as a whole due to its sheer intimacy. The very popular "Skinny Love" finds its home on this debut album. The creation that came so naturally for Vernon stirred the music scene quickly for his ambiguous lyrics, soulful voice and creative producing and use of Auto-Tune that is so delicate it's almost unnoticeable.
This intended project needed a name. Bon Iver or bon hiver, meaning "good winter" in French, sprung from the show "Northern Exposure" which Vernon watched at the time he was creating the tracks for what would become "For Emma, Forever Ago."
A few years after "For Emma, Forever Ago" released, Vernon's old bandmate started his own project—Field Report—who will be playing at For Emma, 10 Year. Field Report began in 2011, long after the breakup of DeYarmond Edison.
The name Field Report is an anagram of Porterfield's name, similar to how DeYarmond Edison was fostered. The band released their self-titled debut album in 2012 followed by their latest 2014 album "Marigolden," which includes their indie-pop hit song "Home (Leave the Lights On)."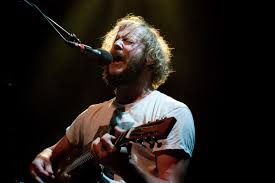 2011 was also a big year for Vernon. The self-titled album "Bon Iver" was released that year. The album opens with "Perth," which holds a fresh sound of new beginnings—a rebirth for Vernon after the dreary 2009 album.
This album uses mostly places for song titles to pull together the idea that places are memories and we are memories, so we are places. For example, the third track on the album "Holocene" refers to a bar in Portland, Ore. and the fourth track "Towers" is a University of Wisconsin-Eau Claire (UW-Eau Claire) residence hall where Vernon lived.
The album ends with the very 80's synth-pop tune "Beth/Rest," or the death of Vernon's depressed tendencies that were connected to "For Emma, Forever Ago." This album also marked the momentary resting period of Bon Iver.
After winning a Grammy in 2012 for album "Bon Iver," Vernon and the band walked away from the fame temporarily, putting an end to the band for the time being.
This time off didn't put a stop to Vernon's music making, but in contrast, resulted in a lot of collaborations. The first was the bounce back into Vernon's side project Volcano Choir. This band is made up of Vernon and the guys of Collections of Colonies of Bees, the second opener billed for the For Emma, 10 Year show.
Founded in 1998 by Chris Rosenau and Jon Mueller, the quite unusual Collections of Colonies of Bees has only one album. The 2004 "Customer" includes 10 songs, nine of which are titled "Fun" that lead to track 10, "Funeral." Wildly experimental, the ensemble from Milwaukee is what added synthetic vibes to Vernon's sorrowful lyrics with the creation of the band Volcano Choir.
This group started while Bon Iver was still in action. Their first album, "Unmap" was released in 2009. A few years later, Volcano Choir's last album, "Repave" was released in 2013 during Bon Iver's five-year hiatus.
Other notable collaborations during Vernon's time away from Bon Iver came through the Eaux Claires Music Festival. Co-curated by Vernon in 2015, this festival was created as a platform for collaboration among artists in the indie scene. The festival is a celebration of community, collaboration, and the only music festival that truly cherishes music. Through this festival, Bon Iver showed their face once again, creating the hunch that more music was to come. In 2016, the second year of the festival, Bon Iver played their latest album live before it was officially released, "22, A Million."
Bon Iver's latest album, "22, A Million" is a bible in its own uniquely-written way. Majoring in religious studies at the UW-Eau Claire, Vernon has clearly always had an interest in the greater meaning of life. The underlying concept of numerology is used to create music so deeply constructed around the notion that life may not have meaning, and that impermanence and our fragile existence is nothing to be feared.
10 years later, it's safe to say that aside from the overwhelming fame that Vernon has encountered, he doesn't regret it. Instead, he's celebrating it for the beauty that has become Bon Iver.
"We just thought we'd take a moment to reflect on this 10 years of being a band or a project, whatever you want to call it," Vernon said in an interview with the Milwaukee Journal Sentinel.
After the swirling transformation that has happened to Bon Iver with the release of "22, A Million" it's only right to dedicate a concert to reflect on what version of Vernon started it all, with bands that were right there with him the whole way.
Tickets are available through the Milwaukee Pabst Theater Group.