After 36 years at Allstate Arena in Rosemont, the Blue Demons finally opened up their new arena in the South Loop just next to McCormick Place on Cermak Avenue.
The arena has already held some events including a Bob Dylan and Chicago concert, exhibition games against IU Northwest a week prior to the opener against Notre Dame and the women's team's exhibition against Saint Xavier.
Many fans took a moment during the game to tour the concourse and gain a feel for the new arena after hearing quite a bit about it leading up to the season opener.
"I love that it is down here, hopefully it brings out of a lot of great crowds, but I think it's super clean and looks like an awesome arena," nearby resident Erin Minoff said.
One of the first things fans were curious to see is what the selection of menu options would be in the arena.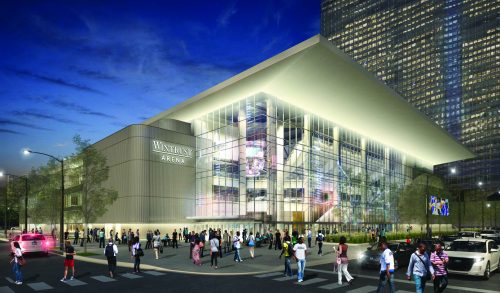 The food is pretty traditional for stadium food with Demon Dogs, Chicago Dogs, and Bratwurst available at 21st express.
In the mood for a burger, Cermak Grill offers two different burger options along with tenders and pizza. Alongside Cermak Grill, fans also have the option of a beef brisket, pulled pork or smoked sausage sandwich.
Season ticket holder Dave Torres was pleased to see a wider selection of options as opposed to Allstate Arena.
"Looks like they have a better selection than Allstate Arena, they have hot dogs, burgers, I noticed they had pulled pork," Torres said, "I'm going to try out one per game and see which one I like the best."
Among the early items Torres plans to try, the Demon Dog was high on his list, while he was saving one of the burger options for the Notre Dame opener.
As for the traditional options available at the arena, Minoff liked the options offered in line with what a fan would want coming to a game.
"We got a popcorn and a hot dog so just like pretty easy stadium food," Minoff said, "I feel like I usually come to these things looking for popcorn or a hot dog or pretzel so we had a beer and a snack and that was about it so it was good."
One thing fans will notice attending the arena in its first year is the spread out design with ample space between concession stands. Torres saw this as a nice feature allowing fans to move to and from their seats quicker, provided all the stands are open on game day including on the second level where his seats are.
"I think if they opened up some on the second level, that's where my seats are that would be awesome," Torres said, "But they're spread out enough where you can walk pretty quickly to where you are sitting."
Many of those stands on the second level were not open for DePaul's exhibition game against IU Northwest due to the lower attendance of an exhibition game.
Before and after the game, fans have some choices of places to go across the street with the Marriott Restaurant or Pizano's, with Papa John's Pizza, Happy Chinese Kitchen, Windy City Ribs or White Castle just a couple streets away.
Juan Rios, a manager at Windy City, believes the addition of the arena is going to help bring even more diversity to a neighborhood that has been growing in recent years.
"It's going to be huge, it's going to be great for the neighborhood it's already starting to show, just from the one night the first event," Rios said, "The South Loop has been expanding for a while now, I look it as bringing more diversity to the neighborhood."
Rios has already taken note of DePaul's schedule, as has their other restaurant La Cantina on Michigan Avenue, to make sure they are fully staffed as two of the top sit down restaurants near the arena. Neither restaurant had banners or schedules present in their restaurant, but did express interest in placing fliers around campus.
La Cantina Restaurant manager Jose Lozano noticed an uptick in people stopping into his restaurant a few weeks ago for Bob Dylan's concert one of the first events at Wintrust Arena.
"It was actually good, we got some people before the event and after the event we didn't get too many, but before the event we got some people that we knew were going to the event," Lozano said.
As DePaul settles into the city and South Loop neighborhood, fans are excited to see how the arena continues to grow and see plenty of room for more restaurants open a spot near the arena.
"I know there is a pizza place across the street which we went to for Season Ticket Holders, that place looked nice pizza is good there but I know around the area it is still up and coming," Torres said, "I didn't see much, I saw a White Castle, but I don't think I'm going to go there but I think there is room for more restaurants around the area."
PURCHASE TICKETS TO ALL BASKETBALL GAMES HERE: www.depaulbluedemons.com/tickets
---
[accordions]
[accordion title="Cermak Grill" load="show"]South Loop Burger- $8.50
Chedda Burger- $8.50
Chicken Tender Basket- $8.50
Pizza Slice- $6
[/accordion]
[accordion title="21st Street Express" load="hide"]Demon Dog- $8
Chicago Dog- $8
Sausage- $6.50
Bratwurt- $6.50
Hot Dog- $5.00
[/accordion]
[accordion title="Motor Row BBQ" load="hide"]Beef Brisket Sandwich- $11
Pulled Pork Sandwich- $11
Smoked Sausage- $11
[/accordion]
[accordion title="Snacks" load="hide"]Supreme Nachos (Chili, Cheese and Jalapeños)- $7
Nachos (Cheese and Jalapeño Slices)- $5.50
French Fries- $4.50
Freshly Popped Popcorn- $6.50
Pretzel- $6.00
Chili or Cheese Dog- $1.50
Eli's Cheesecake Dippers- $6.50
[/accordion]
[accordion title="Drinks" load="hide"]32 oz Fountain Soda- $6.50
21 oz. Fountain Soda- $4.25
Bottled Beverage $4.50
Bottled Water $4.00
16 oz Blue Moon- $8.00
20 oz Coors Light or Miller Lite- $8.00
[/accordion]
[/accordions]