Vinyl revival sparks Record Store Day
Corporate holiday, Black Friday, has showed to be no foe to the independent record store scene. Instead, indie scene supporters such as Record Store Day are hopping on the Black Friday band wagon due to the recent vinyl revival.
The vinyl revival refers to the renewed interest and increased sales of vinyl records, or gramophone records, that has been taking place in the Western world since about 2007. Since, vinyl sales are growing at a fast pace.
A main vehicle for pop music since the 1950s, vinyl lost popularity to CDs in the '80s and '90s. Since the 2000s, digital downloads and streaming have been all the rage. Ten years into the vinyl revival today, it's clear that the millennial generation are streamers as well as collectors.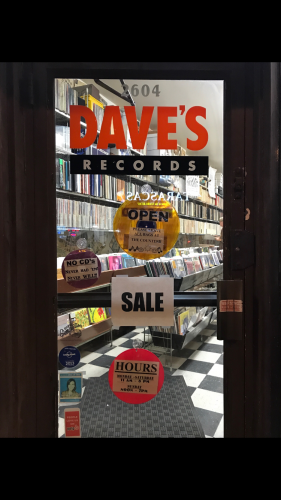 The growing sales in the recent years have been so dramatic that Sony Music even announced that by March 2018 they will be producing vinyl records in-house for the first time since ceasing production in 1989, according to a press statement released by Sony.
Along with the prevalent interest in vinyl comes the renewed interest in record shops. This interest has come about through the help of the annual worldwide event, Record Store Day.
Record Store Day is a yearly event that began in 2007, right as the vinyl revival was gaining speed. Record Store Day is an event where independent record store owners across the country and world celebrate and spread the word about the unique indie record culture. Every year there are exclusive releases that are distributed among these indie shops. But the festivities don't stop there. Record Store Day includes performances, cook-outs, body painting, meet and greets with artists, parades, DJ sets, and more based on location. In Chicago alone, there are 35 listed participating stores.
Record Store Day created a more recent event, Record Store Day Black Friday in 2010, three years after Record Store Day was established. This year on Nov. 24, the Record Store Day Black Friday event will occur for its seventh year. This Black Friday event attempts to redirect the focus of the biggest shopping day of the year to the special things found at local stores.
"We see our Black Friday efforts to promote these places in the face of a shopping frenzy as part of our overall mission to bring record stores to the spotlight," the press statement said. Celebrating art is the main goal for this event.
Record store owners in the Chicago area seemingly agree with this Black Friday initiative. The event is reminding music fans about the gift of music around the gift-giving season.
There are five record stores within close proximity to the DePaul campus that are participating in Record Store Day Black Friday: Dave's Records on Clark Street between Fullerton and Diversey in Lincoln Park, Reckless Records on Broadway Street in Lake View East, The Exchange and Groovin' High Inc. off of the Belmont Brown Line stop and the Reckless Records in the Loop near Millennium Park.
Reckless Records, one of the most widely known indie record shops in Chicago, is fully participating in Record Store Day Black Friday. The indie shop that opened in 1989 is on board with the Black Friday celebration.
"Record Store Day Black Friday is a good thing because it brings people to the store and hopefully they shop around a bit and don't just come in for the exclusive releases," said Tom Walczyk, floor manager of six years at the Broadway location.
Walczyk states that there's a diverse group of buyers since the vinyl revival began. For the new, younger crowd, there's a 10 percent student discount that Reckless offers.
"Records are a neat format. They're collectible and include a lot of artwork you wouldn't get through streaming," Walczyk said.
However, Walczyk brings up his concern about "record flippers." According to him, record flippers will wait in line for hours during events to get the exclusive releases and then they'll leave and sell the items online for more. He hopes this won't be an issue this upcoming Record Store Day Black Friday.
Aside from the issues that may arise with the popularity of vinyl, Reckless Records "brings a community feel because there are a lot of loyal shoppers," Walczyk said.
The Exchange off of the Belmont stop is also participating in Record Store Day Black Friday even though vinyl is number three when it comes to retail at this media exchange store.
Bernardo Ocegueda, the assistant manager of the store, states that the store is even opening an hour earlier than they usually do for Record Store Day Black Friday.
"I'm happy that Record Store Day is around for vinyl collectors," Ocegueda said, "Record Store Day gets the artist's names out there and is good publicity for musicians."
Ocegueda explains that through his own experience touring with a band, he would recommend buying merch and going to shows because "that's their main revenue."
Dave's Records in Lincoln Park is a true supporter of the vinyl revival. The store has a wide variety of vinyl available and is one indie shop that does not even sell CDs in stores. The sign on the door says it all,"No CDs. Never had 'em, never will."
The owner and operator, Dave Crain, has been running Dave's Records for the past 15 years. Crain states that he ordered as many exclusives as he could off of the Record Store Day Black Friday list and tried to base what he ordered off of what he thinks buyers will want.
"Record Store Day Black Friday isn't as busy as Record Store Day itself, but anything that brings people in I'm all for," Crain said. "Before Record Store Day Black Friday, Black Friday wasn't a big deal for us. We used to be more of an after-Christmas business, people would save up their money from the holidays and then come in and buy records. Now, there's more people buying records as gifts."
This Record Store Day event definitely pumped things up for Dave's Records and the indie shop scene across the board.
"In the late '80s and '90s, young kids didn't like to buy records," Crain said. They would walk into record stores and say, 'Aw, it's just records' and walk back out. I've also noticed more girls and women coming in and collecting music. I feel like it used to be a more male-dominated thing to collect. It's good that the pool of people is growing."
Record Store Day has a list of titles that are being released exclusively for the Black Friday event. The exclusives contain releases from artists such as Fleet Foxes, Tori Amos, Grateful Dead, Run the Jewels, Angel Olsen and many more. The releases range from limited edition EPs, exclusive colored vinyl, live recordings and box sets.