Connecticut races past DePaul 103-69
The number one team in the country Connecticut (8-0) proved why Friday night, putting on a passing clinic in route to a 103-69 victory over DePaul (6-3), who came in winners of three straight entering this highly anticipated matchup at Wintrust Arena.
After the game, DePaul head coach Doug Bruno tipped his hat to the Huskies and noted this will be a good experience for his team.
"It's the best team in America, we want to test ourselves against the best team in America," Bruno said. "We played competitive basketball for a few minutes, we played exhibition basketball for more than a couple minutes, I don't like the results, but I know that we are better for it to play these types of games."
The Blue Demons got off to a fast start jumping out to an early 10-8 lead after an Amarah Coleman three. The Blue Demons utilized a press most of the night which was something Connecticut's head coach, Geno Auriemma, saw as an opportunity for his team to share the ball. The Huskies did make the Blue Demons pay finishing with 34 assists on 41 made baskets.
"We spend a lot of time on it, we spend a lot of time passing the ball, we spend a lot of time trying to recruit players that can pass and actually want to pass," Auriemma said. "We've always been like this, we've always valued getting an assist rather than someone getting the ball and playing one on one."
After an Allen jumper with 5:03 remaining the first quarter, the Huskies quickly went on a 10-0 run thanks to back to back threes from Crystal Dangerfield to open up a 13-point lead. Dangerfield finished with 18 points all coming behind the arc where she finished 6 of 7. Auriemma not only loved what Dangerfield was able to do shooting the ball, but everything else she did seeing the floor.
"She sees so much, she sees things and she has a great feel for the game and her instincts are good," Auriemma said. "So when the floor opens up like that, and she can have a lot of open space to work with she's pretty dangerous she played great tonight, she was really really good tonight."
The Huskies opened up a 13-point lead 33-20 after the first quarter behind 10 assists on 13 made baskets. The Blue Demons did their part to hang with the Huskies knocking down four first quarter threes.
As the Blue Demons went cold in the second period, the Huskies stayed hot opening up a 27-point lead with just over a minute remaining in the first half.
While the Blue Demons did a nice job forcing the Huskies into 10 first half turnovers, they only converted this into 10 points. The Huskies also forced the Blue Demons into nine first half turnovers.
The Huskies took control early taking a 61-38 lead to the half after shooting 60 percent in the first half with five players in double figures. Huskies Crystal Dangerfield was one of multiple players to hurt the Blue Demons from outside finishing with 12 points while knocking down four of five three pointers in the first half.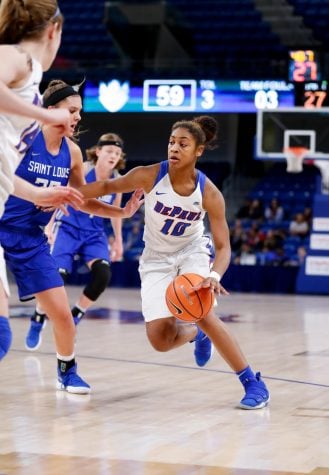 The Blue Demons hoping to wear down a Huskies team that only plays seven players opted to play 11 players in the first half, frequently substituting in new lineups every couple of minutes. Amarah Coleman led the way with nine first half points, while Ashton Millender and Tanita Allen both had eight. Coleman finished with 16 while Allen was the only other Blue Demon in double figures with 11. As an undersized team, Coleman knew it was going to be tough against a UConn squad with some of the best size in the country.
"It's always going to be that situation each game we're a pretty undersized team so coach really stressed the rebounding factor in the game," Coleman said. "We did not take care of that, they killed us on the boards so we know going into the Northwestern game what we really need to focus on."
The Huskies continued to move the ball in the second half opening up with five assists on seven made baskets to open up a 75-42 lead with four minutes to play in the first half.
The Blue Demons will have to regroup quickly with a trip to Northwestern up next on Wednesday.
After the game, coach Bruno stressed the importance of giving the players tomorrow off to reset before focusing on an an important
"Well first off I think the best they can do tomorrow is take a day off," Bruno said. "They're going to get tomorrow off, a lot of crazy coaches would try to outwork the situation, but I think that's pretty fool hearted these players need a break."
After tomorrow, however, coach Bruno noted they will prepare for an important matchup with crosstown rival Northwestern.
"People don't get it, unless you're from Chicago and understand the cool aspect of local rivalries," Bruno said. "These are big games even though they don't appear on the national scene like the big games."
DePaul beat Northwestern 89-66 last season at McGrath-Phillips Arena and the Wildcats will be looking to return the favor when the Blue Demons travel to Evanston.