Blue Demons welcome No. 1 ranked Villanova to Wintrust Arena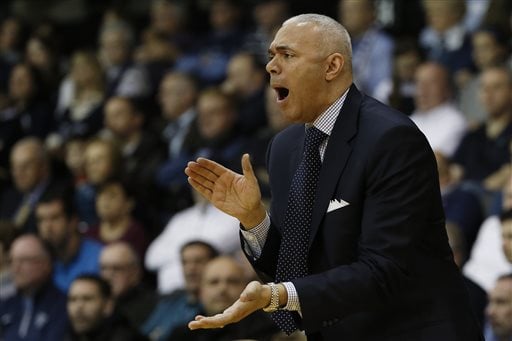 Hang on for a minute...we're trying to find some more stories you might like.
When it's an argument whether preseason Associated Press All-American Jalen Brunson is the best player on the Villanova Wildcats (12-0) it shouldn't be hard to figure out why the Wildcats are undefeated and will slot in at No. 1 in both polls going into a 6:30 p.m. matchup against the DePaul Blue Demons (7-5) at Wintrust Arena Wednesday.
Brunson, a junior from Lincolnshire, Ill. has averaged 18.1 points per game on 60.1 percent from the field including 53.1 percent from behind the 3-point line. But, it's two-way superstar junior Mikal Bridges that has shot up NBA draft boards almost as fast as his improvement in 3-point field goal percentage (29.9 percent his freshman year, 39.3 percent his sophomore year, 46 percent his junior year). Bridges, the man with the 7-foot-1-inch wingspan, is one of the best perimeter defenders in the country and averages 17.3 points per game on 51.4 percent from the field.
Las Vegas has Villanova as 15-point favorites for the game on Wednesday evening. Villanova owns a 24-8 advantage in the all-time series between the two teams and the Blue Demons are 3-20 all-time in matchups against opponents with a No. 1 ranking at the time of the matchup. DePaul head coach Dave Leitao hasn't yet cracked the code for beating the Wildcats, posting an all-time 0-4 record against Villanova. Last season, the Blue Demons narrowly fell to the then No. 1 ranked Wildcats 68-65 on Dec. 26 and then lost 75-62 in a Feb. 13 meeting with the then No. 2 ranked Wildcats.
The Blue Demons will have to contend with one of the best offenses in the country powered by Brunson and Bridges. Villanova comes into the matchup on Wednesday ranked No. 21 in the country in field goal percentage (50.6 percent), No. 12 in 3-point field goal percentage (41.6 percent), No. 18 in points per game (86.5), and No. 7 in offensive efficiency. The Wildcats have five players that average in double digits in scoring (Bridges, Brunson, Phil Booth, Donte DiVincenzo, and Omari Spellman) and have six players that shoot at least 40 percent (minimum two attempts per game) from behind the 3-point line (Bridges, Brunson, Booth, DiVincenzo, Spellman, and Collin Gillespie). The Blue Demons are generous defensively to opposing 3-point shooters who shoot the ball at a 38 percent clip from beyond the arc (Blue Demons rank 301st in the country in opponent 3-point field goal percentage).
The Blue Demons concluded a difficult non-conference schedule with an 83-66 win against Miami (Ohio) last Thursday. In his return from a knee injury that sidelined him for three games, graduate senior center Marin Maric tied his season high with 22 points in 24 minutes of playing time. Junior Max Strus has heated up as well over the last two games, averaging 27 points on 55.9 percent from the field and has been the Blue Demons best weapon this season on the offensive end.
CBS Sports Network will televise the game with Jason Horowitz handling play-by-play, Steve Lappas as the color commentator, and Jenny Dell as the sideline reporter. WSCR 670 AM will have the game over the airwaves with Zach Zaidman as the play-by-play announcer and Jeff Blanzy as the analyst.
After this battle with Villanova, the Blue Demons will hit the road to take on No. 6/5 ranked Xavier on Saturday at 1 p.m.