Maric's return powers Blue Demons to victory
On Thursday night, the DePaul Blue Demons found out that basketball is much easier with 6-foot-11-inch graduate senior center Marin Maric healthy and back in the lineup.
And Maric found out how much happier his life is when he gets to play basketball as opposed to when he has to watch it from the sideline.
"I was just ready to play," Maric said after the game. "I wish I could have played against Northwestern, but I couldn't move like I did today. I'm happy to be back."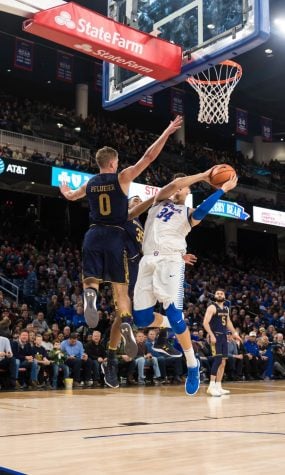 In an 83-66 Blue Demon (7-5) win against the Miami (Ohio) RedHawks (7-5), Maric tabulated 22 points on 6-for-8 from the field and 9-for-10 from the free throw line to go along with five rebounds and one assist. His 22 points were tied for a season high (Nov. 24 against Oregon), but in that game he played 39 minutes whereas tonight he played just 24 minutes.
"I couldn't be happier for him," Blue Demon head coach Dave Leitao said after the game. "I thought he was really good today and his energy (was great). Offensively, he did some really good things both facing the basket and back to the basket. His coverage, his defense, he did all the things that a big guy could do for you."
Maric banged knees with an opponent in the first half of the Blue Demons 65-55 win against the University of Illinois at Chicago on Dec. 9 and missed the rest of that game and matchups last week against Alabama A&M and Northwestern with the injury. Tonight, he wasn't on a minutes restriction even though he played just 24 minutes.
Tonight, he was the tallest, most physical player in the game and played like it the entire night, establishing deep post position that led to easy buckets off entry passes and meticulously backing down defenders in the post for easy looks around the basket. He helped the Blue Demons outscore the RedHawks 36-16 in the paint.
"He provides another really good option for us (offensively)," Leitao said. "That we can go down low and have somebody and so that we don't necessarily have to be one dimensional."
Maric also flashed the range that gives him the potential to be a truly tough guard for any defense. Maric stepped out and knocked down a three at the 14:45 mark in the second half, although he missed two other looks from beyond the arc. He is 3-for-8 (37.5 percent) from 3-point range this season.
While Maric was dominant inside, a familiar face, junior guard Max Strus, led DePaul on a 14-0 run from the 9:10 mark to the 5:14 mark in the first half to help the Blue Demons take a 26-17 lead. Strus had eight points during this stretch and finished the half with 16 points. But the RedHawks answered with a 6-0 run of their own to pull back to within three points and force Leitao to take a timeout at the 2:42 mark. DePaul finished the half strong and went into halftime with a nine point lead when Strus hit a 3-pointer at the buzzer (he finished the game with 21 points).
Eli Cain had a bounceback night after a forgettable outing against Northwestern on Saturday. Tonight, he finished with 19 points on 6-for-13 from the field including 2-for-4 from behind the 3-point line.
"I love that guy to death, his heart is pure I think he wants something really good to happen to this team," Leitao said about Cain after the game. "He didn't play well last game and I think he took it really hard so for him to bounce back at this time going into an 18-game murderous stretch (the Big East schedule) is really important for his confidence and really good for us because we are going to need his diversification (because) he's going to have to continue handling the ball for us but score as well. I think this is a good step forward to understand that balance that we're going to need."
The Blue Demons used an 8-0 run from the 6:18 mark until the 3:45 mark in the second half to take a commanding 18-point lead in the game. The stretch featured another Strus 3-point field goal and a technical foul charged to RedHawk head coach Jack Owens. The Blue Demons cruised the rest of the way en route to a comfortable 83-66 victory.
DePaul begins Big East Conference play on Dec. 27 when they welcome No. 1 ranked Villanova to Wintrust Arena for a 6:30 p.m. showdown. DePaul escaped a difficult non-conference schedule with a 7-5 record.