Who's the point? Breaking down the Blue Demons point guard situation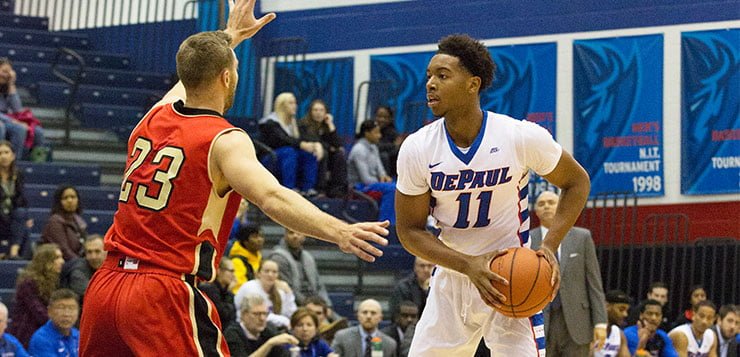 In the DePaul Blue Demon's 91-74 win against the St. John's Red Storm on Jan. 6, Blue Demon junior point guard Eli Cain scored 11 points to reach 1,000 points in his career.
When Cain arrived in Lincoln Park prior to this season, he probably didn't envision scoring his 1,000th career point while playing the point guard position. Second year point guard Devin Gage seemed primed to take the next step in his development and incoming freshman point guard Justin Roberts was too talented not to garner minutes in his freshman season, leaving Cain to play his familiar two-guard role.
But when Gage ruptured his Achilles tendon against Central Connecticut on Dec. 6 and the Blue Demons found out he'd miss the rest of the season with those injuries, plans quickly changed.
In a post-Gage world, how have the Blue Demons fared at the point guard position?
Eli Cain
Cain has had a Jekyll and Hyde experience since an injury to Gage first thrust him into the point guard role on Dec. 9 against the University of Illinois at Chicago.
His season debut in the role was a raving success, as he recorded a then career high with eight assists against UIC and then another eight assists against Alabama A&M two days later.
But even as Cain qualified his seemingly seamless transition into the point guard role with the fact that he played this position in high school and in AAU ball, DePaul head coach Dave Leitao warned that having to play Cain at point wasn't an ideal scenario for the Blue Demons.
"Moving forward, we have to figure some things out because off the ball he (Cain) has great value and on the ball, not diminishing that value particularly as a scorer (but it's not the same value)," Leitao said. "There's a very thin line between how you handle each possession when you're on the ball and when you're off the ball. We have to figure it out. But right now, it's a next man up mentality."
The warning was ominously accurate. In the Blue Demons last seven games with Cain mostly continuing to run the point, Cain averaged 9.4 points on an inefficient 28.6 percent from the field (29.2 percent from 3-point land) and has averaged 4.3 assists per game to 3.9 turnovers. Regardless, Cain has started every game at point guard during that stretch and has averaged 32.6 minutes of playing time. Against Marquette on Monday night, he scored five points on 2-for-10 from the field.
The assist to turnover ratio during that seven-game stretch (which works out to 1.10) is problematic, as the ideal is to have at least a 2.0 assist/turnover ratio. At times, the Blue Demons offense has looked lost with Cain at the point guard (admittedly not all of his fault) such as during the second halves of the Northwestern and Xavier games.
To his credit though, Cain has developed some synergy passing it to Max Strus in places where he can score and has shown the ability to dish out the highlight-reel pass on occasion.
Regardless, Cain's value is as a scorer, and having to worry about distributing the ball and running the offense mitigates some of that value. Four of his five most efficient scoring nights (based on field goal percentage) came before he had to assume point guard duties. Unfortunately, continuing to play him at point guard is more of a necessity than anything else at this point.
"We have no choice, obviously, with Devin going down," Leitao said. "He's growing in that position and it's a work in progress it's not something that he anticipated nor did I so it's a work in progress."
Justin Roberts
This freshman has all the talent in the world.
Blessed with first-step quickness that can't be taught and with a fairly reliable 3-point shot (36.8 percent from deep) that makes his offensive game far from one-dimensional, Roberts is going to be a key piece on this DePaul team.
Consistency has eluded him though.
He has his signature games: a 19 point, five rebound, five assist effort on Nov. 17 against the University of Illinois and a 16-point performance on 8-for-12 from the field on Dec. 30 against Xavier.
But he's also had dud games. He's had ten games this season where he failed to score more than two points, and has had nine games where he failed to dish out more than one assist. His minutes have fluctuated throughout the season because of some issues defensively, particularly in the game against UIC where he played just nine minutes and at one point was pulled after one possession after coming back into the game because of a mistake defensively.
"I'm trying to raise the bar very quickly for him as a young guy," Leitao said about Roberts after a win against Alabama A&M on Dec. 11. "Play with a little intensity, (be) a little more vocal, bounce around a little bit more. Sometimes even making a mistake or two but making an aggressive mistake. As he grows I'm sure he'll understand that a little bit better."
Much to the chagrin of some fans, when Roberts has shared the floor with Cain the former has frequently deferred to the latter in terms of who runs the offense. Roberts has played 16.3 minutes per game since Gage's injury (averaged 16.4 minutes per game prior to Gage's injury) and played just 11 minutes against Marquette on Monday night. He hasn't earned a start, as Leitao seems uncomfortable with giving the inexperienced freshman the keys to the offense.
"Justin has to continue to grow so that we can trust that his minutes will be increased and there's no drop off when we go to the bench," Leitao said after the UIC game.
Flynn Cameron
The great unknown from the land of the Kiwis.
New Zealand-born point guard Flynn Cameron enrolled at DePaul at the semester break. He arrived on campus last Wednesday, but hasn't played in the two games since he arrived.
Here's a highlight video to show what the Blue Demons are getting with Cameron.
Initial impressions. Doesn't have devastating first-step quickness, but makes up for it with clever handles and an ability to create space for himself on drives. Great passer, looks like a natural point guard. His range extends out to the 3-point line. Pickpocket defensively.
Cameron participated in several national basketball camps in the United States and also represented New Zealand in the 2017 FIBA U19 World Championships last summer in Cairo, Egypt (averaged 4.6 points per game on 54.5 percent from the field and 2.7 rebounds and assists per game).
Whether the international experience translates to a more seasoned freshman remains to be seen.
The Blue Demons could have the 6-foot-3-inch Cameron assume the point guard duties once he arrives at DePaul, pushing Cain to his more natural shooting guard position. This would displace Brandon Cyrus back to a reserve role and Roberts would continue as backup point guard.
However, Leitao could take the opposite approach and continue to defer to Cain's experience (in his third year as a productive collegiate player) even with Cameron in the fold which is consistent with what he has been doing since Gage's injury.
With Cameron presumably entering the fray at some point this season, the drama with the point guard rotation could be just getting started for the Blue Demons.