Beach Bunny
DePaul-based rock band releases new single, "Sports"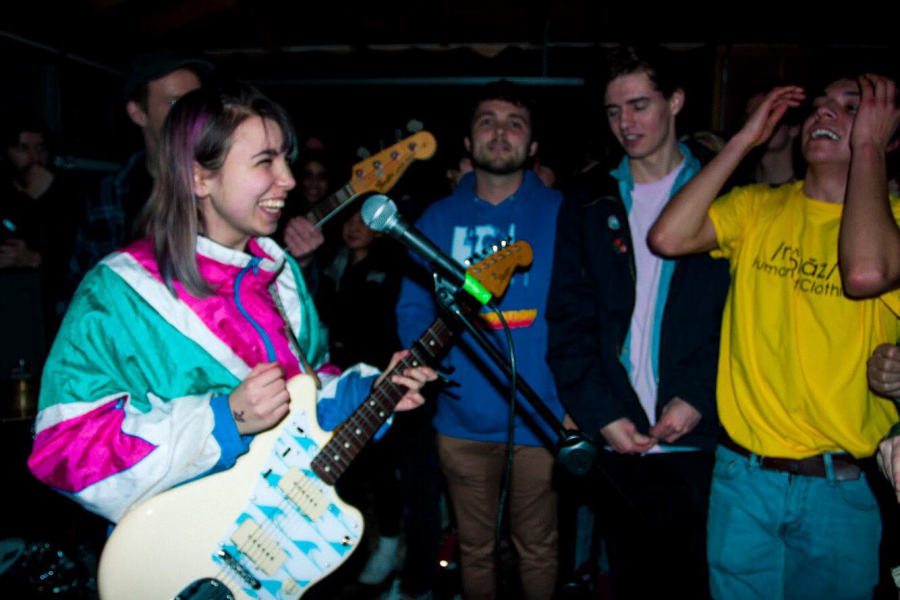 I was first introduced to Beach Bunny, or should I say DePaul junior, Lili Trifilio, at a mutual friend's house in the spring of 2017. Our friend Alicia Maciel, also a DePaul junior and now the manager and promoter at Fifty50 Shows, had opened her apartment to her friends who were interested in playing acoustic sets in front of a casual audience. I was immediately captivated by Beach Bunny's smooth, dreamy vocals and the way her lyrics boldly exposed her personal experiences with heartbreak, insecurity and boys.
"As a solo artist, she has always captivated the audience with her voice, composition, cuteness and sincerity," said Maciel.
The next time I saw Beach Bunny was a few months later in June of 2017 when the group held a release show at the Elbo Room in Lakeview for their latest EP, Crybaby.  By this time, Beach Bunny had expanded from just Trifilio on vocals and guitar to include DePaul junior and lead guitarist Matt Henkels, drummer Jon Alvarado, and bassist Aidan Cada. The three songs on the EP were the first Beach Bunny songs to be written and performed by the full band, and I was pleasantly surprised to discover that the addition of more instrumentalists had given a both new depth and a new energy to Trifilio's catchy tunes.
"[A] full band has definitely changed Beach Bunny's sound," said Trifilio. "Although the vocals and melodies are consistent with the old sound, now we're able to rock out. Live, Beach Bunny went from a bittersweet solo artist to a loud, full sounding project, and I couldn't be happier playing beside the boys."
On Jan. 1, Beach Bunny released their latest single, "Sports." The song features Beach Bunny's signature danceable grooves paired with unapologetically honest lyrics about waiting for commitment in a developing romantic relationship. The single has already accumulated nearly 20,000 plays on Spotify alone. After I heard it, and then played it on a loop for what seemed like hours, I knew I had to get to the next Beach Bunny show.
I saw Beach Bunny again last weekend on Saturday, Jan. 13, at a garage show in Humboldt Park. The composition of the crowd was something I was expecting: college-aged kids looking like your average indie rock fans with tacky sweaters, full-rimmed glasses and cuffed jeans, packed the small garage. However, what I did not anticipate was how well Beach Bunny, and "Sports" in particular, would be received. Fans in the back of the garage were swept off their feet by a frantic garage rock mosh pit. People swung from the Christmas light-adorned rafters, hoping to get a better view of Beach Bunny. Fans nearest the band screamed Trifilio's lyrics back at her, urging her to "leave the games for the girls on the tennis court."
" 'Sports' was received very well in my opinion," said DePaul junior Zac Mascarenas, who was in attendance at last Saturday's show. "That's based on the number of people screaming and singing along, myself included, as well as the size of the mosh pit."
You can catch Beach Bunny's next gig with Minor Poet and Daymaker on Jan. 27 at Uncommon Ground.