Zidek takes command of volleyball program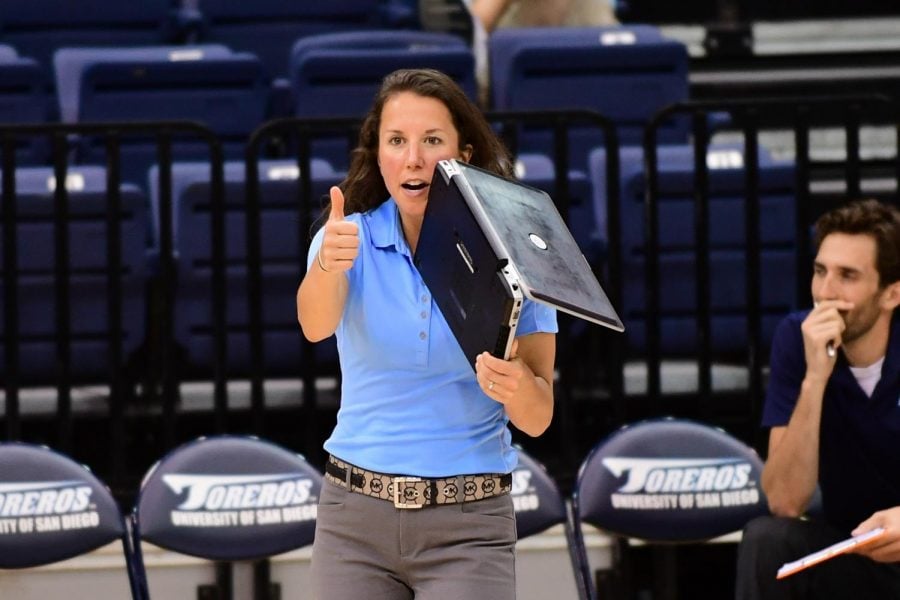 As new DePaul volleyball, coach Marie Zidek looked out her office window with the Fullerton Red Line and rest of Chicago in the background, she happily recounted this is the view and office she has always wanted.
Having the opportunity to return to DePaul was a dream opportunity for DePaul's eighth volleyball coach in school history.
"The school has always been on the progressive end," Zidek says. "It's always taken a stand on leadership and social justice and speaking for those that can't speak for themselves. Then obviously I'm passionate about volleyball, and I'm pretty good at it, so getting to blend those two things at a value-based institution, in the city I love and at a place I love, it just checks so many boxes in terms of the personal and professional opportunity that I have here."
Coming back to DePaul is also a homecoming for Zidek who grew up on the South Side of Chicago, as well as, graduating from Northern Illinois University.
DePaul junior Maddie Torti said once players knew Zidek was coming back, many reached out to former players who praised the hire and her ability to coach.
"Getting a new coach is kind of obviously kind of scary, so you don't know what's coming in (…)," Torti said. "When we found out it was her, none of us had heard of her before but she used to coach here so all the girls that we knew played when she was an assistant coach here were like 'you're going to be so happy, she's the best,' and so far, she's totally lived up to that."
Zidek returns to DePaul after spending the past four seasons at San Diego as an assistant leading them to four consecutive NCAA appearances. Zidek takes over for former head coach Nadia Edwards who led the teams for eight seasons and finished with a 77-162 cumulative record.
After four years with the Toreros, Zidek said one of the biggest things she learned was how to keep a team competitive without sacrificing academic and personal excellence.
"The biggest thing is how to train for the longevity, and how to train to be successful against the teams that are maybe a little bigger or more physical than you (…)," Zidek said. "The really big thing at San Diego that I learned was how to train in an elite level style of volleyball to where you can compete with the bigger schools while also keeping the student athlete front and center in that process."
As Zidek looks to get the Blue Demons back to the NCAA tournament for the first time since 2001, her first priority will be instilling her style of play and system.
"The short term goal right away is to teach the team the system and style of play that I want to play," Zidek said. "It's an offensive and defensive style that's predicated on creating extra opportunities and also rally extending. I think right now unless you're putting balls away in first ball kill, you need to find a way to rally extend, and create extra opportunities for yourself to score points."
During Zidek's first meeting with the team, one of her top priorities was explaining to the team why she took the job and what she felt was special about the school.
"The first that I talked to them about, which was a big priority for me, was to explain to them the why," Zidek said. "Why I took this job, why this program, why we can be successful. To viscerally attach themselves to what we're doing, I think you have to have a deep-seeded why to anything you do in order to tackle the what, what we are doing, so my first message to them was really to resonate the why."   
Heading into next season, the team will also not have any official captain, which will encourage every player to lead in their own way. Torti said this unique structure allows every player to lead as they're comfortable.
"What's interesting we have always had captains, and she came in and (said) 'we're not going to have captains,' because she wants us all to be leaders in our own way," Torti said. "I naturally feel like my class is taking on a leadership role, but there is no 'you're the leader of this team'; everyone is leading in their own way or if they're not confident leading, they have people to look up to, so it's a really good system not having captains."
Former Blue Demon Caitlyn Coffey who was recruited by Zidek, said her energy and relatable personality was a key reason she was drawn to the program.
"Marie was always very energetic in general, but specifically about the program," Coffey said. "I've always been drawn to good energy, and I think that's something about her that I really liked. I knew that her energy transferred to the team dynamic, and that was something I was really excited about when I was getting recruited."
Coffey also believes having someone who is as familiar with the school as Zidek is, will help her transition to DePaul and is a good opportunity for the current and future players on the team.
"Unlike coaches coming into other schools that are completely new to the program, Marie will not have to spend time getting to know the ins and outs of the athletic department and will not have to learn about an entirely new program (…)," Coffey said.
"
Overall, I'm really excited for the freshmen, sophomores, juniors and newcomers to get the chance to work with Marie. She's bringing a lot of energy into the program."
— Caitlyn Coffey, Former Blue Demon and Zidek recruit
Having the opportunity to be a part of a turnaround was also a draw for Zidek, who said she's been around builders her whole life and has seen success with other teams in the program.
"I grew up on the South Side of Chicago," said Zidek. "My mom ran a volleyball club on the South Side, played for the first ever volleyball club on the South Side from the grass roots. My dad's family business came from the grass roots. My grandfather started it back in 1947, so I've been around a lot of builders my whole life, and that's really how I relate to life. This is a program, too— that's had success in previous decades. It is definitely a program that other sports in the university are winning, so it's not like winning and success are foreign to volleyball or any of the other six teams that had Big East championships last year."
Torti said having a new coaching staff provides a big confidence boost for a team hoping to reach the Big East tournament next season.
"Since my freshman year, we've wanted to make the Big East tournament—the winner of that goes to the NCAA tournament," Torti said. "If we can just make the Big East tournament, we would all be over the moon. I think that's possible because you just have to be top four, but with her having NCAA tournament experience, I think she can at least bring us to the Big East tournament this year."