Grays' big night lifts DePaul to win
Coming off an important win against Marquette, DePaul (17-6, 9-2 Big East) continued their hot streak Friday night in a decisive 77-67 home victory over Creighton (13-9, 7-5 Big East) to keep them on top in conference play.
Despite only making 25 percent of their 3-point attempts, the Blue Demons shot 48.4 percent from the field, grabbed 39 total rebounds while dishing out 20 total assists.
The Blue Demons also proved to be stout on defense holding the Blue Jays to 29 points in the first half on 40.7 percent shooting from the field. Their top two scorers, Audrey Faber and Jaylyn Agnew, combined for just five points.
Redshirt junior Mart'e Grays, a 6-foot-2-inch forward who leads the team in scoring this season with an average of 14.9 points per game, was a scoring machine. Grays scored nine points in the first quarter and opened the game with an aggressive play that included three driving layups and a 3-pointer from the top of the arc.
"It was me just trying to find the openings in our offense," Grays said.
In the second quarter, she scored the first six points giving her 15 points heading into intermission. Likewise, Grays provided early offense in the third quarter by nailing a 3-pointer from the left wing just 30 seconds in. This resulted in Grays tying a career-high with 25 points off of 10 made field goals.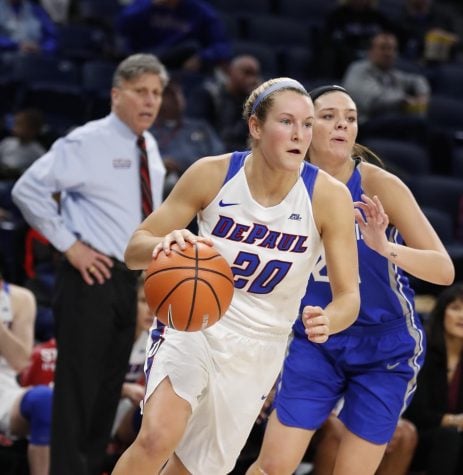 While Grays' proved to be dialed in throughout the game, she credits her success not only to execution but also to help from her teammates.
"Coach Bruno and his staff give us schemes, but it's our job to execute them and I feel like my teammates helped me execute them," Grays said. "Just finding me in the post or finding me on the open shot, I give all the credit to my teammates because they helped me with this excellent game I had."
Another key factor to the Blue Demons' win was Lauren Prochaska's all-around play. Prochaska, a 5-foot-8-inch senior guard, tied her career-high with 12 points to go with seven assists and three rebounds.
"Every game I play it's one less game that I have left in my career," Prochaska said. "(I'm) just leaving it all out on the floor and really working on being more aggressive on the offensive end."
Kelly Campbell, the team's leading rebounder with 10.3 rebounds per game, grabbed a team-high 15 rebounds and also had six assists. Junior guard Tanita Allen had a good game too, scoring 11 points and pulling down four rebounds.
"I love the fact that we have multiple people that can score," head coach Doug Bruno said.
When the beginning of the fourth quarter rolled around, the Blue Demons held a commanding 61-46 lead. The Blue Jays opened the quarter on a 9-2 run to trim the lead to 63-55 with 6:50 left to play. At that point, Bruno had seen enough and called for a timeout to get his team refocused.
"We really work here at playing possession-by-possession basketball, and we try not to play to the score," Bruno said.
Fortunately for Bruno, the Blue Demons finished the rest of the fourth quarter with poise making three straight layups and with 1:35 left in the quarter, Grays scored a 3-point field goal from the right wing to give the Blue Demons a 75-67 lead.
While a win is a win, the Blue Demons are nonetheless looking to improve and build a more consistent team identity.
"We still just have a lot of work to do as to how people find their own within what you're doing. I really believe that offenses don't score baskets, players score baskets inside of offenses," Bruno said. "There's no such thing as a good offense or a bad offense, there's only a well-executed offense, and players have to find their own niche within whatever offense you're running."
By doing so, Bruno believes that could result in more team progression as the regular season winds down.
"We're random, and random is okay, but as you get toward the tournament time you gotta find a little bit more continuity to the niche," Bruno said.
The Blue Demons closed out their homestand Sunday against Providence heading back on the road for contests against Butler and Xavier this week.