Welcome to WIN-Trust
DePaul gets first Big East win in new home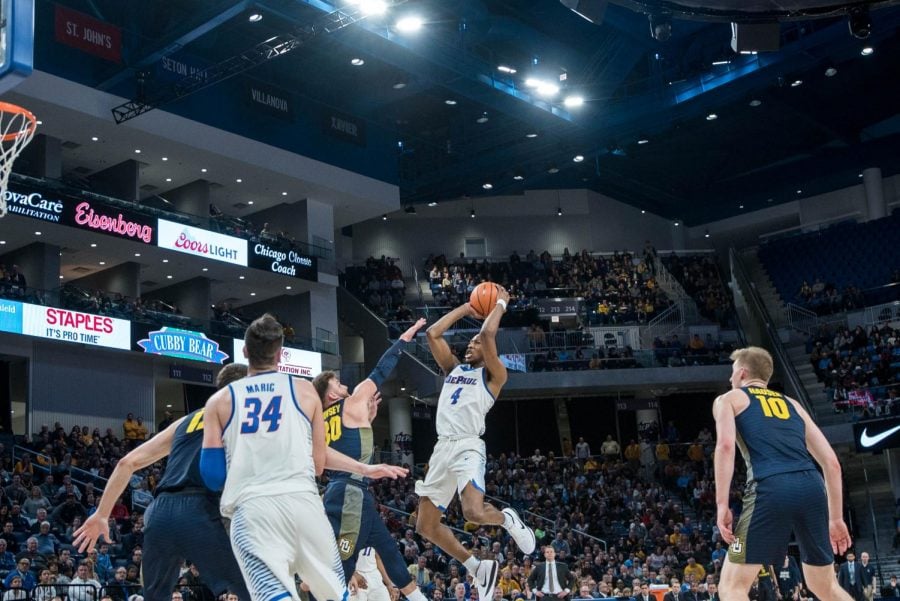 Winning conference games at home is fun.
In front of a canvas of fans wearing yellow, blue and red, the DePaul Blue Demons (11-17; 4-12 Big East) and Marquette Golden Eagles (16-14; 7-9 Big East) traded blows down the stretch as the contingents of fans with conflicting rooting interests packed into a rocking Wintrust Arena and traded shouts of elation as each basket for their team fell. When the dust settled, the Blue Demons prevailed 70-62, earning their first home win in Big East Conference play since Jan. 10, 2017 against Providence.
"I think it's a testament to our character," said junior guard Max Strus. "All year we've been battling every game, one-point losses, overtime (losses); every game has been close except for a couple. Today, we just decided to take that next step and keep fighting and finish this one out for our team."
The scene at Wintrust was emblematic of an idealized Division I college basketball game.
An occupied Demon Deck (the student section), senior big man Marin Maric raising his arms up and down in unison in the down time between free throws to implore the student section to make noise, fans waving cardboard cutouts of the players and a loud, engaged, and most importantly, happy crowd. This was the way that the DePaul athletic department probably envisioned it when they invested millions of dollars into the Wintrust Arena project.
"I think the ability to get over the hump in the kind of game we played today was really important," said a happy Blue Demon head coach Dave Leitao after the game. "I think it teaches the guys in the locker room a valuable lesson about how to get better. The biggest job we have right now is understanding what it takes to win when you aren't used to winning. And this can teach a valuable lesson in that way. I desperately want to win for our fans so that they can feel a sense of pride in walking into this building and knowing that we have a great opportunity to protect home court."
The game had all the dramatics of an underdog story.
The Blue Demons escaped a 30.3 percent shooting first half, down just five points at halftime. At the 16:43 mark in the second half, Maric nailed one of his two free throws to tie the game at 37 apiece. Shortly after, DePaul exploded on a 15-3 run fueled by Strus, Maric and Brandon Cyrus and went up by 12 points with 7:36 to play.
The Golden Eagles small-ball lineups that featured 6-foot-8-inch guard Sam Hauser at center backfired. After abandoning the small-ball lineups, Marquette reinserted 6-foot-10-inch big man Matt Heldt into the lineup and began to chip into the lead as Hauser and Rowsey both began to find their 3-point shooting stroke.
Fittingly, two plays on the offensive boards helped the Blue Demons seal their fourth conference win of the season. Strus collected his own rebound, got fouled and poured in two free throws to increase the lead to seven points with 1:58 left. On the next possession, Maric tipped the ball into the basket through traffic off a miss to balloon the Blue Demons lead to nine points. All afternoon, the Blue Demons dominated the Golden Eagles on the offensive boards, finishing with 19 offensive rebounds and 15 second-chance points.
Marquette guard Andrew Rowsey hit a 3-point field goal with 57.3 seconds remaining to cut the deficit to 64-57, but the Blue Demons' lead was too large, as they hit free throws late to ice the game.
"It's a conscious effort I think," Leitao said about closing out tight games late. "Those guys (the players), not me, were the ones who reminded themselves of that. This is where we're at, this is what we have to do. Don't let yesterday happen again (not being able to execute down the stretch) and they went out and did it."
Strus led the way for the Blue Demons with 20 points as Maric (13), Cyrus (13), and Cain (14) also finished with double digits in scoring. Strus also had a season-high 11 rebounds and his second double-double of the season, and three other Blue Demons had at least seven boards (Maric, Cain, and freshman Paul Reed).
The Blue Demons will look to carry this momentum over to Tuesday when they travel to Omaha, Neb. to battle with the Creighton Bluejays. The game is at 8 p.m. on Fox Sports 1.