Moneyball
Now that the NCAA Tournament has passed and Sister Jean has taken some time to rest, Loyola University Chicago is waiting to cash in on a spectacular dance through March. So what exactly is the value of an NCAA Tournament run?
Every year in March, 68 of the nations top Division I men's basketball teams compete in the NCAA Tournament not only to win championships and impress NBA scouts, but to be a billboard for the academic institutions that pay their bills. There is no doubt that the most elite strata of players are also playing for themselves — the NCAA, after all, is effectively a farm system for the NBA — but the success of each program is often reflected in the wallet of the university at large.
In 2011, No. 11 seed Virginia Commonwealth University (VCU) — a school with a $350 million endowment — took down No. 6 seed Georgetown, No. 3 seed Purdue, No. 10 seed Florida State, and, spectacularly, No. 1 seed Kansas on their way to the Final Four. They lost in the Final Four to No. 8 seed Butler, but just two years later, the school's endowment had grown to $1.321 billion dollars, according to an annual study by the National Association of College and University Business Officers (NACUBO).
"(To understand the value of an NCAA tournament run) I think you have to look at Virginia Commonwealth and George Mason, two schools that were a little bit under the radar screen prior to their NCAA Tournament runs and then afterwards have much more visibility," Robert Kallen, a NCAA expert and visiting professor in DePaul's economics department, said.
This year it was Loyola-Chicago, the little-discussed Jesuit school from the Missouri Valley Conference with a 98-year-old nun as their biggest star that earned the most sought-after exposure in college sports. With each upset victory, the No. 11 seed earned another chance to play in front of millions of people with the hopes of making them remember the name "Loyola-Chicago Ramblers."
"It's been well documented in regards to the increase in applications that occurred at both (VCU and George Mason)," Kallen said. "If you get an increase in applications, you get a higher quality student body, at which point, sometimes, equates itself with more alumni development and alumni participation."
Kallen says he expects the same to happen with Loyola.
Meanwhile, DePaul's roughly $500 million endowment continues to eb and flow with the stock market and president A. Gabriel Esteban doesn't seem set on following in the footsteps of schools like Loyola and VCU, saying the economic effect of an NCAA Tournament run is only temporary.
"I was talking to the president of Villanova after they won the national championship, or a few months after it happened," Esteban told the DePaulia's editorial board.  "And we talked about fundraising and this and that. He said (with) fundraising it really doesn't make a big difference. It's really in enrollment and so on since winning the national championship."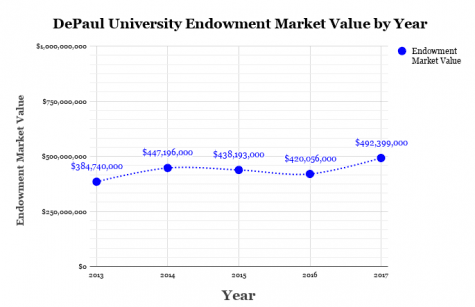 Esteban says he is committed to the status quo in DePaul's athletic department and remains confident that Wintrust Arena — the school's $82.5 million investment in the South Loop — will put DePaul on the best path toward NCAA, and thus, economic success.
When Esteban took over the reigns at Seton Hall in 2011, the Pirates had just moved into their new basketball arena in Newark, New Jersey. In 2016, they qualified for the NCAA Tournament for the first time since they built their new facility. Esteban says he thinks that progression will be faster for DePaul.
Both before and since Esteban took office, the alumni that are supposed to respond positively to NCAA Tournament runs are responding poorly to continued struggles from the men's basketball program.   
Some disgruntled alumni have publically refused to donate money to the university or the athletic department until sitting athletic director Jean Lenti Ponsetto resigns or is terminated, notably going as far as taking out an advertisement in the Chicago Sun-Times calling for her dismissal.
According to professor Kallen, the two main contributors to the financial success of an athletic department are revenue generating sports and alumni giving. Some of that giving is ear-marked directly to the athletic department and some is donated to the university at large out of pride for their universities athletic programs.