Is Record Store Day good for local shops?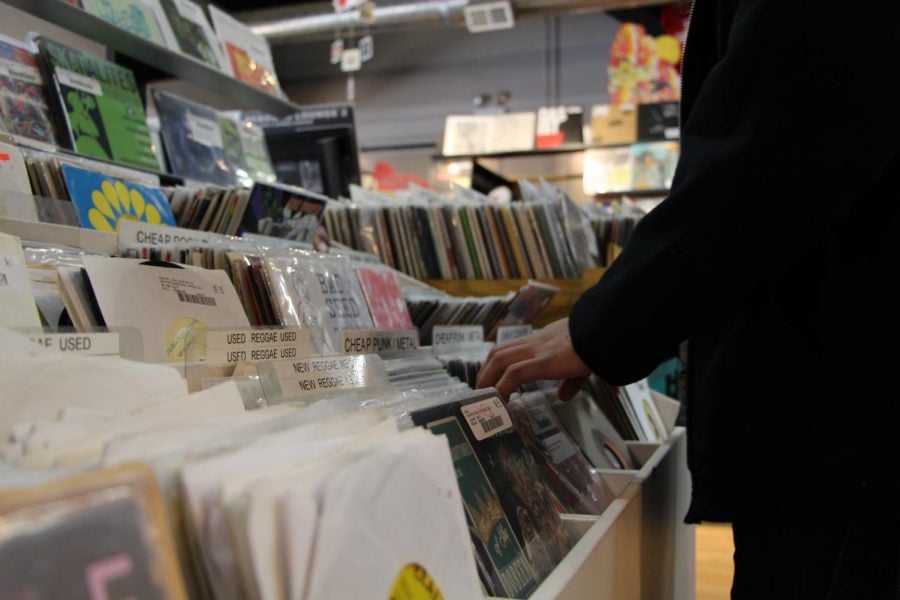 The first Record Store Day took place on April 19, 2007. Since its inception, it has occurred annually on the third Saturday of April, drawing both casual and professional collectors to over 1,400 independent record shops across the U.S., as well as to record stores on six continents across the globe.
This year, Shuga Records opened its doors to eager record collectors at 8 a.m. on Saturday, April 21, and I was one of the 50 or so people who were lined up early outside the independent Wicker Park record store. Last year, I waited in the same line for about an hour before getting my hands on a first pressing of Sublime's "Badfish" EP on 45 RPM vinyl. I didn't have my eyes on any exclusive Record Store Day releases this year, but I was still compelled to come out early and participate in an annual holiday that many vinyl fans anticipate all year.
"I believe Record Store Day is great for music. It encourages people to support the local economy and promotes a fun hobby," said Cesar Morrido, a recreational record collector.
For the past 11 years record store staff, customers and artists have celebrated independent music shops with the release of exclusive, limited vinyl records that can only be purchased at independent stores on Record Store Day. Special releases include rare demo tracks, colored vinyl, rare repressings of beloved albums or limited picture disc records.
"We see a lot of returning customers on Record Store Day, so they tend to pick up the regular releases that interest them year-round, but (they) make sure to get here early on Record Store Day for the limited releases from their favorite artists," said Grant McKee, co-owner of Bucket O' Blood Books and Records in Logan Square. "We do also get a fairly large number of new customers, who purchase both Record Store Day titles as well as titles from our regular inventory."
In Chicago alone there are 32 independent record stores. However, only 23 of these shops have signed the prestigious Record Store Day Pledge. Signing this pledge means independent store owners have agreed to sell the Record Store Day exclusive titles on Record Store Day only; they agree to not flip the rare records for a higher profit or to hock them online.
This presents a dilemma for the remaining nine stores that do not receive official Record Store Day releases. Usually, these stores are smaller than the larger independent chains like The Exchange or Reckless Records, which have two and three locations in the city, respectively. They often lack big advertising budgets and the financial means to order a large stock of exclusive titles.
Ray Pate is the owner of RPM Music in North Center, one of the nine Chicago indie stores that have not signed the Record Store Day pledge, and therefore, do not carry Record Store Day titles. However, Pate doesn't let his lack of exclusive releases sway him from participating in the festivities.
"We'll be open at seven in the morning with coffee and donuts … and a giant sale on everything in the store," said Pate. In addition to opening early and offering free coffee and treats, which is a sales model many local shops have adopted to bring customers in on Record Store Day, RPM Music also hosts in-store performances from Chicago musicians.
Like Pate, many other local store owners decide to celebrate even without access to the official Record Store Day inventory. After years of purchasing exclusive Record Store Day titles for his own store Adam Hirzel, the music director at Wicker Park coffee and record shop  Purple Llama, took a break from the chaos surrounding the vinyl holiday. This year, Purple Llama celebrated their one-year anniversary on April 21 instead of slinging exclusive records.
"There are so many other stores that (carry Record Store Day releases), especially in Chicago," said Hirzel. "I've always worked at record stores on Record Store Day, but talking to my friends and customers, they feel like they're already spread thin. I didn't want to put more on their plate and have them feel like there was another place they felt they had to check out … It's a better idea for us to celebrate the event in our own way, but not necessarily flood that market even more with another place you have to check out to get Record Store Day releases.
Some stores such as Purple Llama are perfectly content to lay low on Record Store Day while still participating in their own way. These shops often collaborate with outside vendors, such as local coffee shops, bakeries and radio stations, to host special in-store events for their customers. While store owners such as Pate at RPM Music are eager to hop on the exclusive Record Store Day bandwagon, it isn't as easy for smaller shops to compete with the bigger independents like Reckless or Rolling Stone Records.
"Independent means you get to pick up the phone and say, 'I want to interview the owner,' and then I'm on the phone saying, 'I am the owner.' You dig in to big business, and you'll never get to the owner," said Pate. "Record Store Day is supposed to be for the little guys, not big business. Big business has an advertising budget. I don't have an advertising budget. I don't spend a penny on advertising; I don't have any money to do it. I got a sign in the window and then I use social media. I use Instagram and I use Facebook and sometimes I use Craigslist. But I do all the free ones; that's the only advertising I can do."
Another issue critics of Record Store Day voice is the consumerist nature of the holiday. When Record Store Day began in 2007, it was seen as a way to benefit both shops and their customers by providing exclusive titles for music fans, which in turn would generate business for small record stores. Over the years, however, many have targeted Record Store Day about the quality of their annual releases. Some claim that re-releasing a classic album on a new color of vinyl or on a picture disc isn't contributing to the quality of physical music; it's simply a way for distributors to make an extra buck off record collectors. Despite these criticisms, however, Chicago's 32 independent stores mostly seem to love the annual celebration of physical music.
"We love Record Store Day!" said McKee. "Each year, we try our absolute best to make it an incredible day for our customers, whether they visit us a couple of times a month or only a few times a year, or whether they've never been in before at all. It's a fun day and a fun celebration."