Varsity's 'Parallel Person' is setting tone for rock pop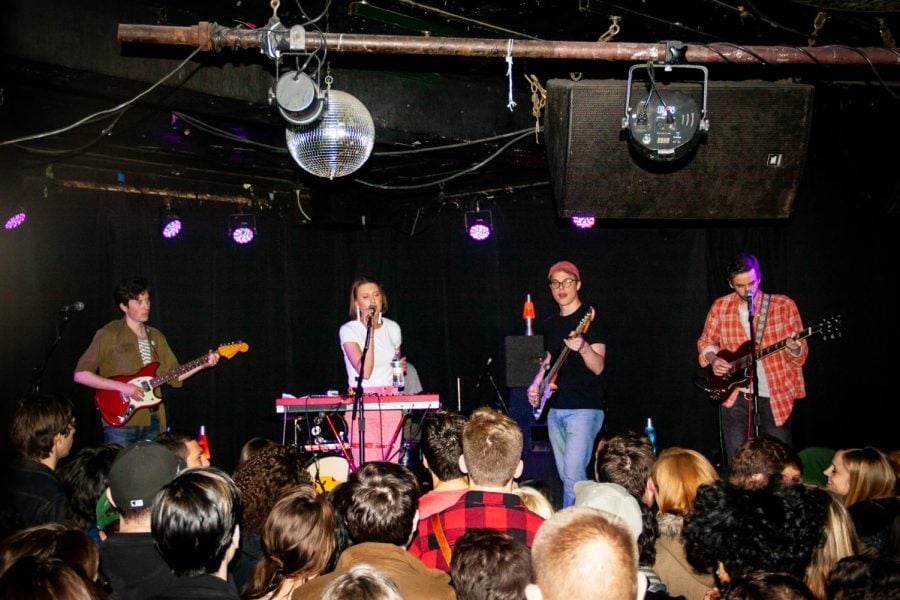 Empty Bottle was packed wall-to-wall just past midnight on Friday, April 20, with the crowd swaying along to Varsity's immaculate set. Self-proclaimed "too cute for the punks, too raw for the bubble-gummers", Varsity consists of members Stef Smith on vocals and synth, Dylan Weschler on guitar and backing vocals, Patrick Stanton on guitar, Paul Stolz grooving on bass, and Jake Stolz hitting the skins. Stef's colorful vocals mixed with the complexity of all instruments and delicate harmonies left the attendees wanting more.
Returning to the stage with their first encore song covering The Strokes, Varsity's setlist showcased an organic spin on indie rock pop. Performing new singles and well-known hits such as "So Sad, So Sad," Varsity demonstrated their unique appeal to a wide-ranging audience, which has seen  the band's playful storytelling tracks make waves through today's rock pop scene. "Must Be Nice", a single from their upcoming album "Parallel Person," received high praise from the sold-out crowd. While all songs can be interpreted differently by every listener, this track's theme seems to be centered on avoiding confrontation of one's own feelings which anyone can relate to.
After forming in 2013, Varsity's strides transformed into leaps as they moved from playing Chicago's DIY scene to professional venues including Subterranean and Lincoln Hall. Having had performed with the likes of Car Seat Headrest, Twin Peaks and plenty more – Varsity has now headlined a mesmerizing sold-out show in the same community that helped them grow. The band's attention to consistent visual work attracted fans all over, much of it attributable to artist Clare Byrne. Ranging from cities on the West Coast to Mexico, Varsity has shown they are more than ready to play to fans outside of the Midwest. The garage-pop band's themes of identity, conformity, love and frustration are on full display in their latest catchy album.
On April 23, Hype Machine released "Parallel Person" before its official release on Friday, April 27 via Babe City Records. "Watching You" is the ideal summertime anthem, perfect to sing along to at the beach and catch live at a festival. Miraculously provided with the opportunity of recording the ten-track album entirely within a ten-day timeframe, nuances of their contemporary sound were developed in sophisticated ways that will allow them to fit on any indie bill to come.
While the stacked bill on April 20 had some of the best indie bands in Chicago (including Divino Nino and Beach Bunny), Varsity's new music is paving way for their rapid growth in the garage-pop scene.