Hip-hop in transition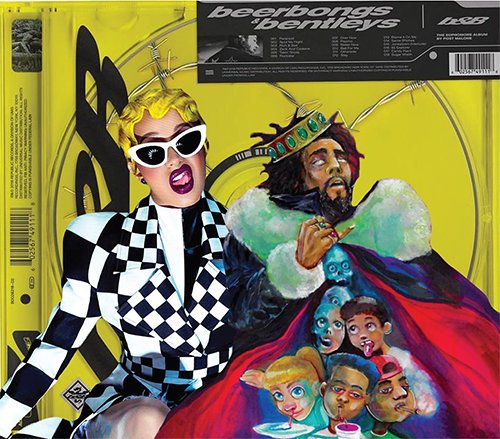 In the lovely month of April, hip-hop fans were graced with three new albums from three of the biggest names in the industry. Cardi B released her debut album "Invasion of Privacy" at the beginning of the month, J. Cole dropped "KOD" on April 20, and Post Malone followed a week later with his sophomore album "beerbongs & bentleys." The only issue is that it's unlikely these albums attracted the same hip-hop fans. Today's hip-hop landscape is so vast that three albums can be released in the span of a month and all represent an entirely different version of what fits into the boundaries of the genre.
Youtube
Kicking off the month, Cardi B followed up a string of viral songs including the smash-hit single "Bodak Yellow," which took over the internet for months. Her debut studio album is the least cohesive of the three as she covers various themes over the course of the record. But because of that, Cardi B is able to fully display her talents and showcase what makes her unique, serving her career all the better. Instead of relying heavily on featured artists, as is common, Cardi B instead highlights her Latinx background with the Latin-infused sing "I Like It" and her power as a female artist by calling on SZA and Kehlani for two different songs.
For many, Cardi B represents what is changing for the worse in the industry. She is opinionated, irreverent and doesn't necessarily jive with the norms of what women in hip-hop have done in the past. Because of that, some could argue that her album had an uphill battle ahead of it from the jump. With very limited star power to lean on for guaranteed success, Cardi B promoted the album leading up to the release but had to still rely heavily on the work to stand for itself. As such, "Invasion of Privacy" is the perfect example of what makes hip-hop great, a fresh and exciting album rising to the top of the competition based almost entirely on quality.
A few weeks later, on the unofficial stoner holiday April 20, J. Cole dropped "KOD," his previously unannounced 5th album. He uses the album as a way to take a long look at today's drug culture, and in typical J. Cole fashion it is devoid of high-profile features. Instead, J. Cole leans on what he knows best to create a brilliant and introspective work that highlights artistry and lyricism over mainstream commercial success.
Youtube
This is where J. Cole truly breaks away from the rest and carves out his own section of hip-hop. Over the course of the past few albums, J. Cole has taken a turn from talented young rapper to a revered lyricist who uses his music to discuss things of importance to him. Perhaps due in part to his standing as one of the all time greatest in the eyes of many, J. Cole seizes the opportunity to fully embrace artistry over artificiality for success's sake, a novel practice in today's industry.
Post Malone closed out the month a week after J. Cole with his 18-track album "beerbongs & bentleys." Essentially, the entire album focuses on the topic of love in some way, with each song tackling the theme from a different perspective. "beerbongs & bentleys" is Post Malone's real taste of what it means to be a successful artist today. His style is the perfect embodiment of contemporary hip-hop.
Many of the songs on the album are catchy enough to be confused for singles, and the entire record's style is heavily reminiscent of the emotional hit "I Fall Apart" from his first album "Stoney." Because of that, Post Malone is directly appealing to his mostly millennial fanbase, a decision that seems to have paid off with his album reaching immediate success after its release. His personality is even further from the traditional conception of how a hip-hop artist should behave, further expanding the industries acceptance of more voices.
These three are all in very different stages of their careers, and the music they have produced on these albums reflects how and why their versions of hip-hop are so different. Perhaps what these albums actually exemplify is that hip-hop is past the time when music fits neatly within its traditional boundaries. Instead, individual expression has risen to the top, giving way to a much more dynamic and inclusive version of hip-hop. No longer is hip-hop the genre for few to please many: Now it's for many to please even more.