What's Fresh in Podcasts
Revisionist History
If you're a self-professed nerd, you must listen to Malcolm Gladwell's podcast "Revisionist History" for no other reason than because that's what Gladwell is: a professional nerd — and a truly gifted storyteller.
Each week, Gladwell offers listeners a single historical topic that he believes to be "misunderstood or overlooked," and he then dives in to the nittiest and grittiest of details over the course of 30 to 40 minutes. Tackling topics ranging from the misuse of commas in the United States Constitution and the world's most controversial semicolon, to NBA legend Wilt Chamberlain's free throw shooting method as an exploration of why "smart people do dumb things," Gladwell never fails to make you think, see, or feel something about the world that you had never considered before.
Prior to the release of the first real episode of season three, Gladwell released a bonus episode of himself being interviewed by University of Pennsylvania professor and organizational psychologist Adam Grant. The purpose of the interview: to argue,  of course, because it's no fun to agree all the time. The interview really sets the tone for the show in general, in which Gladwell covers seemingly old stories with a painstaking attention to the ultra-specific details – because sometimes it's fun to get lost in the sauce.
FiveThirtyEight Politics
The current events side of this week's podcast-geek-fest we have FiveThirtyEight's Political Podcast. When Nate Silver, founder and editor-in-chief of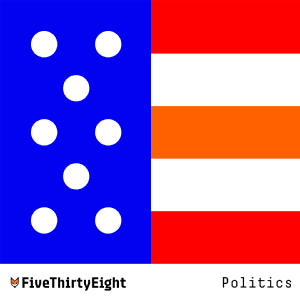 FiveThirtyEight, broke onto the national political scene after the 2008 general election – having accurately predicted nearly every single senate race, most of the house and the presidential election correctly within a small statistical margin of error – political junkies everywhere new that there was a new standard for political analysis.
Discussions are led by FiveThirtyEight's Jody Avirgan with a panel of Silver, political reporters Clare Malone and Harry Enten, and a variety of others s. The crew tackles the most pressing current political issues through the lens of a horse race. Instead of debating who's right and who's wrong, the conversation centers around who could win, who won't win and why, by analyzing the most sophisticated polling and political science available. They even publish "emergency podcasts" when big news breaks and/or Trump does something you just can't not talk about.
Silver and his team at FiveThirtyEight are among the leading lights in the global analytics movement. In a way, the same thing that the likes of Billy Beane and Theo Epstein did for baseball, Silver and his fleet of data geeks have done for politics; the only difference is that FiveThirtyEight isn't trying to win anything, they just want to understand – which is why they may arguably be the most objective popular news analysis around.