The DePaulia's 2018-19 recruiting class analysis
"Mama there goes that man. Excited to announce my commitment to DePaul University." With these 13 words from Tyger Campbell, DePaul believed they had finally landed their program-changing point guard similar to the jubilation felt this past week with the commitment of Romeo Weems.
In a heartbreaking series of announcements following that day, Campbell jumped ship, opting instead to take his game to UCLA over DePaul, Purdue and Maryland.  Despite this blow, DePaul still ended up with the fifth ranked class in the Big East behind Villanova, Providence, Georgetown and Creighton, according to 247Sports.
Weems stunned the basketball world committing to DePaul over offers from Michigan State, Michigan, Oregon and Ohio State. With that, the 2019 class has a similar feel of optimism to the 2018 one, the key will be holding onto the four-star forward from Michigan.
DePaul still got a point guard in Flynn Cameron, who joined the team in January and was immediately eligible, although he did not play during conference play. Cameron joined fellow three-stars John Diener and George Maslennikov to make up the 2018 class.
Femi Olujobi:
DePaul head coach Dave Leitao rounded out the class with the additions of North Carolina A&T graduate transfer Femi Olujobi and Arkansas transfer Darious Hall in consecutive weeks. Olujobi is eligible immediately, while Hall will sit out the year.
With only Paul Reed and Jaylen Butz returning from last season in the frontcourt, Leitao knew they needed at least one or two players to play immediately and help fill the void left by the departure of Marin Maric.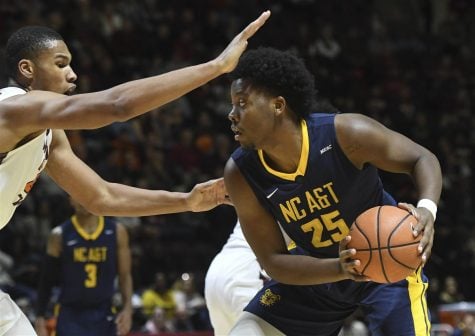 "When you talk about fifth year guys the first thing that you have as an asset is the ability to have experience," Leitao said. "Because they've played a number of years of college basketball and in this case had both really good experiences and some challenging ones as well, so they learn what it takes to be successful."
Olujobi averaged 16.3 points per game in his one year at NCAT. Leitao said his offensive skillset is unique for a big man that should help him stand out early on.
"It's not often that you have guys at that position that can score the basketball," Olujobi said. "They're either really good at defense, rim protection, running the floor, toughness, all those things. But a guy that can, on any given night, give you double figures and do it consistently is not something that comes along every day."
Once Olujobi gets on campus this summer, Leitao said he will have a better idea of where he needs to improve. But for a player as offensively focused as Olujobi is, getting him in shape will be one of the biggest keys to help him be more effective on both ends.
Following his commitment, Olujobi also said being able to play harder and longer is among his biggest goals with the Blue Demons.
"Definitely conditioning," Olujobi said. "I just have to become better condition-wise. Just being able to exert my best effort. I (physically) couldn't play harder, and I just want to make sure I give my all 100 percent, 110 percent, the whole 40 minutes of gameplay."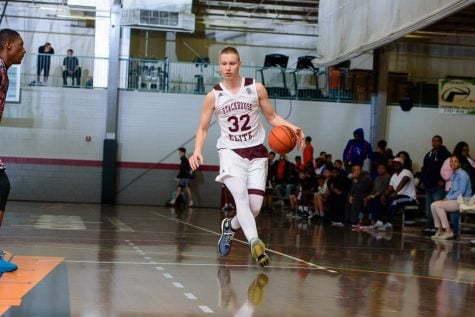 George Maslennikov:
Olujobi will have company in the frontcourt from Maslennikov, who averaged 13 points, seven rebounds, two blocks and a steal this past season. Leitao said the coaches were impressed with the 6-foot-10 forward's hunger and desire to get better that fits well with his skillset.
"I love his attitude, I love the tools that he comes with," Leitao said. "He's not just a feel guy and an athletic guy but also the combination of post moves, and if he continues to grow and develop his game (that's) something that we'll hopefully utilize early and often."
John Diener:
Along with Maslennikov, Leitao welcomed a familiar name in Cedarburg High School shooting guard John Diener. Leitao coached Diener's cousin Drake at DePaul and also worked with his other cousin Drew at Virginia. He spoke highly of what Diener's name means both to him and basketball in Wisconsin.
"John obviously, because of the last name, means so much to me, and it means so much to basketball in the state of Wisconsin and throughout the region," Leitao said. "There is a certain level of basketball competitiveness and toughness that everyone has, their cousins, their sisters, their brothers, their uncles, their dads, they all are immersed and have their whole life in basketball."
Diener led the North Shore league in scoring with 23.2 points per game last season and finished his career with 2,250 points. Diener's ability to score caught the eye of many people around the state, as well as Leitao himself.
"I love his ability to score the basketball, and we're in an era right now where there is a high, high premium on shooting the basketball and knowing how to score," Leitao said. "He does that and actually he's had some momentous basketball games at his high school, he's had a celebrated career, broke some records."
Flynn Cameron: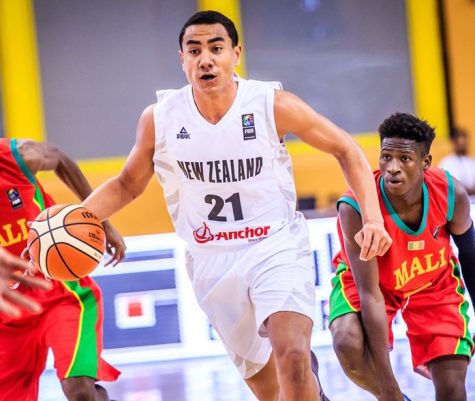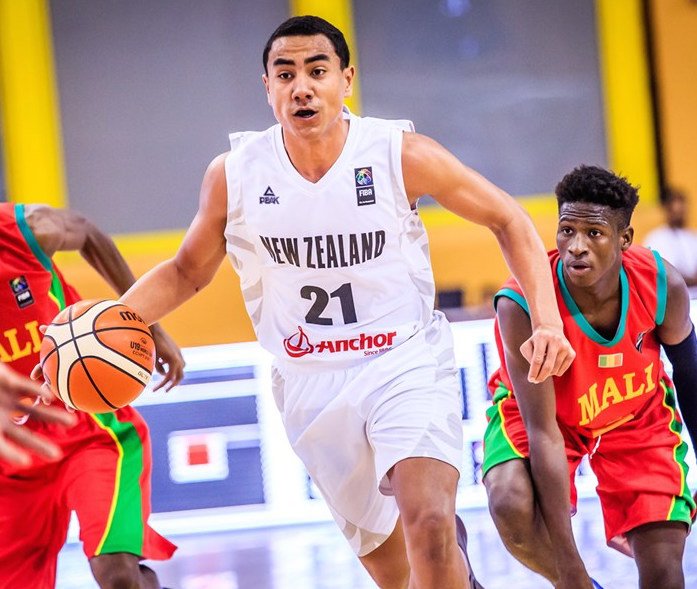 Some thought that when Cameron arrived on campus in early January he would be able to step in and help stabilize a point guard situation that struggled to deal with the loss of Devin Gage early in the year. Cameron, however, sat out and now will join a group that includes Gage, Justin Roberts and even Eli Cain, who filled in after Gage's injury. Leitao said the competition at the point guard position should help bring the best out of everyone.
"We have an opportunity to develop something really strong and deep and consistent from that position," Leitao said. "It's going to be a key to how we try to be successful, because we think we have guys at other positions that have experience, and the ability to get the ball in the basket and getting those guys the ball is going to be really important."
DePaul finished seventh in the Big East with just over 15 assists per game, an area Cameron may be able to help with given his emphasis on getting his teammates involved.
"I like to create, and most importantly I like to win," Cameron said in January when he was still adjusting to the program. "Maybe not now, but I reckon I can make an impact in a couple year's time, maybe junior (or) senior year. I'm just trying to get as comfortable as I can with the team and fit in during practice."
As the team looks for ways to improve next season, Leitao said he would like to utilize more players than he did a year ago, using different lineups depending on matchups. He believes all three players have a skillset that will allow them to contribute to this plan early on.
"I'm optimistic because I think they have a skill level that's usable, and if nothing else, putting the ball in the basket is a premium," Leitao said. "Then going from last year to this year, my hope and desire is that we can play many more people that were able to play last year."
Jalen Coleman-Lands:
One player Leitao also didn't have at his disposal last season was Jalen Coleman-Lands, who sat out due to transfer rules. Coleman-Lands was a consensus top 50 recruit coming out of high school, but he battled injuries during his first two seasons with the Illini including a stress fracture in his leg during his freshman year and a broken hand in his sophomore season. Now healthy, Leitao said adding his scoring ability will pair well with senior guards Cain and Max Strus.
"He was highly acclaimed, so getting him healthy is what this year off has been about and as he regains his confidence, he can get back to the player he was before he went to Illinois pre-injury," Leitao said. "Then you have a dangerous potential combination of a guy that can really score from behind the arc, but can make some things happen with the ball in his hands and going downhill as well."
Shooting & Athleticism a Priority:
Along with Diener and Maslennikov, plus with Coleman-Lands now in the fold too, DePaul figures to improve their 3-point shooting which ranked 10th in the conference at 30 percent a year ago. Leitao cited the league the team plays in and the general trend in college basketball as a reason improvement is needed in this area.
"This league is really unique. You look at, with your eyes or statistically, it's a great offensive league, and we were certainly very challenged in that area," Leitao said. "Where if you needed a basket, or needed a 3-pointer, you knew it was going to go through Max in some kind of way, so we needed to expand ourselves and hopefully now as we finish this whole thing off."
Moving forward, with improved outside shooters now on the roster, Leitao said the key will be for them to come together and learn to share the basketball. If they can accomplish that, he feels they have the opportunity to be much better offensively.
One player DePaul also added late was Hall, who surprised many at Arkansas when he announced his decision to transfer after averaging 14.8 minutes per game as a freshman, including four points in 22 minutes in Butler's NCAA Tournament loss to Butler. Leitao said as his staff looked to the future, one of their goals was to get more athletic, and Hall fits that mold.
"He's a guy that is as athletic as they come, but another guy that is thirsty to get better," Leitao said. "He played pretty significant minutes, about (15) minutes per game as a freshman which is good for any team and was able to score the ball, but I think he was working off of raw talent and ability."
Hall will sit out the 2018-19 season, which both Leitao and Hall said gives him the opportunity to become a more consistent player and improve all areas of his game. Leitao admitted sitting out a year can work to the disadvantage of a player if they miss basketball too much, but from what he's seen with Hall he doesn't foresee any issues.
"I think as long as you can handle it right psychologically and can handle the fact you're not playing basketball for a year, you can use it as an opportunity to get a whole lot better," Leitao said. "I think he's resigned (himself) to the fact that he has to go through this process and actually looking forward to spending the year getting better."
After opening the 2019 class with another big verbal commitment just over a year after landing Campbell, DePaul hopes Romeo Weems is here to stay – the first piece of a hopefully program-changing 2019 group.