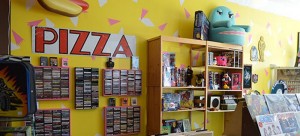 As a kid I remember snooping through a dusty bin of junk in my late grandfather's garage and discovering his small collection of cassettes that included many blank tapes. Being the experimental adolescent I was, I used those blank tapes to record my favorite songs from radio stations, combining them all until I reached the end of the tape. Sometimes, if I timed everything right, I could fit up to eight songs on one tape, labeling each one by its year and season. Playing them back felt like listening to a custom version of a "Now That's What I Call Music!" CD, except it was free and I actually liked all of the track listings.
Though cassette tapes are no longer the primary music format, the culture surrounding them still lives on. The second annual International Cassette Store Day will return this year on Sept. 27. Participating record shops across the United Kingdom and the United States will hold special events like live music and artist signings for cassette tape enthusiasts to enjoy. Limited releases include tapes from Best Coast, Julian Casablancas, and Foxygen.
Thirty years ago it was cassette tapes, not smartphones, that were bulging out of everyone's jean pockets. During the '80s, cassette tapes began to outsell vinyl records, as people preferred the cheaper, smaller tape recorders to larger vinyl players. Cassette tapes often started as blank canvases that allowed users to record their favorite songs onto them.
The invention of the Sony Walkman meant that music lovers could now take their favorite songs with them wherever they went. Cassette tapes were ultimately the most popular music format until the 1990s when the compact disc threatened to make them practically extinct. By the early 2000s, most major U.S. music companies had discontinued the production of cassette tapes.
Despite the invention of several music formats since the decline of cassette tapes, local bands, fans, and music shops still enjoy utilizing the analog format for various reasons.
Strawberry Jacuzzi, a local pop-rock band, is releasing their debut album "Love is for Suckers" on tape for Cassette Store Day on Chicago-based indie label Grabbing Clouds Records and Tapes. Vocalist and guitarist Nikita Word feels that using cassette tapes to release music is essential for the local music scene to continue to survive.
"It's hard to be in the music industry in this day and age, either as a musician or a label, to not go broke releasing music," Word said. "Small local indie labels, such as tape labels, are able to release music from bands quickly, cheaply, and with relative ease all while keeping the music scene thriving and alive."
Shannon Candy, another vocalist for Strawberry Jacuzzi, finds comfort in the simplicity of producing cassette tapes. Because local musicians often lack the means to create CDs for the masses, cassette tapes act as a more affordable alternative.
"It's really easy to make cassettes, so a lot of bands who might not have the resources to release something on vinyl can still have a way to get their music out," she said. "It takes way less time so you don't have to have the support of a label or be rich kid in order to share your music with the community."
Choosing to release music on cassette tapes is not only beneficial for indie labels and bands. Fans of local musicians often prefer to purchase music on a cassette tape because of its size, durability, and cost. A larger return on investment is also more likely when using cassette tapes.
"Anyone can go out and buy a duplicator and make 50 tapes to sell at shows," Word said. "You have someone who wants to buy your music and when they see that $15 CD or vinyl sitting next to the $5 or $8 tape, a lot of people go for the tape."
DePaul senior Paul Nava shares the same sentiment from the perspective of someone who supports local musicians. Having attended several live shows from local bands over the years, Nava believes cassette tapes have a large impact on their experience as a fan.
"I participated in Cassette Store Day last year and will gladly look out again," Nava said. "I think it's cool that small indie labels put out rare tracks by some of my favorite bands that I can't find in mainstream music vendors."
From a business standpoint, Bric A Brac Records owner Jen Lemasters supports the use of cassette tapes in bringing members of the local music scene together. Located in Logan Square, the shop specializes in cassette tapes from local punk and garage bands.
"I definitely think tapes are picking up in popularity because they are easy to sell at shows," Lemasters said. "We pride ourselves on being one of the few shops in the area that still carries tapes."
Having such a successful turnout last year, Jen Lemasters is looking forward to Bric A Brac being packed with fans anxious to purchase the rare releases for sale that day only.
"We'll have live music from local bands all afternoon, and local labels will sell their tapes at tables in the back," she said. "It's a really fun day for everyone involved."