Possible JUUL ban could affect students across the country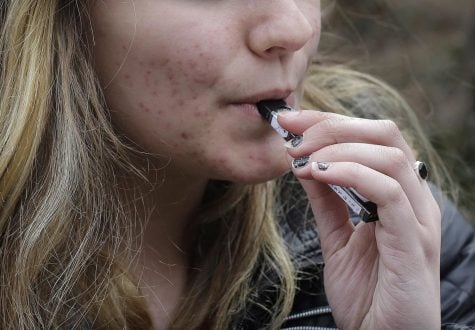 Steven Senne | AP
In less than two years, JUUL and other electronic cigarettes have become a viral sensation among college and high school students across the nation, but the trend might be leaving just as quickly as it arrived. On Sept. 12, the Food and Drug Administration gave JUUL and other electronic cigarette distributors 60 days to prove that they can prevent minors from accessing their products. If they fail, the products may become unavailable.
The FDA took the stance out of a growing concern with teens becoming addicted to electronic cigarettes. Federal law prohibits selling e-cigarettes to anyone under 18, but FDA Commissioner Scott Gottlieb is concerned that manufacturers are knowingly allowing the widespread sale of e-cigs to minors to flourish.
"E-cigs have become an almost ubiquitous ‒ and dangerous ‒ trend among teens," Gottlieb said in a written statement. "The disturbing and accelerating trajectory of use we're seeing in youth, and the resulting path to addiction, must end. It's simply not tolerable. I'll be clear. The FDA won't tolerate a whole generation of young people becoming addicted to nicotine as a tradeoff for enabling adults to have unfettered access to these same products."
Though the FDA's concern is with minors, college students would likely be greatly affected if JUUL and other e-cigs are banned. With their ease of use, e-cigarettes and vape devices have become a regular sighting across college campuses. According to a 2015 CNBC study, the rate of high school students, now current college students, vaping or using e-cigarettes was up 16 percent from 2011, and the creation of JUUL by PAX labs in 2017 has only made the problem worse. A ban could mean that many students are potentially going to be faced with a decision of whether they continue to find other methods of nicotine, or if they will need to quit forever.
"If you haven't smoked cigarettes before, you shouldn't start JUULing" said DePaul student Harsheil Arora, who started smoking at age 12. Arora said he would turn back to other nicotine forms if e-cigarettes are unavailable. "If they ban it, I would just start smoking cigarettes again; it would just be more of an inconvenience to have to go outside every time."
"
"I'll pretty much hit my JUUL anywhere I go. It's almost too easy to hit anywhere, which makes it super addicting(…)""
— Joe DiPofi, DePaul student
DePaul is technically a non-smoking university, but students are regularly seen smoking or vaping in both the Lincoln Park and Loop campuses. If JUUL is banned more students may be forced to smoke outside as opposed to using e-cigarettes, which can typically be used discreetly indoors which has contributed to its popularity. A JUUL is about the size of a USB and comes with small "pods" containing flavored nicotine and it gives off very little smell unlike cigarettes or even more advanced vaporizers. This allows students to use them pretty much anywhere, a luxury they will not be afforded if they choose to graduate to cigarettes.
"I'll pretty much hit my JUUL anywhere I go" said Joe DiPofi, a first-year transfer student at DePaul. "It's almost too easy to hit anywhere, which makes it super addicting, so it would definitely be an adjustment if it gets banned."
Though some believe JUUL is healthier than cigarettes, the long-term health effects of JUUL are still widely unknown. The FDA and multiple health professionals caution that it is not a harmless product, with each pod containing the nicotine equivalent to a pack of cigarettes. With that equivalent, many college-aged adults are already hooked and will pay for nicotine whether JUUL is around or not. However, some JUUL users still believe it is healthier than cigarettes.
"If JUUL gets banned, I'd probably just quit" said Katelyn Moser, a senior at the University of Illinois at Urbana-Champaign. "I've been trying to quit cigarettes and JUUL felt a lot healthier, so if that's gone I would be done."
Unfortunately, this might not be the case for everyone. A large concern over this potential ban is that big tobacco and other cigarette distributors are likely to see an increase in profit. For every student like Moser who finds a benefit from JUUL and would call it quits if banned, there's others like Arora or DiPofi who will either go back to or start smoking cigarettes.
Mayor Rahm Emanuel also wants to capitalize on the e-cigarette craze. Currently a pack of JUUL pods is about $15, a great value considering one pod equals a pack of cigarettes while a pack of cigarettes currently cost an average of $11.50 in Chicago. However, according to an article by Vape 360 Emanuel's plan calls for an extra $1.50 tax per ml of e-liquid, which could raise the price of a pack of JUUL pods from around $15 to $25 or more, and e-liquid going from $10 a bottle to almost $50 a bottle. If enacted, cigarettes will become the cheapest form of smoking within city limits.
Gottlieb insists that the widespread use of e-cigarettes among teens is too big of a problem to dismiss, and called on tobacco industry leaders – as well as manufacturers of electronic cigarettes – to take responsibility for a health crisis.
"They (the tobacco industry) say they've changed from the days of Joe Camel. But look at what's happening right now, on our watch and on their watch," Gottlieb said in his prepared statements announcing the new policy. "They must demonstrate that they're truly committed to keeping these new products out of the hands of kids and they must find a way to reverse this trend."