Getting your pump on to keep the freshman plump off
Staying in shape is hard enough, but for many the most challenging time to do so is as a first-year college student. If you haven't heard of the "freshman 15" before, it's a trend of first-year students gaining roughly 15 pounds as a result of the school workload, lifestyle changes, lack of a high school sport, and a steady influx of pizza and beer, which all make it hard to stay in shape. Fortunately at DePaul, the "freshman 15" is avoidable with a little guidance and motivation.
"
If you don't have someone holding you accountable to get into shape, you're never going to get where you want to be."
— Gabriella Christopher, Personal Trainer
"It's really just about getting into the right routine and having people hold you to it," said DePaul graduate student Brandon Jimenez, who claims to have lost 50 pounds since his freshman year. "I just made the Ray my home away from home. Whether it was lifting or playing basketball I just wanted to stay active however I could, and it worked for me."
DePaul is undeniably a basketball school as the largest revenue Division I team sport, but you don't have to be on the team to get involved in the action. The third floor of the Ray Meyer fitness center offers five courts, in addition to a full indoor track at the second level. If running isn't your style but you need cardio work, many students have found that simply getting out onto the courts for a game can make for a much more enjoyable workout.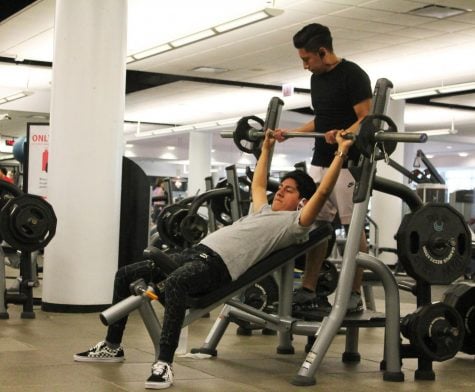 "A good staple to any workout is steady state cardio," said DePaul student trainer Peter Paleczny. "This will get your body working in a state where it's burning a lot of your stored carbs and fat as energy, which is great for keeping off the unwanted pounds."
If basketball is not your speed, there are plenty of other options for getting motivated for cardio and full body workouts. For some, that might mean getting a personal trainer or joining a workout group. Seven days a week the Ray offers free group workouts in yoga, cycling, dance, weight lifting, boxing and more, all of which you can sign up for via the DePaul website. You can also sign up to have a personal trainer walk you through some great workouts if you don't want to be in a group setting.
Xavier Ortega | The DePaulia
"Working with a trainer is meant to be more tailored to your own body," said Paleczny. "When you sign up to work with a trainer, we take you through a bunch of assessments that help us design a workout program tailored to your body's makeup. If you are super new to exercise, I would also recommend checking out a group fitness class as they are included in student membership at the Ray."
In addition to the personalized workouts DePaul offers, a trainer can also be beneficial by simply holding you accountable to work your hardest.
Gabriella Christopher, a personal trainer at Midtown athletic club in Bucktown, stresses the importance of having someone push you to your fullest potential.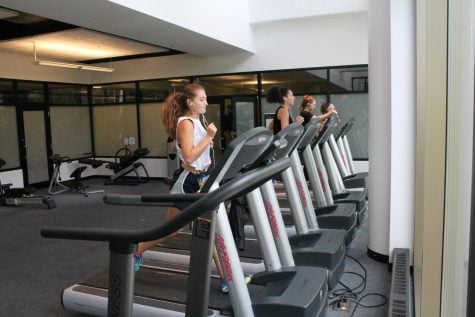 Xavier Ortega | The DePaulia
"If you don't have someone holding you accountable to get into shape, you're never going to get where you want to be," she said. "I tell all my clients that I'm going to push them because I know that's what I needed when I was trying to get healthier."
Even if none of these options sounds appealing enough, there are still more options. In a big city like Chicago, getting around can be challenging even with all the transportation options. Now though, some apps like FitBit and Sweatcoin will even pay users for walking a certain distance each day. With sweatcoin, you can get paid $0.95 for every 1,000 steps, a monetary incentive to exercise if getting to the gym is too expensive. As a DePaul student though, membership at the Ray is included in your tuition.
In addition to getting active though, you have to complement walking or running with a healthy diet. It's unrealistic to expect that as a college student you won't be subjected to fast food and alcohol, but you can balance those calories with healthier foods throughout your week. Elyssa Therese, an exercise science major and employee at the Ray, suggests that high carbs, protein, and greens are keys to finding a balanced diet when paired with cardio workouts.
"When you run you burn a lot of calories, so it's important that you're eating high proteins and carbs to help build muscle and give you energy," said Therese. "It only works if you keep working out though. 45-60 minutes every day is not hard, you always have time. You also just have to pick the right foods, everywhere has healthy choices now so it's really up to you how healthy you want to be."