Cerny hits home stretch of time at DePaul
Senior year is closing in fast, and as Franny Cerny laces up her cleats and begins to pump up her team, she knows that she left it all on the field and wouldn't change her time on the DePaul Women's soccer team for the world.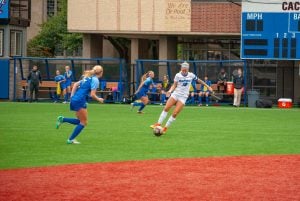 Photo Courtesy of DePaul Athletics
"It's almost surreal in a sense," said Cerny. "I don't want it to end. Its been such a big part of my life that I don't even know what I'm going to do after, but I'm happy that I've been able to put in as much as I can and get everything that I can out of the experience that I have."
During her time at DePaul, Cerny has become one of the most successful players in the program's history. She has scored 32 goals, provided 15 assists and accumulated 79 points in almost four seasons. In her freshman year she was named Big East Freshman of the Year, playing in 20 matches while starting in 12 of them. Her sophomore year she started all 19 games, and led the Blue Demons with five game-winning goals; at the end of the season, she was named to the All-Big East Second Team.
Cerny kept terrorizing defences in her junior year as she went on to lead the Big East with 10 goals, and tallied a squad-best 22 points. At the end of the season Cerny was named to All-Big East First team. Now in her last season with the Blue Demons, Cerny is once again leading the team in goals, assists and points.
Cerny grew up in Berkeley California, a liberal community that had a different atmosphere than here in Chicago. Following her graduation, Cerny committed to playing for the Blue Demons because she admired the program and culture that the team had created.
"I love the program here at DePaul," said Cerny. "The culture we have here, they look to recruit players based on their personalities as well as their talents and I felt very welcomed here."
When choosing her career path after committing to DePaul, Cerny said she chose to study Biological Sciences because she wants to become a physical therapist so she can stay in the sports field. Cerny also wants to give back to other athletes in similar ways that she was during her soccer career.
"She's definitely someone people look to for guidance," said senior teammate, Lizzie Parrilli.
As team captain, Cerny has a lot on her shoulders, but she has been able to do it with ease. As Parrilli remembers, there was a time that Cerny got in the face of another player because she had injured one of their teammates and Cerny didn't care for such unsportsmanlike conduct.
"
I love the program here at DePaul.The culture we have here, they look to recruit players based on their personalities as well as their talents and I felt very welcomed here.
— Franny Cerny, Senior Women's Soccer Player
"Someone fouled Maddie [Frick] and she was down and hurt and Franny got in the girls face and she yelled at her, she was like don't ever touch my teammates again," said Parrilli. "She's not a mean person, but that's just a representation of who she is. Always having this teams' back and setting this team's standards."
Cerny is described by her teammates and coaches as someone you want on your team – she's the teammate you wish you had on or off the field.
"She's a natural born leader," said head coach Erin Chastain. "I don't think she has ever had to grow into being the leader of this team, she was born to be our leader. She knows how to buckle down when it's time and how to be loose and have fun."
Outside of the soccer field, Cerny likes to enjoy her free time Downtown, or off the Grand redline stop, where there are multiple different types of restaurants to try out.
"A lot of my exploring the city revolves around food," said Cerny. "I love food, and I think it's a great way to get to know this city."
Cerny has long been familiar with the sacrifices needed to maintain her academic status while being able to play the sports she loves.
"It's all about prioritizing and making sure you're meeting your deadlines, but also making time for yourself," said Cerny.
As her senior season with the DePaul Blue Demons comes to end, and Cerny hopes to have the opportunity to play professional soccer, she's planning on entering her name into the draft, but is hopeful that she will be able to play for a few years in Europe in the Czech Republic where her family is from.
The friends you make in college will be the friends that you carry throughout the rest of your life, no matter how far apart you are. For Cerny that's one of the things she will miss the most about being at DePaul.
"It's going to be a big change for me not being around my best friends as much once we graduate," said Cerny. "It's something I'm going to have to adjust to and I think not being able to see them is going to be very hard for me at first. It's definitely what I will miss the most about my being at DePaul after I graduate."