Speed up the rebuild: Players and coaches open up on plans to be more aggressive offensively during the 2018-2019 season
What will the 2018-2019 iteration of the DePaul Blue Demon basketball team's offense look like?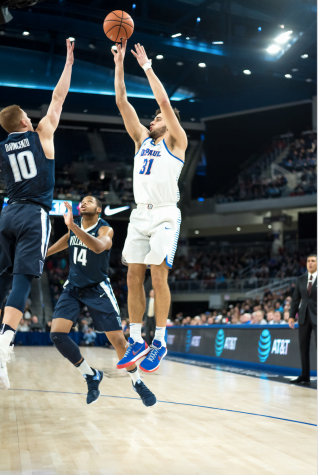 Blue Demon fans hope the answer to this question is 'nothing like the 2017-2018 version'. Last season, the Blue Demons finished last in the Big East Conference in scoring offense (71.9 points per game), field goal percentage (42.8 percent), and 3-point field goal percentage (31 percent), as the offense often defaulted to hero ball from junior stars Eli Cain and Max Strus.
Perhaps the best measure of the strength of an offense is Ken Pomeroy's adjusted offensive efficiency statistic. The Blue Demons finished 183rd in the country by this metric last season (45 of the top 50 teams in this category made either the NCAA or National Invitational tournaments).
Throughout the offseason, head coach Dave Leitao and several of his athletes have given clues about what they want the offense to look like next season. Let's piece it together.
Better 3-point shooting:
Shooting at all positions is at a premium. But last season, the Blue Demons hardly had shooting at any position.
Since transferred guard Brandon Cyrus led the team in 3-point percentage at 34.6 percent and overall the Blue Demons shot 31 percent from deep that checked in at 334 out of 351 Division I schools. DePaul big men hardly chipped in anything from deep as Marin Maric led the way in 3-point percentage (33.3 percent), but did it on a nonconsequential 1.1 3-point attempts per game.
Blue Demon big men (Maric, Reed, Butz, Peter Ryckbosch, Tre'Darius McCallum, and Joe Hanel) combined for 39 made 3-point field goals last season. Jaren Jackson Jr. made 38 by himself with Michigan State, Lauri Markkanen made 69 at Arizona his one year there, Omari Spellman made 65 last season with Villanova, and throw in Toby Hegner from Creighton who made 36 last season so we aren't only using first round picks.
Not only were the Blue Demons not making 3-point field goals, but they weren't taking them at a high rate either. They attempted 6.3 per game which was the lowest in the Big East Conference. Look for that to change.
"We've added more shooters and we've put much more emphasis on it, so the combination I hope will make us really better than what we were last season," Leitao said at the Chicago college basketball tip-off luncheon last Monday.
How would drastic improvements from deep help this DePaul team?
"A lot of guys last year on our team struggled with shooting the ball so now we have Jalen [Coleman-Lands] who can stretch the floor, Eli can stretch the floor out shooting the ball so it'll open up driving lanes and have the defense collapse," Strus said. "We can kick it out and give an easier shot for step-in threes. You will see that percentage go up this year."
University of Illinois transfer Lands sat out last season per NCAA transfer rules. He brings a 40.2 percent collegiate track record from deep to DePaul. Freshman John Diener was an elite shooter in high school, while Cain said freshman big man George Maslennikov also has flashed deep range in practice. Femi Olujobi has showed signs of a sprouting long-range game as well, knocking down 18 3-point field goals at a 29 percent clip last season at North Carolina A&T after going 0-for- 11 from deep his first two seasons at Oakland University.
"I think that [3-point shooting] will definitely be one of our strengths this year," Cain said. "I think having Devin [Gage] back will create a lot of open shots for a lot of us. That's the first thing. Secondly, I think we have more guys that can put the ball in the basket from the 3-point range. I know all of us put a lot of work in this offseason to increase our 3-point percentages and become more consistent."
Play fast:
One thing that DePaul has done fairly well offensively the last couple seasons is playing with pace.
Last season, the Blue Demons finished 90th in the NCAA in possesions per game (73.1) and 89th in adjusted offensive tempo (Ken Pomeroy statistic). Not great, but in the context of their otherwise inefficient offense, not too bad. This season, the Blue Demons may have the personnel to play even faster.
"We're trying to push the ball up the floor fast, get a quick shot, and if we can't we're going to run some offense," Strus said. "Just try to get the best shot available."
The key to making the Blue Demons play fast may be Gage.
Per SportsReference.com, in the eight games in which Gage played in last season, the Blue Demons played with a pace of 71.11 (calculation), while playing at a pace of 69.9 in the 24 games Gage sat out with injury.
But, Gage can't play all 40 minutes every game. So like any good mentor, he's passing some of the secrets to playing quicker along to a freshman teammate.
"What I've learned from him is pace," freshman point guard Flynn Cameron said about Gage. "He sets the tone at trainings [practices]. He sets the tone when we play open gym. I feel like if I can guard him coming down on the fast break, I can guard anyone. He said he was going to teach me a couple more tricks he has up his sleeve, so I look forward to that."
Versatility:
Positions in basketball are vanishing as coaches expect players of all sizes to be able to handle the ball, run the floor, shoot from everywhere on the floor, and guard as many positions as possible defensively.
Having players who fit this bill will be a strength for the Blue Demons next season, at least according to coach Leitao.
"I think we got bogged down a little last year by being too one dimensional," Leitao said. "Eli had been a very good scorer, but because he was on the ball it kind of took away some of his ability to have the freedom to be a more aggressive scorer. You have Max who was our No. 1 option last season and you put him back at his natural position. You add Devin Gage who can distribute the ball around and Jalen Coleman- Lands who can fill the bill [with his shooting]. I think our multiple [weapon] approach will be beneficial to us and make us better."
Having those long, athletic big men in Reed, Butz, and Olujobi will help in the versatility department as well.
"We can switch everything one through five because guys can guard multiple positions," Strus said. "We can go with any lineup and [still] be all right so guys playing different positions will help us out a lot."
Basketball is trending towards a version where pace and space are kings offensively Shooting at all positions is an almost must and positions aren't really a construct anymore because guys are expected to play everywhere on the floor.
DePaul's emphasis offensively this offseason on improved shooting, continuing to play with pace, and positional versatility are all steps towards becoming a more modern offense while hopefully improving that win-loss record along the way.