International players call DePaul home
Hang on for a minute...we're trying to find some more stories you might like.
With more than 17,000 international student-athletes studying and competing at NCAA member institutions, international student-athletes are a positive addition to the learning environment within intercollegiate athletics.
International student-athletes face unique challenges once they land on campus, including additional travel, language barriers, difficulties in adjusting to a new sports culture, acclimatization issues and isolation. With such challenges, these athletes bring depth and cultural diversity that enhances the learning environment of every student-athlete, coach and administrator in the Association.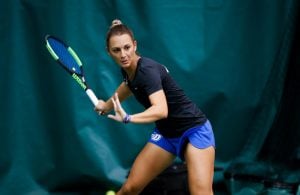 "It was weird when I got here – like everything was different," Aspasia Avgeri, from Athens, Greece, said. "You know like the cups, the silverware, I don't know why but everything seems bigger."
Likewise, Lenka Antonijevic, a sophomore tennis player from Serbia, said things and people in America were different.
"The mentality of people is also weird," Antonijevic said. "So, I needed time to get used to it. It's not weird in a bad way but just different from back home. And we came here alone with no parents, so I needed some time to get used to it."
International student-athletes are one of the fastest growing subpopulations in intercollegiate athletics, increasing at a rate that is far outpacing the overall student-athlete growth in NCAA Division I intercollegiate athletics. If you follow DePaul University athletics, you probably know that international students make up a lot of the rosters. There are 235 student- athletes at the university, of which 30 are international students. These students are far away from home, however they took different pathways to get here, most of which came through scouting by the coaches of the respective sport.
"For me, I was playing a tournament in Europe, and my coach, (Mark Ardizzone) watched me, and he liked how I played," Antonijevic said. "So, after that we talked, and he offered me a scholarship, and he introduced me to DePaul and everything."
Similarly, Anton Sell, a senior soccer player from Germany, chose to come to play soccer at DePaul after being scouted by coaches.
"I got recruited by coaches, and they basically reached out to me, and we had some good talks," Sell said. "They told me some good things about the university, and I had some great talks with other students who were studying here at that point."
Antonijevic said she chose DePaul over other schools because of how people cared for and interacted with her. She said she was excited to come to DePaul University.
"We had official visits," Antonijevic said. "They told us about the university, and everything and they offered us to come here before the season to see everything on campus."
The excitement to leave home and come to study in the U.S. will have different effects on each student. These students have grown accustomed to living in their home countries and being around their families, so the thought of leaving them to come to the U.S. can create excitement or sadness. Avgeri was not excited to go to the United States for her freshman year, but the love of playing tennis made her change her mind.
"To be fair I did not want to come to the United States, but then I really want to play tennis, that's what I do, that's my sport and then Mark came along, he offered me a scholarship and then that is a good chance for me to study and play tennis," Avgeri said. "I really trust Mark because he was so nice, and he met my family."
Having international teammates can help ease the thoughts of being far away from home. Peer and group advising have proven effective as components of adjustment throughout the international student transitions. These support groups can be provided by their international teammates or coaches.
Most of the time, their teammates help them a lot because they spend a lot of time together. Moreover, their international teammates have gone through the same experience.
"They definitely helped a lot, just because I was here like…there are so many things you don't know when you come in here," Sell said. "Like a freshman and an international student, you have so many more things to think about. And also, on the soccer side, it's a completely different system we have here regarding the conference games. That is what they explained to me because they knew what situation I was in because they were in this situation a year ago."
These students always have someone who acts like a parent to make them feel at home. Ardizzone traveled thousands of miles to recruit players from their respective countries, having been with the DePaul Blue Demons tennis since 1995 and has seen changes over time. Working with international student-athletes is nothing new to him because of the long time he has been in the job. He knows the challenges he faces to make them comfortable, but he does his best.
"A lot of times when they first come, we make sure they realize their culture is here," Ardizzone said. "Aspasia (Avgeri)'s second day in the USA, we ate at the Athenian Room, and she met a bunch of Greek people."
He said there is a Serbian church close to the Lincoln Park campus and there are Serbian restaurants around the neighborhood too.
"The Serbians, this is the second largest contingent of Serbians in the world in Chicago. Belgrade is the only place that has more," Ardizzone said. "If they get homesick and want to eat some Serbian food, they know where to go. If they want to hear some Serbian talking, they know where to go."
An accomplished recruiter, Ardizzone has brought to DePaul some of the highest quality talents. He said he tries to make everything personal and make the players comfortable.
"When I first started going to Europe, even 15 years ago to recruit players, no other coaches were there," Ardizzone said. "I would be the one beating the paths down to Serbia, Hungary, Romania, now I don't go any place that there are no other coaches,"
"Instead of people just recruiting…now I go upstairs today, and I talk to my recruiter. I personally meet every kid and try to meet their families."
He said the kids are excited to come to the United States because they get more opportunities to play because in Europe, once they graduate from high school and do not turn professional, they no longer play. He said he has been lucky to recruit players who buy into his philosophies and can work with him.