For Abby Reed, DePaul women's soccer is now home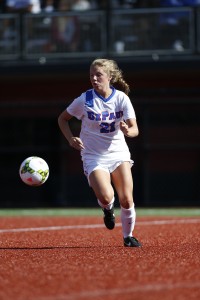 When Abby Reed was deciding on which college to attend in high school, Reed set her eyes on Indiana State. Reed, a standout from Rockford, relished for another chance to play with her sister, Taylor. The two briefly played together in high school when the younger Reed was a freshman and Taylor was a senior.  She wanted to experience that again.
In their time together in 2013, the season was a success. Reed posted an Indiana State single season record with 10 goals and Indiana State went 10-9 before losing to Illinois State in the Missouri Valley Conference finals.
But at the end of the season and with her sister graduating, Reed revaluated her surroundings. Something to her was off.
"I really wanted to be closer to home," Reed said. "(DePaul) is only an hour and a half from home … I had looked at DePaul before and it was definitely up there before. When I was considering transferring again, I definitely knew I needed to go back to that school because there was a lot that drew me to it in the beginning."
Indiana State's loss has been DePaul's gain.  As the Blue Demons went through their non-conference schedule undefeated, Reed has been a huge reason why. Reed leads the team with 16 points and eight goals, including a nation's best five game-winning goals.
"It's really exciting because I didn't really know what to expect," Reed said. "I'm really happy with the decision that I made. I love it and I'm really happy with where we're going, how we started."
Reed said that DePaul has been a natural fit for her ever since the team's first scrimmage.  The chemistry on the field has flowed and teammates Elise Wyatt and Rachel Pitman have taken Reed under their wing.
Wyatt has benefitted from Reed's arrival. The junior has six goals and three assists for 15 points. Together, the two have formed a connection that has translated into an offensive threat on the field.
"She's one of the most talented players I've played with," Wyatt said. "She's very creative. Abby and I feed off each other and that's hard for any defense to defend. It's fun for us because we really enjoy it."
The combination of Reed and Wyatt is something that DePaul has lacked in recent years, head coach Erin Chastain said. Chastain recruited Reed hard in high school and was ecstatic when she heard Reed would be interested in transferring to DePaul.
"I was thrilled," Chastain said. "We were excited and it was a no brainer. Her transition onto our team has been seamless. It's been like she's been on our team the whole time.
"I think it's obviously fun to score goals," Chastain said. "It's created a team that just wants more. Every game they're trying to score more. Every game, you see them have an even better chemistry together. I think it's something certainly exciting for our program."
As the team shifts their focus to their conference schedule, Reed is excited to make her debut in the Big East.
"I know the Big East is such a good conference and it's going to test us," Reed said. "But I think we're going to play well. (Going from the Missouri Valley to the Big East) is definitely going to be a step-up competition wise."
Regardless, Reed feels at home with her DePaul teammates.
"Everyone is so friendly and everyone just kind of clicked from the beginning," Reed said. "I think we all have the same goal. We all have different personalities, but when we're on the field, it shows how much we want to win."