'David Bowie Is' better than ever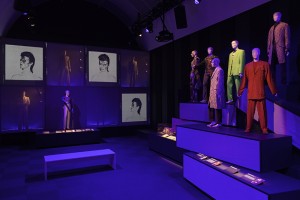 Ground control to DePaul students: The Museum of Contemporary Art is debuting a one-of-a-kind exhibit.
"David Bowie Is" debuts at the MCA Sept. 23, and an exhibit celebrating one of pop culture's greatest minds couldn't come sooner. Thanks to an extensive archive of costumes, artwork, sheet music and interviews, much of it released by Bowie himself, "David Bowie Is" catalogues the pop star's life more thoroughly than any documentary or biopic ever could. Bolstered by Sennheiser technology and the curatorial vision of the MCA, "David Bowie Is" is an essential for not only Bowie die-hards, but anyone interested in music, art, film, fashion or theatre, all of which Bowie moulded into his own.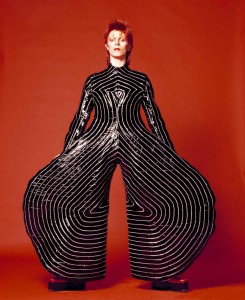 Premiering at London's Victoria and Albert Museum in 2013, "David Bowie Is" is a multimedia tour through Bowie's life and work that takes a bottom-up approach. The exhibit begins with his early years as a middle-class British boy with an outsized imagination, and evolves into an inspection of each phase of his performing career, from Ziggy Stardust to the Thin White Duke, progressing to his more recent undertakings. The tone overall is investigative — the order and pacing of the exhibit allows one to see the seeds of genius planted in the young Bowie, and his inspiration for his character development. He explains his artistic eureka moment best in his own words: "It was easier being someone else, and it worked."
Bowie has been a cultural icon for at least the last 25 years, so to have a museum exhibit about him so late in his career seems unusual. Michael Darling, chief curator at the MCA, provided insight on this point, explaining that the exhibit's genesis was basically thanks to Bowie himself.
"It's almost like he was cleaning out his closet, preparing himself for what might come next," Darling said, referencing the vault of thousands of materials featured in the exhibit that were kept in storage by Bowie, some for up to 50 years. "Maybe it was a slightly retrospective moment for him."
The exhibit works mainly because of the technology behind it. Before entering the first room, attendees are given a Sennheiser GuidePort device, which resembles a small tape recorder, and headphones. Guests can walk through the various rooms (each of which represents a stage or theme in Bowie's life and work) at their leisure, and the audio will change depending on where they are standing. The audio track is completely responsive to the listener's location in the exhibit, and is not activated by a timer or by pushing a button. It's actually a little mind-blowing upon first realizing what's happening, that the video you are watching is synced up to what you are hearing, and that the sound shifts from room to room.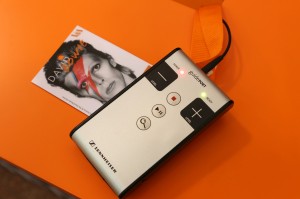 If that doesn't give you goosebumps, then the treasure trove of artwork and lyrics from Bowie himself might. "David Bowie Is" may never have happened had Bowie himself not been such a relentless archivist. Even in his halcyon days as a British schoolboy, Bowie saved doodles and lyrics as if he knew they would be important 50 years later.
"You see pictures of him at 16, and he knew he wanted to be a rockstar," Darling said. The idea that he was even slightly aware of his own genius as a preteen is haunting in the most amazing way.
"How he did that while he was high on cocaine in LA, or living in exile in Berlin, that he saved all that stuff is incredible," Darling said. "I don't know how he had the foresight, or even the kind of wherewithal to do that."
Speaking about the collaboration with Sennheiser, Darling underscored the relatively new technology's vital role in the experience.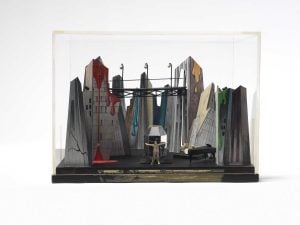 "You had to have music as part of the exhibition," he said. "But to play music out in the space, room after room, it would start bleeding into each other, as you can imagine the acoustics are terrible in here with hard floors. We wanted to make it a more tailored kind of experience."
With the sheer breadth of ephemera on display, one can easily lose themselves in the exhibit.
"People spend so much time in there because it's dark and it's dense, and people start losing track of time," Darling said.
If you or anyone you know is a Bowie fanatic, you have probably already marked the opening date of this exhibit on your Ziggy Stardust calendar. But even if you are only a casual fan, or don't even know anything about him, "David Bowie Is" will more than satiate your desire to know more about this enigma of a man. So float on over, in as peculiar of a way as you like.
"David Bowie Is" opens Sept. 23 at the MCA and runs through Jan. 4.
View Comments (1)