Peter Hedges creates poignant family portrait in 'Ben is Back'
Hang on for a minute...we're trying to find some more stories you might like.
As most everyone knows now, the opioid epidemic is one of the most catastrophic hot button topics in our world today. It has quickly and vastly spread throughout many different facets of society but most urgently, it has ripped its way into the fabric of youth culture and has tragically claimed the lives of many. Issues such as this and widespread reluctance to tackle it head on are ripe for the picking of filmmakers today.
Drug and alcohol addiction are by no means a new concept to be tackled by cinema. Masters of the medium who have explored it in some of their most career-defining projects include Danny Boyle, Darren Aronofsky and Steven Soderbergh. Even this year alone we saw the release of Felix Van Groeningen's "Beautiful Boy" which tackled the true story of Nic Sheff and his journey of recovery with a sun-soaked and muddled sense of lyricism.
And now we have Peter Hedges' "Ben is Back," starring Lucas Hedges (Peter's son), Julia Roberts, Kathryn Newton and Courtney B. Vance. The film chronicles one Christmas Eve in the life of a family that is dealing with the sudden return of their drug-addicted son, Ben, who claims he's on an approved leave from his rehab clinic calling into question the trust of his loved ones.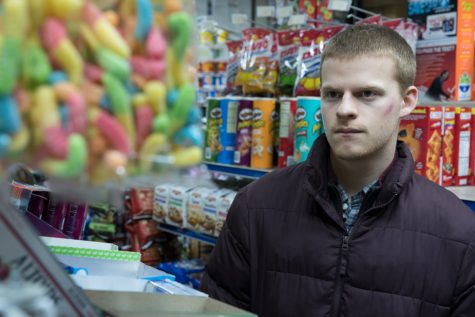 With "Ben is Back," Peter Hedges aims to take a different and more confrontational approach. He goes for what he refers to as "digital age cinema verite." Hedges positions his audience as a fly on the wall of the Burns' seemingly quiet and level-headed New York life allowing the audience to really feel the emotional extremes of every situation.
This is quite obviously an emotional venture for Hedges as a filmmaker whose body of work includes such acclaimed films as "Pieces of April" and "Dan in Real Life." But this film is a bit of a different beast.
"This was a film I made to make the three most important people in my life proud, my two sons, Simon and Lucas, and my wife," Hedges told The DePaulia, on the verge of tears. "That is most of all I've ever wanted to do in my career."
The bond of family is not only at the core of the film itself but also dominated a lot behind the scenes. With this being the first major collaboration between Hedges and his Academy Award nominated son, Lucas, it allowed the two to from a strong artistic bond. Hedges also puts emphasis on building a family-like camaraderie with that cast and crew and allowing room for plentiful creative voices and happy accidents. Hedges recalled an incident where a snow storm forced a day of production to relocate and cram indoors for a moment that Hedges said eventually turned into one of his favorite moments in the film.
"I still remember receiving advice on set of 'Gilbert Grape' which was that filmmaking is all jazz," Hedges said. "You do what you can do and you let everyone operate at their own wavelength and eventually it all comes together to make beautiful music. It's just all jazz."
With the film opening and expanding into crowded theater markets in the heart of the holiday season, Hedges hopes that "Ben is Back" can lend some sense of connection and catharsis to families that are potentially suffering from the effects of the drug crisis.
"I had someone come up to me after a screening last night crying and they told me 'You know, this film made me really realize all of the stuff I put my parents through when I was growing up'," Hedges said. "And I hope that realization happens for a lot of other people when this film comes out."
"Ben is Back" is now playing in theaters nationwide.