Feeling emptier: Non-conference attendance drops in Wintrust's 2nd year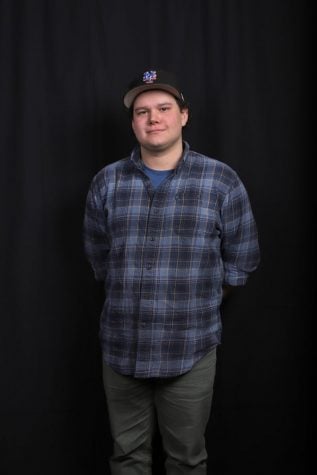 More stories from Shane Rene
As the Blue Demons settle into their second season at DePaul's new 10,000-seat Wintrust arena, men's basketball fans showed little interest in attending the Blue Demons' 2018-19 non-conference slate, according to documents obtained by The DePaulia via Freedom of Information Act.
Through DePaul's final and most well-attended non-conference game of the season — a crushing last-minute loss to Boston College — Wintrust saw an average of 1,274 fans scan their tickets for each game. Out of the Blue Demons' nine home games over that time, five saw fewer than 1,000 spectators.        
The Blue Demons averaged 2,615 in real attendance in 2017-18, bolstered by a home opener against Notre Dame — a top-25 opponent with a huge Chicago fan base — which saw over 7,000. If you omit Notre Dame as an outlier from the rest of DePaul's non-conference home games, Wintrust saw an average attendance of just 1,820 in its first year.
"Traditionally men's basketball attendance in BIG EAST [sic] games has trended higher than non-conference games," DePaul's athletic department said in a statement. "All indications we have looking ahead are showing similar trends and we're looking forward to some great games at Wintrust Arena. Reporting paid attendance is the industry standard in both collegiate and professional sports."
Wintrust seemed poised to improve attendance at men's basketball games with closer proximity to the city and campus, but it looks like the hype generated by the new arena did the heavy lifting in an underwhelming debut season. Even paid attendance figures — the number of tickets sold, printed and distributed regardless of whether or not the holder attends the game — have fallen off.
Compared to an average paid attendance of 5,765 (5,027 when you omit Notre Dame) in non-conference games last season, the 2018-19 slate saw just under 4,000 per game. 
"We were really able to leverage last year's home opener to beef up our ticket sales last year," Associate Athletics Director for Ticket Sales and Operations Marty Murphy said.
The slip in paid attendance in Wintrust's second year can be attributed in part to the loss of season ticket holders who gave up their seats after another 20-loss season for the Blue Demons. Murphy said the athletic department won't reveal the exact number of season ticket holders, but the number is improving over the long run.
"It is a larger number than it used to be over at the Allstate Arena in our final few years," Murphy said. "So we are still encouraged the uptick on season ticket sales."
That growth in season ticket holders did, however, slip this season. Murphy said season ticket sales declined in year two partly as a result of fans purchasing season tickets to ensure themselves a spot at DePaul's first ever home game at Wintrust arena.
Logan Simios is a season ticket holder who stayed aboard for the 2018-19 season and says the decision to keep his tickets was difficult and somewhat personal.
Simios, who says he grew up watching the Blue Demons at the old Alumni Hall in Lincoln Park, where his father, a 1958 DePaul graduate, was a season ticket holder. Simios says he has attended roughly 95 percent of DePaul men's games since he started watching in the late 60s, when he was just 5 years old. After a single season at Wintrust, he thought long and hard about abandoning the tickets his family has held for half a century. Ultimately, he stayed loyal to his Blue Demons. 
"The last 15 years have really been tough [as a season ticket holder]," Simios said. "Going to the games where there isn't a big crowd like there used to be is difficult because there is no energy in the arena like there used to be in the glory days of the team."
Simios says he has some gripes with the management of the program and doesn't feel like the the men's program is being treated like the Big East program they are trying to be.
"This is a big boy league … and I don't think the program has been managed the way it should have been managed through this process," he said. "I think they are hoping to win, but they aren't putting the pieces in place to win."
Those pieces may start to fall into place in the near future. Recruiting experts place DePaul's 2019 recruiting class in the top 20 nation-wide with big names like Chicago native Markese Jacobs and five-star power forward Romeo Weems, both of whom signed their National Letter of Intent this fall. Recruits with a national profile will help draw attention by themselves, especially if the program can convert elite recruits into wins.
Student attendance has been an elusive demographic for the men's basketball program. The commute across town from Lincoln Park to the South Loop doesn't help, but non-conference attendance really takes a hit over winter break when most students don't see campus for more than a month of the college basketball season.
"I'd certainly say the last couple of home games [student attendance has improved]," Murphy said. "We all know that the winter break hurts the student attendance a little bit with being a commuter school and everyone kinda going off campus."
The program has partnered with Chicago Public Schools and Chicago Catholic Schools to offer their students free tickets in DePaul's student section while students return home to their families for the holidays.
With students back from the holidays, the athletic department is attempting to drive student turnout with promotions like $2 beer vouchers for adult students and a new program called "30 for the win," which gives special treatment to large groups of students attending games together.
Karen Uhler, DePaul's associate athletics director for brand strategy and integrated marketing, says she and her team have focused on how to turn out DePaul's adult population, and beer seems to be the answer.
"It's really for the adult students so we are not screaming it from the mountain tops," Uhler said. "And we have an incredible uptick I think also for the Butler game, relative to that particular audience. Over 150 adult students took advantage of the vouchers."
Uhler says Wintust Arena is responsible for checking IDs inside the arena, but members of the athletic department do check student IDs before handing out vouchers. Student attendance at DePaul's $2 beer games against UIC, Penn State, Boston College and Butler was visibly improved.    
Simios says he thinks $2 beer nights are a great idea and says he's noticed student attendance improve as the Blue Demons move into their conference slate.   
"30 for the win" invites students to round up a group of at least 30 friends from DePaul to receive special privileges at the game. Each group of 30 or more will be given a private bus or trolly to the game and a free slice of pizza at half time. Uhler says three seperate "30 for the win" groups attended DePaul's game against Butler Wednesday, Jan. 16.
Uhler says she and her colleagues at other Big East schools are encouraged by how competitive the conference has been this season, saying close games that keep fans watching down to the final buzzer promise to help attendance.
DePaul's schedule will be kinder to Blue Demon attendance, with just one game scheduled to start at 8 p.m. or later. Last season, the majority of home games tipped off at 8 p.m. or later.
Murphy says he's happy to see more start times between seven and 7:30 p.m. because Chicagoans are comfortable with that time slot. 7:15 p.m. is standard for most of Chicago's professional sporting events.
"That atmosphere the other day [for Butler] was a lot more buzz and energy in the building," Murphy said. "And we gotta keep building on that because you know we're not stopping just because we got a decent crowd, it's all about keeping the buzz going.    
An improved record for men's squad also promises to improve attendance down the stretch. Simios says while promotions are great, you can only drive consistent attendance with a winning program. But for the remainder of the 2018-19 season, only time will tell if a handful more wins can help surpass the hype from year one at Wintrust arena.