Grays sets career-high in points as DePaul rolls over Villanova
DePaul (16-7, 7-4 Big East) defeated Villanova (15-8, 6-6 Big East) 93-70 on Friday night at McGrath-Phillips Arena in the annual Play4Kay Game that only featured three lead changes and two ties.
Senior forward Mart'e Grays had career-highs in both points scored and total field goals made with 31 points on 12-of-13 shooting from the field in 29 minutes played, including four 3-pointers that were all made in the first half. Junior forward Chante Stonewall and freshman guard Sonya Morris scored 12 points apiece while senior Ashton Millender and freshman Maya Stovall both put up 10 points.
Kelly Campbell had game-highs in both rebounds and assists, grabbing 12 boards while dishing out six assists. DePaul outrebounded Villanova 32-23, won the edge in assists 19-9 and totaled 32 points in the paint compared to Villanova's 26 points.
DePaul collectively drilled 32 total field goals on 58.2 percent shooting, an improvement from its 44.4 percent team shooting mark on Sunday afternoon's loss against No. 10/9 Marquette when the Blue Demons nailed the same amount of field goals. Not to mention, DePaul shot 13-of-25 from 3-point range.
"What was most pleasing to me tonight was to be able to score in a game in which were not gonna be able to create open-court opportunities [from] our pressure," said DePaul head coach Doug Bruno. "The entire game, for all intensive purposes, was a half-court game. And so to be able to score in the half-court and make stops in the half-court, I just think it all goes together."
Furthermore, DePaul's bench came ready to play, scoring 28 points compared to 14 bench points for Villanova. DePaul's offense was rampant and quick in transition, outscoring Villanova 18-3 in the fast break.
"There's moments when we can attack the paint, get to the line and tonight just showed that," Stonewall said. "We just made it a priority just to take one game at a time and just focus on the opponent that we were facing."
Villanova opened the game on with a 19-16 lead with 3:26 remaining in the first quarter after converting on all five of its 3-point field goal attempts and shooting seven-of-10 overall. DePaul, however, was able to hang in there and keep Villanova's first quarter lead to 23-21 with the help of 13 points on a perfect five-of-five shooting mark from Grays.
DePaul extended its lead to 42-33 with 2:58 remaining in the first half behind two consecutive 3-point baskets at the top of the key by Grays and Morris alongside a step-back jumper from the left baseline by Morris.
"Basically, I didn't force any shots. I just letting them come to me and basically just focusing and just knocking them down," Grays said. "The way our offense works, we have a chance to score at any position (and) any moment. It's a freelance offense."
At halftime, DePaul led 50-33 following a 16-0 run in the final 4:18 of the second quarter. Grays made DePaul's final two baskets and continued her perfect scoring mark with 21 points on eight-of-eight shooting.
"I just really believe that defense feeds offense and offense feeds defense," Bruno said. "A lot of people, or coaches, are known for their defense or for their offense. We're not really particularly known for our defense here at DePaul, but I do believe that when you make efficient stops it feeds to efficient offense."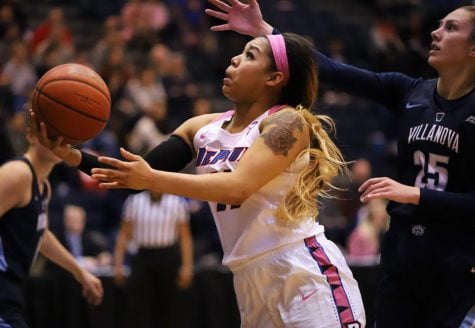 Villanova went on a 6-0 run midway through the third quarter, but still trailed DePaul 63-45. Nine out of the 10 players who played for DePaul scored when Dee Bekelja banked in a 3-point shot from the right wing nearing the end of that period.
"We just need all of these players playing," Bruno said. "This is a team that I think our depth is really important, but it's gotta play effectively. I've gotta make sure I use the right people together, and that's not necessarily that easy with the amount of people that can all play."
DePaul's defense held Villanova to shoot just 30.0 percent overall in the third quarter on six-made shots. Accordingly, DePaul held on to a 70-48 lead heading into the fourth quarter.
"You have to have patience on the defensive side of the ball," Bruno said. "You have to have intelligence on the defensive side of the ball and you have to have discipline on the defensive side of the ball."
Despite an early fourth quarter scare from Villanova after it made its first four shots, DePaul's offense put up 23 points to hold on to the win.
DePaul will cap off its weekend homestand against Georgetown (11-12, 5-7 Big East) on Sunday afternoon at 2:00 p.m. CT.