DePaul finishes off season sweep of Georgetown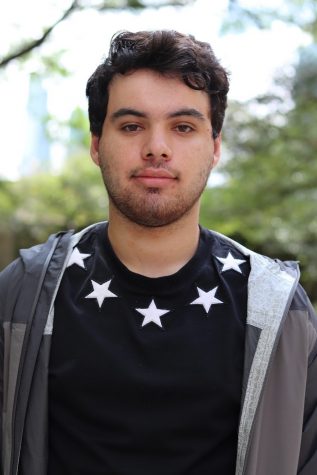 More stories from Lawrence Kreymer
Playing in their last game of the season at McGrath-Phillips Arena, DePaul (17-7; 8-4 Big East) hosted Georgetown (11-13; 5-8 Big East) and was able to cap off another impressive season at McGrath-Phillips with a 76-71 win on Sunday afternoon.
The Blue Demons were coming into the game against the Hoyas with a win over Villanova on Friday night, 93-70, where senior forward Mart'e Grays had a career night, scoring 31 points on 12-13 shooting and 4-5 from the 3-point line. For Grays and DePaul to follow up that strong performance was always going to be a tall task, but the Blue Demons were able to put together another complete game for their eighth conference win of the season.
"Make a layup," DePaul head coach Doug Bruno said after the game. "If we make a layup this game is a really different basketball game. The person sitting to my left, Mart'e Grays, has 31 the other night and then when the game starts tonight a couple of point blank [misses]. We just have got to get better at focusing and finishing our point blank two's."
Early on in the game DePaul carried over their hot shooting shooting from Friday night, starting the game 5-9 from the field and 4-6 from the 3-point line, while jumping out to a 14-10 lead. However, Georgetown was able to shake off any early rust that they had coming from their Friday night loss to Marquette, and started going toe-for-toe with the Blue Demons. The Hoyas ended the first quarter on a 16-5 run and took a 26-19 lead into the second quarter.
"I'm proud of our team to have the resiliency to be up nine in the second half and to give away that lead, I guess you could say Georgetown took the lead from us," Bruno said. "Have the toughness down the stretch to finish the game. I'm proud of what everyone here has done."
That didn't matter, though, as the Blue Demons quickly took back their lead by shutting down the Hoyas offense, limiting them to only nine points quarter on 4-13 shooting and 1-4 from the 3-point line. On offense, junior forward Chante Stonewall scored 10 of the team's 19 points in the quarter on 4-7 shooting from the field and had 15 points in the first half. The Blue Demons also were able to get in transition because of their stellar defensive effort in the second quarter and get easy looks inside.
"Just trying to be aggressive and get our team going," Stonewall said. "They were guarding us really tight and they switched on a lot of screens. So, just trying to find the slips and find myself available."
DePaul senior guard Rebekah Dahlman was one of the players who helped spark the fast break for the Blue Demons, not only just in the second quarter, but the in the second half as well. Dahlman, only finished with seven points on 2-6 shooting, but still contributed with eight rebounds and two assists to help out her team pull out a win.
For DePaul, while they were able to come away with the win, they still had to hold off an eager Wildcats squad whos 1-10 in their last 11 games against the Blue Demons. However, DePaul was able to extend their lead to eight after the third quarter, thanks to Grays going off for eight points in the quarter on 4-4 shooting.
Grays struggled early on to score after she scored 31 points in the previous game; she started Sunday's game 0-4 from the field and picked up two early fouls, which only limited her to eight minutes of action in the first half. She wasn't going to let one bad half of basketball deter her from regaining her confidence and ended up scoring 18 points on 8-12 shooting and 2-3 from the 3-point line.
"Just like I said in the last press conference it's all about focus, and I was clearly not focused in the first half missing like coach Bruno said point blank layups," Grays said. "But later on you just got to move on, we will forgive each other. I just stayed in the moment and finish my next layups. That's all."
Even with Grays playing at such a high level and DePaul taking an eight-point lead into the final quarter, that didn't stop Georgetown from putting together a run to get back in the game. The Hoyas kept fighting the entire quarter, making the Blue Demons uncomfortable on offense and on the other end making tough shots after tough shots to cut into the lead. Georgetown was able to tie the game at 67 with 1:48 left in the fourth quarter.
Thanks to the play of freshman Lexi Held, she scored four straight points when the Blue Demons badly needed someone to step up and provide some offense. Up until that point DePaul only scored eight points in the quarter and were in danger of letting the game slip away from them, but Held stepped up when her team needed her to. She finished the game with 11 points on 3-6 shooting and 4-4 from the free-throw line. 
"Lexi Held did a very good job down the stretch as a freshman," Bruno said. "We had her in the
game at crunch time, so everybody went in together and I'm really proud of the win."
DePaul will be back in action next week on the road against Seton Hall and St. John's. The Blue Demons have defeated both of these teams already once this season at home.