Adjuncts address 'second-class citizenship' status at town hall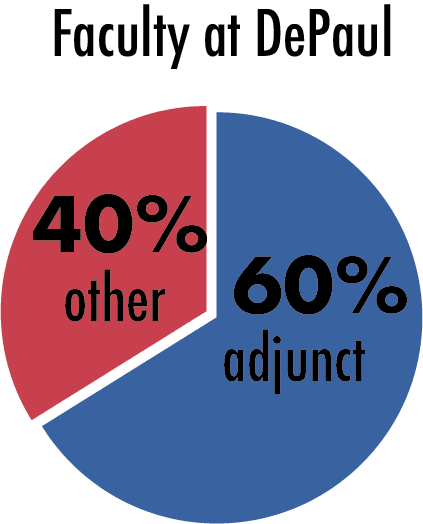 Board members and attendees alike aired concerns of subpar treatment and poor communication at a town-hall meeting for adjunct faculty held March 5 by the Workplace Environment Committee (WEC). The committee's stance is that the university often does not institute its Vincentian values when dealing with adjunct teachers.
"There is this universal feeling that adjuncts are second-class citizens here," said Nathan DeWitt, chair of the WEC and DePaul adjunct. "The Vincentian mission states that the community here is above all characterized by enriching the God-given dignity of each person. I would argue that there is very little dignity in working for a wage that is below your skill set and expertise, having little to no job security and in having no say in your department."
When asked if he personally feels as if he is treated fairly as an adjunct faculty member, DeWitt made it clear that his experience could not speak for others' outside of his school.
"Yes," he said. "But with an asterisk that notes I'm in CDM, and we are kings at this school. Adjuncts in CDM and business are usually known to be pretty happy and well-compensated, while the College of Liberal Arts and Sciences is a more frustrating environment. So for me, yes, it's a great place to teach and I'm loving my unit. Adjuncts in LAS and also the College of Science of Health—they're a little bit more overworked and a little bit less compensated."
How adjunct faculty view their treatment by the administration was made evident as individual attendees expressed frustration with certain adjunct realities.
Tricia Hermes, a term faculty member in the Writing, Rhetoric and Discourse unit, said she felt it was unfair that while full-time faculty are given titles from the university like "Professor," adjunct and term faculty are often left with less flattering titles—in her case, "Senior Professional Lecturer."
Assistant Provost Lucy Rinehart was also in attendance, but only spoke to dismiss the frustrations presented by non-tenured faculty. When Hermes expressed her dissatisfaction about the titles given to non-tenured faculty, Rinehart was quick to explain that while her official title may be "senior professional lecturer," the faculty handbook does not dictate what students can call their teachers in the classroom.
A different attendee voiced his frustration that in light of the School of New Learning's dissolution come July, tenured faculty have been offered a buyout, while adjunct faculty have been left like "canaries in a mineshaft" to figure out what comes next. He said that given the versatile nature of his unit's adjuncts, it frustrated him that the administration provided no outlet to search for new positions in different colleges.
There actually is a website for that—and to DeWitt, that question proved exactly why the WEC is needed.
Sixty percent of DePaul faculty are adjunct, and after a 2016 university-wide survey found that most were greatly dissatisfied with their treatment by the university, the WEC was formed to bridge the gap between adjuncts and the administration. Much of what the group focuses on is bettering communication between those two realms.
"At an institution this large, invariably there's miscommunication," DeWitt said. "So what we try to do is provide that channel to let the left hand know what the right hand is doing—get these sections of the university to talk to each other."
Prior to the WEC's creation, there were whispers around campus of faculty unionization; for DePaul, there may be too many obstacles in the way of achieving that.
"Unionization here has all kinds of hurdles to it," he said. "One issue you have at DePaul is that it is a religious institution, and there is a conservative in the White House—and consequently, a conservative majority on the National Labor of Relations [Board] (NLRB). It's been our understanding that any attempt to unionize workers or faculty at DePaul would be met with opposition because in the mind of the NLR, we are pastors—they view us as, like, religious people."
This could make unionizing with groups like the American Association of Unionized Professors much more difficult. DeWitt also says he doesn't think enough support for unionization could be gathered. While there are 1,600 adjunct teachers at DePaul, only about 30 people attended Tuesday's meeting, many of whom are on the WEC board.
"You see the turnout here," he said. "We don't have anything like the numbers necessary for unionization or even a union vote. It's maybe a nice idea, but I don't think it's particularly realistic."
But right now, the WEC doesn't think it needs a position on unionization.
"The feeling, I think, of everyone in the WEC is that DePaul has operated in good conscience on these issues and is continuing to do so," DeWitt said. "We feel like we can work this out collaboratively and within the constraints of the university system, without bringing in these outside organizations."
Conditions between the administration and adjuncts have improved since WEC's creation, but communication between tenure and non-tenure-track faculty remains tense.
"A couple years ago, the Committee on Contingent Faculty invited WEC members to a meeting […] I was floored by the lack of knowledge that the full-time faculty has about adjunct teachers here at DePaul," said Jack Magaw, a liaison between the WEC and Faculty Council. "We're all endeavoring to achieve the same thing, which is to give these students the best education that they can possibly receive. Yet, we seem in opposition of each other, and don't understand or know each other."
With this kind of divide between the two types of faculty, DeWitt says he fears for the future of adjuncts at DePaul.
"Higher education is in a situation right now where everyone is being asked to do more with less," he said. "If it gets to a place where the university has to look at who is expendable, my fear is that adjuncts will be who they consider to be that and the first place they look to make cuts."