Defense leads the way for DePaul in their victory over Providence in the Big East Tournament quarterfinals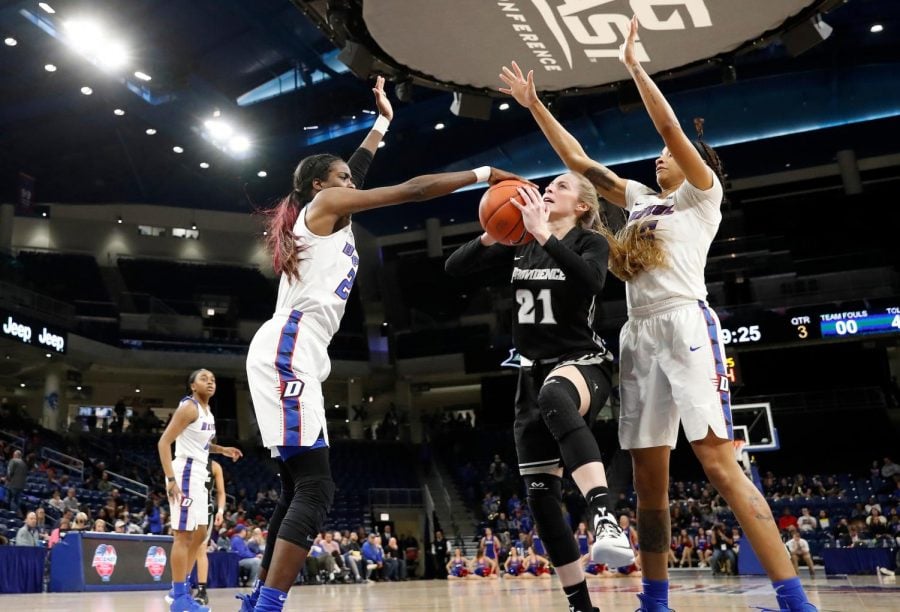 The saying that "defense wins championships" never gets old to this day, and especially when you are trying to repeat as Big East Women's Tournament champions, it starts with playing great defense. For DePaul that is no different in its quest for back-to-back titles and in its current nine game winning streak, the defense has been the driving force.
In DePaul's quarterfinal game against Providence on Sunday night, the Blue Demons contained the Friars en-route to a 80-65 victory. DePaul came out of the gates ready to play, with its full-court and half-court press working perfectly. The Blue Demons got out to a 14-2 start, which was led by their defense forcing Providence into tough shots and turn it over four times in the first six minutes.
"We've really been focusing on getting off to a quick and efficient start, especially now that it's one-and-done time," DePaul junior guard Kelly Campbell said about DePaul's good start to the game. "So it's been very important for us, and I think we did a great job of really getting off to a quick start today."
DePaul, who live by the 3-point shot, made sure Providence didn't get going from that area of the field, as the Friars were just 4-for-18 from the 3-point line in the game, good for 22.2 percent, which is 15 percentage points below their season average.
For DePaul making sure they can get out in transition and creating easy scoring opportunities is all predicated on its ability to defend and rebound. The Blue Demons outrebounded the Friars 42-23 and 18-6 on the offensive glass. Those 18 offensive rebounds led to 17 second chance points for DePaul
"That was very big for us because the first game — I mean, the second game we played Providence, we had trouble offensive rebounding, so we made a big emphasis on rebounding the ball and getting second shots," DePaul senior forward Mart'e Grays said about the rebounding advantage DePaul had in the game.
When the first quarter ended, DePaul were up 20-9 even though they went 1-for-10 from the 3-point line in the quarter. The Friars' were 3-for-8 from the field, 0-for-4 from behind the arc in the quarter with six turnovers also.
The second quarter was a similar story for Providence as just when they seemed to be finding some offensive rhythm in the game, DePaul took it up another notch to lock them down and restore its double-digit lead in the game.
DePaul recognize the importance of playing great team defense every game, but it's even more important in the Big East Tournament when each possession becomes increasingly valuable. Making sure to lock down in crucial moments of the game is something the coaching staff and Bruno stress at this time of the year.
"We're better, but we still have a long way to go," Bruno said on his team's defensive improvement. "We're better, but when you ask me how, we just — people don't realize unless you come watch a practice that they think all we do in practice is shoot threes. I mean, they don't understand that we really do work very diligently, very hard on the defensive side of the ball. I have a philosophy and a belief that defense is nothing more than offensive behavior, offense when the other team has the ball.You can be on offense when they have the ball when you're focusing on it. We work on it. We're small, and we still have a lot of work to do."
Campbell made her impact felt on both ends of the floor, on offense she scored seven points and dished out a DePaul Big East Tournament record 12 assists. On defense, Campbell recorded a game-high five steals and was a menace all night out long on the defensive end out on the perimeter. Her running mate, senior forward Mart'e Grays led all scorers with 25 points on 9-for-14 shooting and 4-for-6 from the 3-point line.
"I think the steals are just a result of our pressure," Campbell said after the game. "I mean, our guards up front were wearing the ball handlers down. I feel like I was just in the right place at the right time a couple times."
In the third quarter, Providence went on a 7-0 run to begin the half and cut DePaul's lead to 10 points, 39-29. However, the Blue Demons did what they always do when facing adversity and that's locking down on the defensive end for the rest of the quarter. Eventually, DePaul restored their 20 point lead as they went on a 24-14 run in the final six minutes of the quarter.
DePaul will play Creighton in the second semifinals game on Monday, that is scheduled to tip off at 5:30 p.m. CT at Wintrust Arena.