DePaul and Marquette meet again in the Big East Tournament championship game.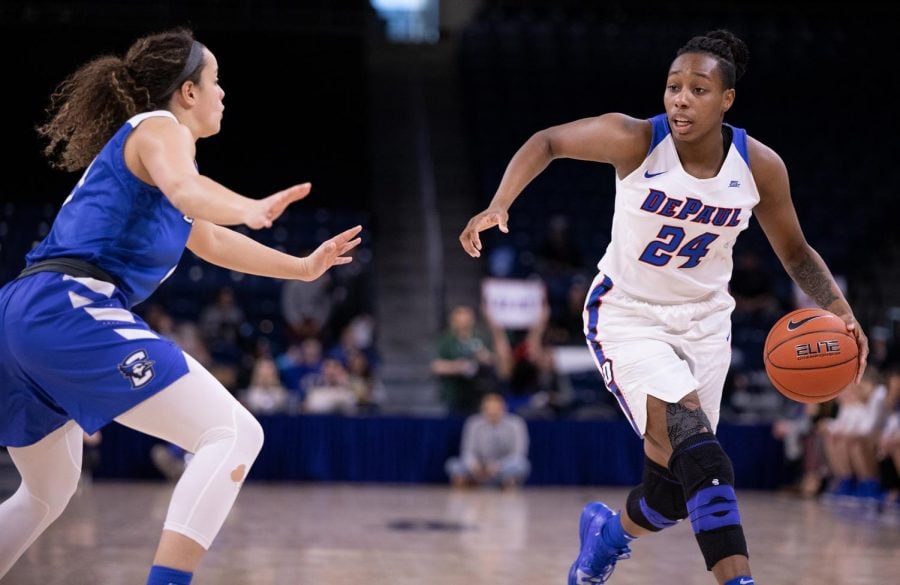 After 18 conference games and two games apiece for Marquette and DePaul in Big East Tournament, the two foes will meet once again. DePaul (25-7; 14-4 Big East) and Marquette (26-6; 15-3 Big East) will play for an automatic bid in the NCAA Tournament Tuesday night for the third straight season.
This is only the third time in Big East Tournament history that the same two teams have met in the final three straight seasons.
When DePaul and Marquette met in 2017 in Milwaukee, the Golden Eagles won on their home floor 86-78, but last year with the tournament being moved to Wintrust Arena the Blue Demons got their revenge in dominating fashion, winning 98-63.
"Well, again, we're proud of what we've achieved here at DePaul, but we don't look back," DePaul head coach Doug Bruno said on playing Marquette in the final again. "We only look to the future. You know, we've done a little bit here at DePaul over the years, and Marquette now is in a place where they've really had a great year, a great couple years, and so to have the two teams that were picked in the preseason to win the Big East Conference and then the two teams that finished one game apart from each other in the regular season, and to have the two teams that have played in the championship the last two years, I think it speaks — it's a great — it's good for the Big East — again, I just love this league, and the league was so much better this year than it was last year, and people beat each other up this year because there were so many better teams."
While both teams might have gotten to the same destination in the end, they took very different paths to reach this point.
Marquette got off to a blistering start in conference play winning its first nine games by an average of 28 points per game. The closest any team got to the Golden Eagles' in that stretch was 10 points. In their first meeting this season Marquette beat DePaul by 33 points in Milwaukee. Down the stretch the Golden Eagles have faltered, however, as they finished the regular season 6-3 in their last nine games but held on to win the Big East regular-season title.
"Marquette has had a special year," Bruno said. "They've had a special four years. Coach Kieger and Marquette has really done great things. It should be a great game to play tomorrow night."
DePaul, on the other hand, got off to a slow start. The Blue Demons' lost their first Big East game of the season at home to Creighton and started just 6-3 in their first nine games. That left a huge hole if they wanted to catch Marquette in the standings. Coach Bruno's group nearly did it too, finishing the regular season 8-1 that included an eight game winning streak to end the year.
"I feel like our confidence is coming from what we've done these last nine games," DePaul senior forward Mart'e Grays said about the Blue Demons current winning streak. "I'm telling you, this stretch has definitely just been — our main focus has been defense, so I know if we just continue to focus on our defense and rebounding, we'll take care of business, because we have great players, and I'm not saying that Marquette doesn't have great players, but we know we need to be on our defensive game tomorrow, so that's where I'm really confident about this one."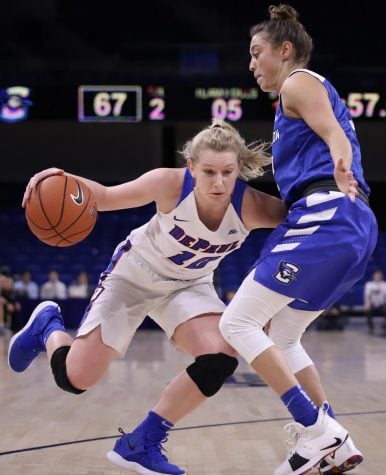 When these two sides met for the second time at McGrath-Phillips Arena on Feb. 3, DePaul was able to find some answers against a strong Marquette side in the second half, which leads them to having confidence going into tonight's matchup.
"…You know, I think the second half of Marquette was the beginning of a turnaround for this basketball team that, we won in the non-conference, but we weren't ourselves," Bruno said. "I just think it was — we started to come back after that half."
The one major difference in Tuesday night's championship game between the previous two times DePaul and Marquette played this season is the Golden Eagles will be without senior forward Erika Davenport, who suffered a season-ending left knee injury. Prior to Davenport's injury, she was averaging 11.9 points and 9.4 rebounds per game.
Marquette still possess a lot of challenging players for DePaul to deal with even without Davenport.  Senior guard Natisha Hiedeman had her best statistical season, with career highs in points, rebounds and assists per game. In two games against DePaul this season, Hiedeman averaged 23 points and six rebounds per game this season. The senior guard was also recently named Big East Player of the Year.
"Like Mart'e said, Marquette has very good players, so just containing them, playing defense and getting rebounds, offensive wise and defensive wise, they're very good in transition, so I feel like us getting stops, focusing on defense, it will get the job done," DePaul senior guard Ashton Millender said.
With all of that being said, when the two rivals tip off at 7 p.m. CT at Wintrust Arena, their previous matchups won't be on the player's minds because their focus will be hoisting the trophy at the end of the game.
"What happened in the game last year here isn't really going to have a lot of bearing, except for Marquette's motivation tomorrow," Bruno said. "What happened in Game 1, what happened in Game 2, it's still going to come down to what's going to happen between 7:00 and 9:00 tomorrow right here against a very good basketball team."