Chante Stonewall sends DePaul back to NCAA Tournament with game-winning 3-point play
Just like they have many times before, DePaul and Marquette produced an instant classic Tuesday night that will go down as one of the more memorable games played in this long and storied rivalry.With the game hanging in the balance in the final few seconds, DePaul junior forward Chante Stonewall converted on a 3-point play with five seconds left to give the Blue Demons the 74-73 win over the Golden Eagles and send them back to the NCAA Tournament Tuesday night at Wintrust Arena.
"Well, the plan was to get me back to the pinch post and operate there and get to the basket if I could, and if not to kick it out for Ashton," DePaul junior guard Chante Stonewall said about her 3-point play at the end of the game. "And then after it went in, of course we were all excited, but I knew I had been struggling with free throws lately, so I knew I had to just hit that free throw, knock it down, but then also get another stop."
Immediately after knocking down the free-throw to give DePaul the one point lead, Stonewall turned her attention to guarding the Big East Player of the Year, Natisha Hiedeman. With only five seconds left on the clock, and no timeouts remaining for Marquette, Hiedeman got the ball off the inbound, drove down the court and was forced left into a tough mid-range shot that was contested by the tournament's Most Outstanding Player: Stonewall.
As soon as the shot fell short, DePaul players and fans rushed the court to celebrate its second consecutive Big East Tournament championship. Stonewall, finished with a game high 28 points on 11-for-17 shooting and 3-for-5 from the 3-point line.
"I understand it's not one player," Stonewall said on winning Most Outstanding Player in the tournament. "It's not me, it's we, and throughout this whole entire season, it's not me who just had like 20 points in one game and the next game I have two. 25 points, next game I had 6. So throughout I showed a lot of inconsistency but my teammates always had my back, get the next game, get the next play, I was telling [Mart'e Grays], like we got to get you going, we got to get you going. Same thing with me throughout these past two previous games, she's like, we got to get you going we got to get you going. So after hearing that I won that, I'm like, no, the girls got me going. They believed in me. And so yeah, that's why I referred back to them."
DePaul had to use up all the energy they had left in the tank after a long and grueling season chasing Marquette, who were keen on avenging last season's loss in this very same game. For most of this game, in fact, the Golden Eagles were in control even when the Blue Demons would go on a run to cut the lead to a few points Marquette always had an answer with a run of its own.  
The deficit was as large as 13 at one point for DePaul early in the third quarter. Marquette had all the momentum coming out of the break and used that to start the second half on a 10-2 run. Just like any other run Marquette went on during the game, DePaul managed to stay  within striking distance.
"Well, it wasn't just the beginning of the third," DePaul head coach Doug Bruno said. "It was the end of the second quarter. I mean, we gave up five points in a couple seconds to close out the half. And then you come back and you give up six straight. So we gave up five at the end of the second and we gave up six at the beginning of the third to go from a tie game to chasing 11.
What helped DePaul stay close for most of the night, was its rebounding, in particular offensive rebounding, as well as, how poor Marquette shot from the free-throw line. The Blue Demons had a 43-33 rebounding advantage and secured nine more offensive rebounds than Marquette. Those 18 offensive rebounds led to 22 second chance points for DePaul.
"These girls don't know — well, they probably do — but I have so much confidence in them," DePaul senior forward Mart'e Grays said of her teammates. "It's just contagious. Everybody knows, like, you know, if one of us is not on, we know to give the ball up. But my mentality was just do what I can do — do what I do, but just not trying to force it. So if I'm there, I'm trying to make a play. I'm not about to be like, oh, I'm not shooting well or whatever. I'm trying to help my team. So I'm glad I was able to get in there and shoot because I barely had any rebounds. But I'm glad Chante is always in the right place at the right time, she got in there and she did what she did."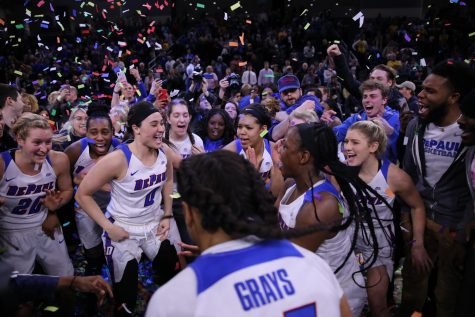 Grays, who didn't have her typical scoring output on Tuesday night with only nine points, still managed to contribute in the game, especially down the stretch with a key offensive rebound that set up a basket for DePaul.
While the rebounding advantage was a factor in the win for DePaul, Marquette's free-throw shooting throughout the entire night was what kept the Blue Demons in this game. The Golden Eagles' only shot 9-of-19 from the charity stripe, which is good for 47.4 percent. Hiedeman, specifically, struggled from the line, going 4-for-8 which included air-balling a free-throw with 11 seconds to play, that would have given Marquette a 74-71 lead.
"I have no idea," Marquette head coach Carolyn Kieger said about her team's poor free-throw shooting. "I wish I could answer that. If that was the case I would have hopefully helped them more than I was able to."
Ultimately, it came down to two plays, one being the 3-point play that Stonewall converted and then contesting a shot by Hiedeman, which ended up short of going in. For both teams now it's on to the NCAA tournament, as DePaul will participate in its 17th straight NCAA Tournament.
"Our players never gave up," Bruno said. "They never quit. There were many, many ebbs and flows and ups and downs, and I was just really proud of the way that they stayed the course and were able to put themselves in position so that we could make a play at the end of the game. Chante made a play at the end of the game, and the play that she made at the end of the game everybody thinks is just scoring the ball and making a free throw. But Hiedeman with five seconds to go is one hard match-up. She got rid of the ball with five seconds, and she did also a very good job of keeping Hiedeman from scoring."