DePaul and Marquette push each other to higher level of play
When the term "rivalry" gets thrown around in the game basketball, fans and spectators often hear about historic matchups between the Los Angeles Lakers and the Boston Celtics, or even Duke-North Carolina. One rivalry that has elevated over the past few seasons, or at least in the Big East Conference, is the women's college basketball rivalry between DePaul and Marquette.
No. 24 DePaul (26-7, 14-4 Big East) won its 11th straight game after defeating No. 13/13 Marquette (26-7, 15-3) in the Big East Conference Tournament Championship game by a final score of 74-73 for the second consecutive year on Tuesday night at the Wintrust Arena in a thriller that came down to the wire. This game was also the third straight conference tournament championship played between both schools.
Following an efficient performance from DePaul junior forward Chante Stonewall, the tournament's Most Outstanding Player after a  28-point performance against Marquette in the final that included the game-tying basket and go-ahead free throw with just five seconds left on the game clock, DePaul is now 45-29 all-time versus Marquette.
"I really respect what they've done, and we're proud of what they've done," DePaul head coach Doug Bruno said about Marquette's program after the game. "But competition is competition. You love your brothers, you love your sisters. Inside a league, we're brothers and sisters, but still, when brothers and sisters go in the backyard and put a competition, put a ball out there and compete, brothers and sisters fight, like hard."
When the two teams met for the Big East Tournament Championship game in March 2017, Marquette and its head coach Carolyn Kieger had their way and beat DePaul 86-78 in Milwaukee. The script was then flipped in March 2018, though, as DePaul got its revenge on Marquette by a final score of 98-63 in Chicago.
The outcome from just one year ago had both programs coming into the 2018-2019 regular season with a chip on their shoulder. Marquette wanted another shot at defeating DePaul in the conference tournament championship game. On the other hand, DePaul was looking to defend its trophy, but something was a bit different coming into this year's conference tournament.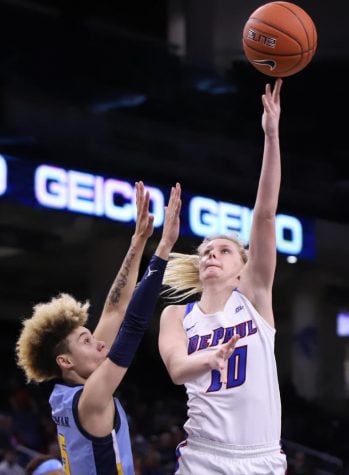 For the first time since 2013, DePaul did not win or tie for a share of the Big East regular season crown. Instead, that award went to Marquette, the only team that knocked off DePaul twice this season throughout conference play. Marquette beat DePaul 96-63 on Jan. 4 at home before beating DePaul yet again 93-87 on Feb. 3 at McGrath-Phillips Arena.
In retrospect, DePaul has not lost a single game since losing to Marquette at home then.
"Both programs are just so competitive, and the growth through their side of [Marquette's] program and ours is just amazing to see the evolution," Stonewall said. "The rivalry is something special. So, every time you step on that court you know it's going to be fast. Referees should be even bringing their inhalers. But it's just — no, but it's fun, and you play against the best players in the Big East, and it's just a really fun game to play."
Marquette senior guard Natisha Hiedeman was the leading scorer during the Big East Conference season and was honored as the Big East Player of the Year in 2019. One of Marquette's other senior guards, Allazia Blockton, was honored as the 2018 Big East Player of the Year, but her season was cut a bit short due to an injury.
Additionally, Marquette has developed a handful of other consistent scorers over the past couple of years, such as Amani Wilborn and Danielle King, who proved to be capable of rising to the occasion multiple times this season.
"It's just crazy how Coach Kieger developed and evolved this team," DePaul fifth-year senior forward Mart'e Grays said. "Like my freshman year, Marquette was like one of the lower teams in the Big East. Like we used to — it was a rivalry, but we used to just run right past them. And then it's just crazy how the next year they just got so much better, and they're just getting better and better. So it made it more fun, made it more interesting to play in the game, and I just have so much respect for her and her players for even putting in all that work and being dedicated to their program."
DePaul has also developed its own players as the rivalry with Marquette has escalated, led by Grays, the team's leading scorer who was named to the All-Big East First Team in 2019. Grays emerged as DePaul's go-to scorer in the post this season and even took it upon herself to improve her jump shot, making her a threat on the perimeter.
Not to mention, DePaul senior guard Ashton Millender and junior guard Kelly Campbell played integral roles for DePaul this season alongside Stonewall. Bruno shuffled DePaul's starting lineups many times, but ultimately found his fifth players, ones who could either start or come off the bench, with the freshmen guard trio of Lexi Held, Maya Stovall and Sonya Morris.
"I really don't want to forget that our players have worked hard to get better, too," Bruno said. "Sometimes through the evolution of Marquette, people have just kind of treated us like stepchildren, and guess what, we're not going away. I don't care what, who, what program brings in anybody, we're not going to go away. We're going to — our players have worked very hard to develop, as well. And I'm proud of our players."
DePaul will receive its NCAA Tournament verdict next Monday, March 18 during the tournament selection show for the 17th consecutive season. Marquette is expected to earn a bid into the NCAA Tournament as well, having played in the contest two seasons prior to this year.
At the moment, it is unclear where the next phase of the DePaul-Marquette rivalry will take both programs. Only time can really tell what the next chapter of this evolving story will bring, but this rivalry has brought out even more fans, spectators and alumni of both schools to watch the competition.
For now, though, one thing might be clear- this rivalry is just getting started.