As 'Veep' enters final season, Julia Louis-Dreyfus cements legacy fit for comedy royalty
For the past three decades, Julia Louis-Dreyfus has been on television nearly every season. As such, Louis-Dreyfus has secured over 300 episodes of comedy under her belt that delivered her seven Emmys for acting and five Screen Actors Guild awards for her singular work, let alone a slew of other awards given to the show's as a whole. In short, not only is HBO's hit comedy "Veep" coming to an end this year; so is Louis-Dreyfus' well-deserved, history-making reign over awards season.
Now, it almost seems unimaginable to think about the doubts that surrounded her career after her success on "Seinfeld." For years, Louis-Dreyfus and her former castmates were deemed to be plagued by "The Seinfeld Curse," which was essentially defined by the struggle for all of them to launch new sitcoms as lead characters. Quickly, it became clear that Louis-Dreyfus had much more comedy to offer. The perfect opportunity just had to present itself.
In 2006, almost 10 years after "Seinfeld" ended, she returned to broadcast television with "The New Adventures of Old Christine," which ran for five seasons. The show followed Louis-Dreyfus as a single mother who maintains a serendipitous relationship with her ex-husband while running a women's gym. After becoming both a ratings and critical success, her prowess as a comedic force was once again reaffirmed.
Just a few months after the official ending of "Old Christine," HBO announced that Louis-Dreyfus had been cast in the lead role of a new satirical comedy series. She would also serve as a producer of the show for the duration of its run.
Notably, the switch from broadcast to cable opened up a new world of opportunities for the actress in terms of limitations. Without the inherent restrictions of broadcast, the writers and the cast were allowed to take significant risks when it comes to profanity and subject matter. Conversely, it allowed Louis-Dreyfus to display a subset of her comedic skills that most viewers had yet to see.
As Elaine, she had coined a generation's worth of catch phrases including "spongeworthy" and "get out" as well as her iconic "Elaine Dance." Now, viewers were introduced to a vulgar and incessantly selfish politician who you somehow always end up rooting for. That's the true gift that Louis-Dreyfus brings to her roles. She plays her characters with such tenacity and humanity that even the most abhorrent of Myer's personality traits can be overlooked and forgiven.
As she initially prepared for the role, she conferred with two previous U.S. vice presidents, including Al Gore, to learn about the intricacies of the position that are not often the focus of media coverage. Prior to the premiere, Gore assured the Associated Press that he'd be tuning in. "I'll give a try because I like her so much," he said. Even a former vice president wanted to watch Louis-Dreyfus make fun of the position and our political system as a whole.
Perhaps the characteristic that can be attributed to "Veep's" widespread success the most is the important fact that no particular ideology or political lean is ever explicitly noted. Through that, the writers nestled their show in the ideal position where every viewer thinks "the other side" is the butt of the joke. Importantly, this solidifies the show's ultimate goal: to make fun of all sides, with the entire American political system as a goldmine for comedy. And what a goldmine it was.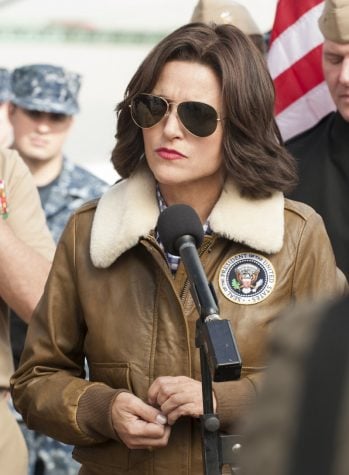 When the show first premiered, it largely delved into the everyday absurdity of politics in this country. Much of the first seasons revolve around public missteps and profanity-filled backdoor political dealings that then seemed surprising and sometimes shocking. But as President Donald Trump took the helm of the country, the show's writers were forced to adapt and reinvent what was absurd considering what seemed to be the country's new definition of normal when it comes to behavior in the White House.
Luckily for all of us, this directly resulted in "Veep" taking great creative leaps that have directly resulted in one of the smartest, savviest and shocking comedies to ever air. Even more so, it cemented Louis-Dreyfus' position as an actress of similar caliber to legends like Lucille Ball and Mary Tyler Moore.
In September of 2017, Louis-Dreyfus stood on stage and humbly accepted her record-breaking 6th consecutive Emmy Award. Unbeknownst to almost everyone watching, she was expecting test results the next day to inform her if she had breast cancer or not. Later, she revealed on Twitter that she was in fact diagnosed with breast cancer, ultimately making a plea for universal healthcare. From then, viewers wondered what this meant for the future of "Veep." Everyone involved in making the show, however, had no doubt that the show would carry on.
Almost every profile of the actress takes care to note the precision and attention she brings to each episode, each take and each punchline. This translated directly to her approach to the show's final season. Louis-Dreyfus scheduled her "Veep" commitments around her cancer treatments, simultaneously displaying her strength as a person and as an actress.
In a recent cover story with Entertainment Weekly, Louis-Dreyfus described her role as Selina Meyer as "the pinnacle in terms of my work on television." While Selina Meyer's reign over the country is coming to an end, as is Louis-Dreyfus' reign over awards season, luckily for us we can almost certainly expect more from her in the future.
She added, "It's a pinnacle thus far, shall we say."