Barber encourages involvement in local arts with his North Side Chicago studio
DeWayne Thomas is more than just a barber in the city of Chicago. He's also an innovator, entrepreneur and small business owner who integrates his passion for art with his love for learning more about African-American culture.
Thomas is 35 years old and originally from Brooklyn, N.Y. However, he was raised in the Windy City's Uptown neighborhood and found his passion for art at a young age. Whether it be drawing visuals of the Teenage Mutant Ninja Turtles or sketching people in his childhood community in his spare time, Thomas has been one who has applied art and visual work to his everyday life.
"I kind of got into art really, really early. I used to make cardboard weapons and stuff like that," Thomas said. "I'd cut out these little pieces of cardboard and then I'd tape them up. And then myself and friends, we would kind if use those as instruments to play around with each other and stuff. And then things got a little bit more serious, and I had different little moments with art, but things would get more serious when I would win a RIF contest in the state.
RIF stands for Reading is Fundamental, an organization dedicated to instilling a love of reading into the minds of young people. According to Thomas, RIF used to be big in the Chicago Public School system.
"I made this construction paper, 3-D, running [version] of Sonic the Hedgehog," Thomas said. "Literally, my fourth grade teacher used that to help me get into the Art Institute of Chicago. I won the statewide contest that year, and that got me further in. So went I went to the Art Institute I took painting, sculpture and drawing."
Art is defined as the application of expression of human creative skill and imagination in a visual form. From sculptures to paintings, art is produced by its creators to be appreciated for both emotional power and even as a means natural beauty to express symbolism.
During the mid-1990s, Thomas took his art talents to the Art Institute of Chicago where he further developed and honed his craft in painting, drawing and sculpture work. After finishing up his time at the Art Institute of Chicago, Thomas took it upon himself to develop another skill set in the art world. This time around, that art skill was becoming a barber, a profession that plays a pivotal role within African-American culture.
Thomas has been a professionally licensed barber in Chicago for six years. Following about four years of cutting clients' haircuts and making them pay for other barbershop services out of his two-bedroom garden unit apartment in the Logan Square community area, Thomas signed a property lease to relocate his barbershop business, "Fresh Check Barber Studio," to Lincoln Park near the intersection of Armitage Avenue and Halsted Street.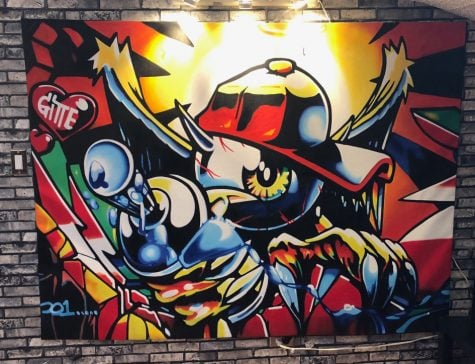 Thomas felt that it was necessary to open a black-owned business in Lincoln Park, a Chicago community area where the majority of the population is Caucasian, given the fact that the African-American population in the city frequently come to the area for school, work and family matters. In other words, Thomas' studio brings full disclosure to the black community.
Furthermore, Thomas wanted to be able to show that art can be utilized as a means to tell stories.
"I feel like we need to be represented in all areas," Thomas. "Even in an area that the majority of the population might not particularly be black in this area, we still freak with the area."
The black barbershop experience, as Thomas defines, is a space where people of color can get together and enjoy casual conversations of nearly any topic such as sports, politics and racial inequality. Once Thomas had settled into to his new business location, he pondered whether or not visual art adds a special element to the black barbershop experience.
Julian Silas, an African-American student at DePaul studying finance, has been one of Thomas' clients for approximately one year. Ever since getting his first haircut from DeWayne, Silas has enjoyed his visits, mentioning that Thomas' charisma is something that brings him back to the studio on a consistent basis.
"I think it's great," Silas said. "He is very personable and it's a nice place."
With this in mind, Thomas began to bring a few pieces of artwork into his barber studio from his home. Over time, new photos and visuals began popping up all across the windowless leasing space. As Thomas continued to add a few pieces of art around his four red barber chairs, he figured that he could expand on his collection of art even more.
"Everything was completely arranged by me in the Art of Cool [Chicago] in more of an artistic kind of way," Thomas said. "I think I have a decorative sense to a certain kind of degree, not from any schooling or anything like that. I have an eye for certain things that I think hold a certain level of significance maybe to myself and maybe some other people that can resonate with certain things."
Perhaps one of the most unique photos in the studio is a photo that is symbolic of many different things. Interestingly enough, Thomas bought this portrait online and even framed it by himself in his spare time. This photo used to be a DeWayne's home in Logan Square, where he used to charge his clients for haircuts and other barbershop services.
Specifically, the main character in this portrait is a guy, though unnamed, portrayed as an eyeball with a hat on his head. Looking a little hip-hop like, according to Thomas, the main character has wings on his back with a halo over his head with the sun directly behind him. Not to mention, the main character is holding an aerosol can while breaking through a brick wall.
Roughly halfway through 2018, Thomas received the word that an additional leasing space, that was in the same building as his barber studio, was going to be available in early 2019. After the extra rental space became available, Thomas then leased that space and named it "Art of Cool Chicago." Accordingly, this new space became Thomas' art studio, or a whole new area for Thomas to collect and display even more artwork designed mostly by black artists.
"Art of Cool Chicago" made its official debut on Jan. 19. Thomas hosted a grand-opening event on that night as well, inviting some local artists whose work is displayed alongside some of his barbershop clients, close friends and family members.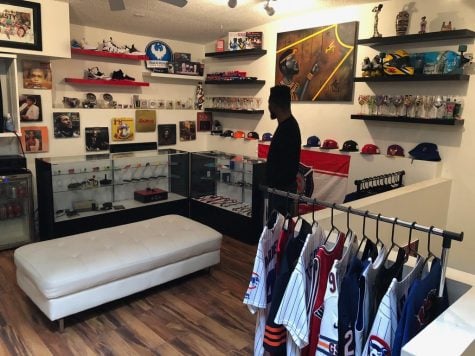 The art work displayed in the "Art of Cool Chicago" come from Thomas' network of artists in the Chicagoland area. Specifically, there are five components other that come together to create the art studio's identity. Those five components are a collaboration of visual art, Chicago memorabilia, accessories, collectable retro items and sporting goods material.
Across one of the walls in the art studio, Thomas has 10 paintings of his black artists across 10 different music genres. Going from left to right, the artists for the music genres are Nas for hip-hop music, Michael Jackson for pop, Whitney Houston for R&B, Marvin Gaye for soul and Miles Davis for Jazz.
"When you're thinking of Marvin Gaye, it's very interesting for him to come up in conversation when you're thinking of black urban culture because Marvin Gaye's soul music of his time was so iconic because he was using his platform to speak about a lot of the tension and stuff that was going on in the country," Thomas said. "His gift as a vocalist, he was able to personify his issues with different things that were going on in the country with his art."
The horizontal array of visuals displaying Thomas' favorite artists across music genres continue on to Jimi Hendrix for rock music, Bob Marley for Reggae, Parliament-Funkadelic for the funk genre, Erykah Badu for neo-soul and B.B. King for the blues.
Amoz Wright, a senior student at DePaul and the creator of "Bee Prophecy," is a freelance artist who involves in different kinds of mediums from traditional to digital ones. He got interested in art since he was a kid, and things got more serious when he was in his fourth grade because that was the time that he started selling his artworks.
"I'm still doing it, keep creating different artworks," Wright said, with his passionate eyes.
To Thomas, Wright is not only a client but also a business partner. Wright has been a regular client to the barbershop for a long time, and not until a year ago he submitted that first "Bee Prophecy" work. He said he was excited for getting more cooperative opportunities with Thomas in the future since he enjoyed a lot during the time either getting a haircut at Thomas's barbershop or being at the art studio.
"We met mutual friends and had conversations which make me learn more about him," he said. "I'm really looking forward to doing more with him in the future."