Reggaeton heats up stateside
Chicago continued to feature and bring prominence to an emerging global music genre when reggaeton star Nicky Jam kicked off his U.S. tour at Rosemont Theater on April 11.
Reggaeton has grown over the past few years from an underground genre of Latin music, at one point being banned in Puerto Rico, to a thriving global scene.
The most acclaimed reggaeton song recently is the popular "Despacito" with Luis Fonsi and Daddy Yankee, which was eventually remixed with Justin Bieber. The original version currently holds the record of most-watched YouTube video of all time with 6.1 billion views.
The success of reggaeton can be attributed to many factors, including the change in style, successful crossovers with American artists and embracing successful online apps and services.
"The music back in the day was definitely raunchier than what it's today," said Ismael Tapia, a reggaeton music producer, in a phone interview. "You had Latino families who were more Catholic or conservative and saw it as a big no-no."
"I wouldn't say [reggaeton] was looked down upon, but certain artists would consider it music of the lower class or not real music," Tapia said. "In Hispanic communities now, you hear that kind of music more in the clubs."
Crossovers have also been a major part of reggaeton music for years, but those efforts were doubled down by reggaeton artist J Balvin, who Spotify announced on June 25, 2018 as the most-streamed artist on the platform worldwide.
"[J Balvin] has been a huge leader in crossover collaboration and I think Jose has broken down a lot of those paradigms," said Rebecca Leon, J Balvin's manager, in an interview with YouTube Spotlight. "Just 'cause it's Spanish doesn't mean it can't be global."
"J Balvin has an international vision that breaks barriers making reggaeton sound different while still obtaining tropical Latin, dembow and reggae rhythms," said Miriam Paz, a representative of v5 Group, in an email interview. "He fuses his music with all types of genres and collaborates with different artists like Anitta (Brazil), Willy Williams (France), Rosalia (Spain) and American pop artist like Selena Gomez, Cardi B and many more."
Locally, the influence of reggaeton is present in areas all around Chicago—not just in Latin communities—including Logan Square, Lincoln Park and Wrigleyville.
"I like the beat and rhythm in reggaeton a lot," said Ben McAdams, a non-Latin Lombard resident who attends many reggaeton-related events. "Also, since I can't understand the language that well, I think I get more involved with the emotions or feelings it's trying to convey and can interpret them my own way instead of just through the lyrics like I would in English."
"I love reggaeton because I love to dance. Reggaeton hypes me up. I also like the music for the artists themselves," said Alexandria Corriveau, a Wicker Park resident. "Through Snapchat I got to see a little glimpse into the personalities of J Balvin and Maluma, and I loved supporting J Balvin especially because he was so silly, lighthearted, and humble."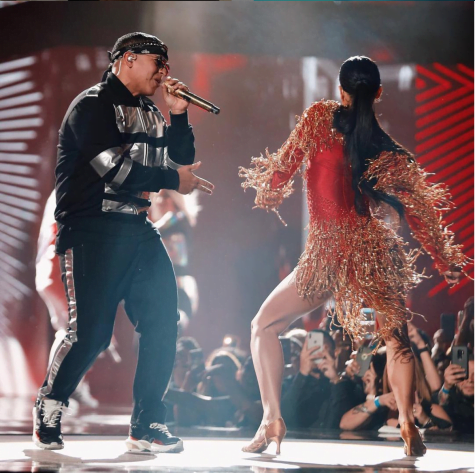 In Lincoln Park, The Apartment nightclub and Broken English Taco Pub host reggaeton nights run by v5 Group.
"At a time when Latinos were relegated to late-night restaurants, v5 recognized a void in the marketplace and corralled this growing market to the city's leading venues," said Josue Navarrete, a v5 Group representative, in an email interview. "Now, with the rise of reggaeton, a new wave of sounds has added to the success of the v5 group."
The efforts to spread the popularity of the genre come from more places than just the rhythm.
"As a first-generation Latina I often struggled trying to fit in between two worlds, English and Spanish—like most Latinos in Chicago," said Paz. "Reggaeton is a mix of different backgrounds and the fact that it was and continues to be made by the youth makes it that much more relatable to young people across the city and the globe."
The weekly reggaeton nights at The Apartment have been active every Thursday since October 2017. The Apartment is located a floor above the Lion's Head Pub.
"We wanted to create a night where you can listen to reggaeton from start to finish, but we also wanted to make sure we kept it fresh by playing new reggaeton," said William Martinez, marketing and talent buyer of v5 group, in an email interview. "A lot of clubs & bars played a mixture of Reggaeton (mostly old), Bachata, Hip-Hop, Top 40 and we wanted to be different."
"At first, we had a lot of people, including our own DJs, ask if they can play bachata or hip-hop, but we stuck to our idea of keeping it all reggaeton & now it has become one of the best parties in Chicago reaching capacity every Thursday."
Broken English Taco Pub, just half a mile north of The Apartment, featured some Latin nights on Saturdays before forming a partnership with v5 on Feb. 2. They've been hosting monthly Latin nights on the first Saturday of each month since April.
"You honestly cannot be sad when you're in a room filled with piñatas, artwork from local artists from floor to ceiling and fun music," said Melina Ferrero, event coordinator at Broken English, in an email interview. "We are always brainstorming for ways for us to grow as a brand and having a Latin night was one of them. We knew we would need to work with promoters as there are many options around Chicago for a fun Latin night."
In the past year reggaeton artists like Maluma, Daddy Yankee and Bad Bunny have performed in Allstate Arena. Winsin y Yandel will perform at Allstate Arena on June 7.
J Balvin is set to make history at Lollapalooza as the first Latin artist to be a headliner on Aug. 3 alongside Twenty-One Pilots.