St.Vincent's DeJamz
"Spinning fresh beats since 1581"
It's spring in Chicago, which means we all just had the pleasure of suffering through yet another snowstorm on our never-ending trudge toward warm weather. It's days like these that make me miss the summer weather in New Jersey. To make matters worse, we're on the horizon of Midwesterners referring to Lake Michigan as "the beach," which results in my entire body immediately cringing. Sand next to water does not constitute a beach. With that said, as I battle this fierce bout of homesickness, all of this week's recommendations come from the same album, "a demo: or, songs about girls and the northeast."
1. "Spare Some Change"- Hammond's Folly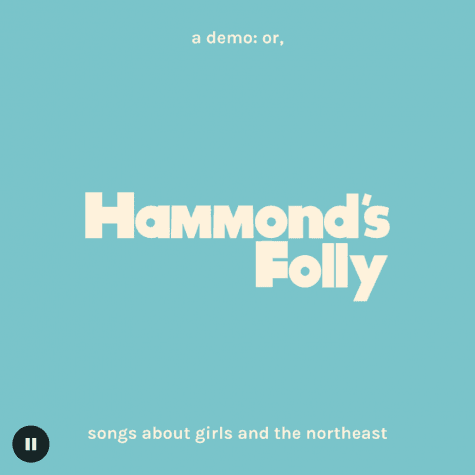 It's not everyday that a young musician refers to himself as a "scumbag/songwriter." Even less often do artists declare that they have no grand, world-altering hopes for their music. Instead, South Jersey native Kyle Harrison, under the stage name Hammond's Folly, released his first demo with the hope "to make listeners shrug their shoulders and say, 'meh.'" The lead song feels like it was pulled directly from Greenwich Village's folk heydey of the '60s and feels primed for the soundtrack of a city-set romantic comedy. "Spare Some Change" will hook you from the first strum of the guitar and you'll be glad it did.
2. "But I Can Write A Song" – Hammond's Folly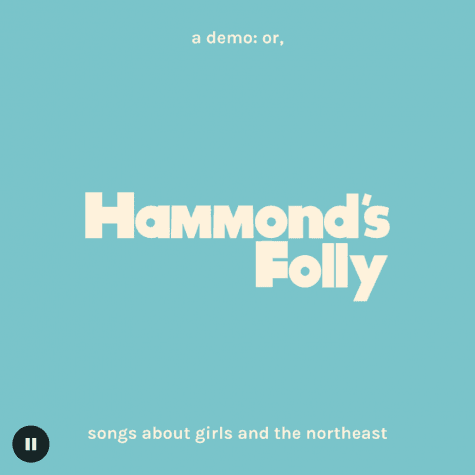 Harrison channels his inner Bo Burnham in "But I Can Write A Song" as he lists a slew of ways in which he could disappoint women over an upbeat piano tune. Importantly, what he may lack in sheer physicality or athletic ability he makes up for generously with his musical skills. Of the whole demo, this is perhaps the song that best captures Harrison's wit and sense of humor when it comes to word play.
3. "Shore Summer Days" – Hammond's Folly, Dan Ledden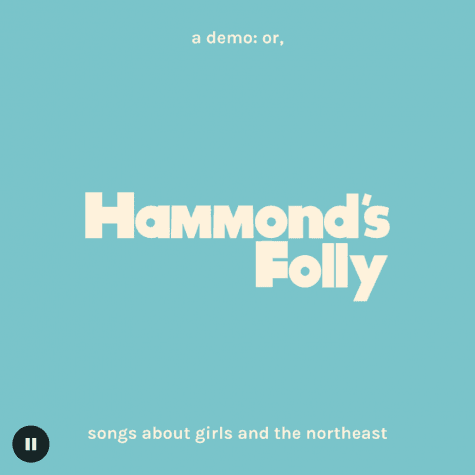 Teaming up with one of his best friends from high school, Harrison and guitarist Dan Ledden capture the unique world of the Jersey Shore with "Shore Summer Days." The chorus begs to be stuck in your head and Ledden's contributions on guitar add a unique edge to this song, helping it stand apart from the rest. If you've never been to the Jersey Shore, you'll wish you had been. If you have, you'll wish you never left.
4. "South Jersey" – Hammond's Folly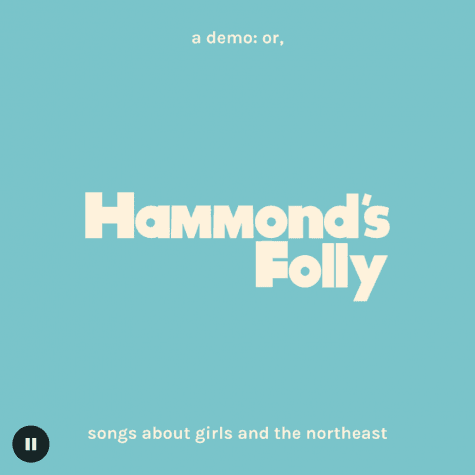 Easily the most personal and powerful track of the bunch, Harrison delves into the life and loss of his dear friend John in the fall of 2015. The heartfelt and at times heavy lyrics contrast wonderfully with the hopeful strumming of acoustic guitars, capturing the complex feelings that develop after experiencing such a tragedy. "A demo: or, songs about girls and the northeast" marks Hammond's Folly's first foray into the professional music world and it is as promising a debut as any I've seen.