Chalk the walk
An "Avengers: Endgame" chalk art piece on the sidewalk in the DePaul Lincoln Park Campus Quad might have caught your eye recently. Last Wednesday, the DePaul Activities Board hosted the DePaul Chalk Festival in the Quad where seven student artists and a professional muralist drew chalk art during the afternoon. Connor Mudd, a sophomore at DePaul and DAB's head of art and media, held the event. Nate Baranowksi, a local street painter and muralist, drew promotional chalk art for Marvel's new blockbuster hit "Avengers: Endgame."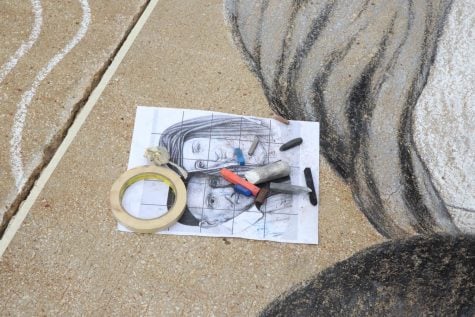 "We've got seven students chalking here and one professional artist who is sponsored by Marvel doing Avengers: Endgame art," Mudd said. "I've wanted to do a chalk festival for a while now because I'm from Denver and there's a big chalk festival there every year. When I had the opportunity to plan events, I thought to get artists from DePaul and have a chalk festival on campus."
The chalk designs were diverse and unique. One artist drew an abstract piece, another drew a bunny, St. Vincent de Paul was drawn and Baranowski's "Avengers" chalk piece garnered attention from passing students.
The event was largely Mudd's idea. "I reached out to artists, got the space booked and got everything all set," he said. "We chalked some ads and a few people reached out after seeing them. Others came through direct messaging on Instagram. We saw portfolios online, liked what they did and then reached out to them."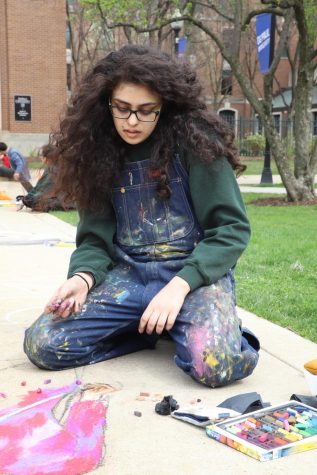 Students flowed in and out of the event, drawing chalk art of their own in the designated student chalk zone across from the designated artists.
Off to the side of the event, near the middle of the Quad, sat the Marvel promotional table. Devon Thomas, an intern from Allied Global Marketing and student at DePaul, explained Marvel's presence at the festival.
"We do a bunch of events targeting the demographic we're trying to reach for the movie," Thomas said. "For "Avengers," one of the demographics we're focusing on is college students, so that's why we're at DePaul."
Marvel was interested in promoting "Endgame" hours before the release of the blockbuster film.
"Marvel Studios actually reached out to us and said they would like to send a table and an artist to chalk in the festival," Mudd said.
The promotion table was full of Avengers-themed items. There were three different free posters available, Marvel buttons and a raffle for an Avengers lunch box with two free "Endgame" tickets and a t-shirt.
"We're out here trying to build some buzz for the film," Thomas said.
But Baranowski and his "Endgame" chalk piece weren't the only subjects worthy of attention at the festival. Seven student artists showcased their work, too.
Devin Becker is a second-year student and art minor at DePaul, and she was one of the seven artists asked to feature their work at the festival.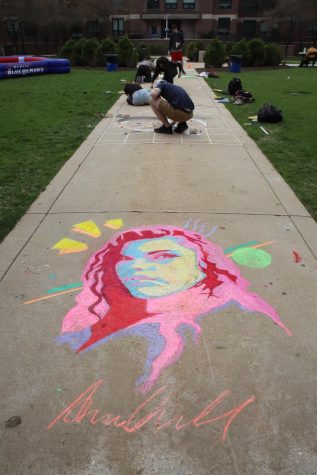 "I wanted to see what this was about so I reached out to them and they asked me to send a portfolio," Becker said. "They approved me and gave me a spot."
Her design was spatial and line-based, weaving around her sidewalk square with bright colors and curves.
"I basically have all these different shapes that puzzle piece together because that's something I like to doodle," Becker said. "I'm gonna write something, but I haven't decided the overall message yet. I let that develop as I work on the piece more. That's the best way I can describe it."
The DePaul Chalk Festival was a success for all involved. Marvel promoted their film, Mudd's vision of a campus chalk event was fulfilled and students took advantage of an opportunity to publicize their artwork in a fun, direct way.