The next generation of DePaul men's basketball
The group of young adults who turn around this DePaul Blue Demon men's basketball program will instantly become Chicago legends.
But just because Blue Demon head coach Dave Leitao has landed his best recruiting class since 2007, secured the services of three former four-star transfer players who are eligible to play next season and is blending these guys in with returning talent like Paul Reed, that doesn't  mean this 2019-2020 Blue Demons team is the group destined to pull the program back into the national spotlight. They could be, but nothing is a given in the take-no-prisoners world of college basketball.
That's why Leitao and the Blue Demons block out the hype and expectations that have already begun swirling around the conversations about next season.
"We've had to deal with the flip side of things so much [being really bad and having no hype or expectations]," Leitao said. "Now there's some level of expectations or whatever you want to call it but I'll handle it exactly the same. I think when I walk into our gym and talk to the guys or work them out in practice, [the message is] preparing them to be better for that next moment and that next game. That won't change. The things that the outside world bring, it doesn't have a lot to do if anything with what we talk about on a day-to-day basis."
Thanks in large part to the efforts of the senior trio of Eli Cain, Max Strus  and Femi Olujobi, the 2018-2019 basketball season had the peripherals of a step in the right direction in terms of where this program wants to go eventually. Seven conference wins and 19 wins overall were the most since the 2006-2007 season. A run to the finals of the College Basketball Invitational was a nice treat for Blue Demon fans deprived of postseason basketball since 2007.
"We could say that we did that to a certain degree, and then there were challenges that we didn't meet," Leitao said when asked if last season was successful. "I kind of look at it from both perspectives. I say yes…that there have been some strides and some things that we can certainly build on that we haven't had [before]. As soon as I say that, there is that word 'but' because we need to make sure that there's more to come. The first way to know that [DePaul taking a step back next year] won't happen is to [not] rest on anything that we have done up to this point."
There are some caveats that must be discussed when talking about the Blue Demons season. They still finished in last place in the Big East Conference for the third season in a row. Out of 353 Division I teams, DePaul had the 342nd easiest non-conference schedule undoubtedly inflating their win total at the end of the season. DePaul hopes that the team will be be so good next year that the caveats will disappear.
The Blue Demons boast the 30th best recruiting class in the country per 247sports.com. ESPN.com has the Blue Demon's 2019 class tabbed as the 25th best in the nation.
It's the Blue Demons' best incoming freshman class since 2007, when 247sports.com ranked them 27th in the nation. The only other time in the database from 247sports.com that DePaul has been ranked higher was in 2003 when they were No. 15.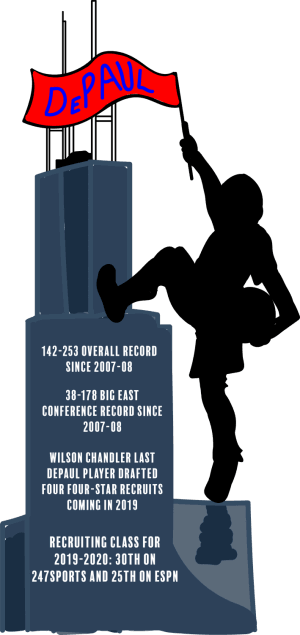 Integrating this class which, includes Romeo Weems (2019 Michigan Mr. Basketball winner), Markese Jacobs (four-star, former Kansas recruit) and Oscar Lopez (three-star shooting guard), with the existing core and now eligible-to-play transfers won't be an easy process.
Darious Hall is a 6-foot-7-inch transfer from Arkansas with off the charts athleticism who averaged 14.8 minutes per game his freshman season in Fayetteville and played in the NCAA tournament.
Leitao said he has the athleticism and body length to become an elite defender. Saint Louis University transfer Carte'are Gordon is a dense 6-foot-9-inch big man who averaged 8.9 points and 4.1 rebounds his freshman season at Saint Louis. Coupled with Reed and Jaylen Butz, the Blue Demons are again looking at one of the most formidable frontcourts in the Big East.
"I wanted to go somewhere where I mean something and can make a difference," Gordon said. "Coming here playing for a great community, great people, great coaches. Playing with some great guys is great."
"Just trying to come in to a different culture and change some things," Hall said. "Talking with coach Leitao and coach [Tim] Anderson, they wanted me to come in and help rebuild the program. That's what we are trying to do by recruiting the top players. Just trying to put all the pieces together and go to work."
The newest addition is Charlie Moore, a 5-foot-11-inch guard who had a successful freshman season at California before transferring to Kansas and struggling to reciprocate the success from his freshman year. 
"There are going to be new people and new expectations from them and from the outside world," Leitao said. "Maintaining a formula that doesn't change a lot over time. You have to have good people who are willing to share themselves. You have to have an extremely high level work ethic. You need to develop a resiliency. You need to handle what is in front of you day-to-day. If we do that, it'll probably take some time to gel, because chemistry doesn't come naturally just because you have that talent. We have to work on that a lot. Particularly if I'm going to play more people than in years past. We have to understand that role may change week-to-week with what is being asked and what is being sacrificed."
Leitao identified defense as the key to maximizing the talent of his squad next season.
The Blue Demons were 223rd in the nation last season in adjusted defensive efficiency per KenPom.com and surrendered 76.4 points per game which was second-worst in the Big East. They surrendered 80 or more points on 14 occasions and were 6-8 in those games.
Following suit with seasons in the past, DePaul failed to defend the 3-point line effectively as opponents shot triples at a 37.3 percent clip against the Blue Demons (324th worst in the nation).
Nothing is guaranteed, especially in May, five months ahead of the new season. But for Leitao and the Blue Demons, the future at least looks brighter than it has in a long time.
At least one player is confident that things will work out well though.
"We're going to be great, I feel like we are a top 25 team but I feel like we can eventually be No. 1," Hall said.
View Comments (4)