Overcoming adversity leads to success for DePaul women's basketball senior guard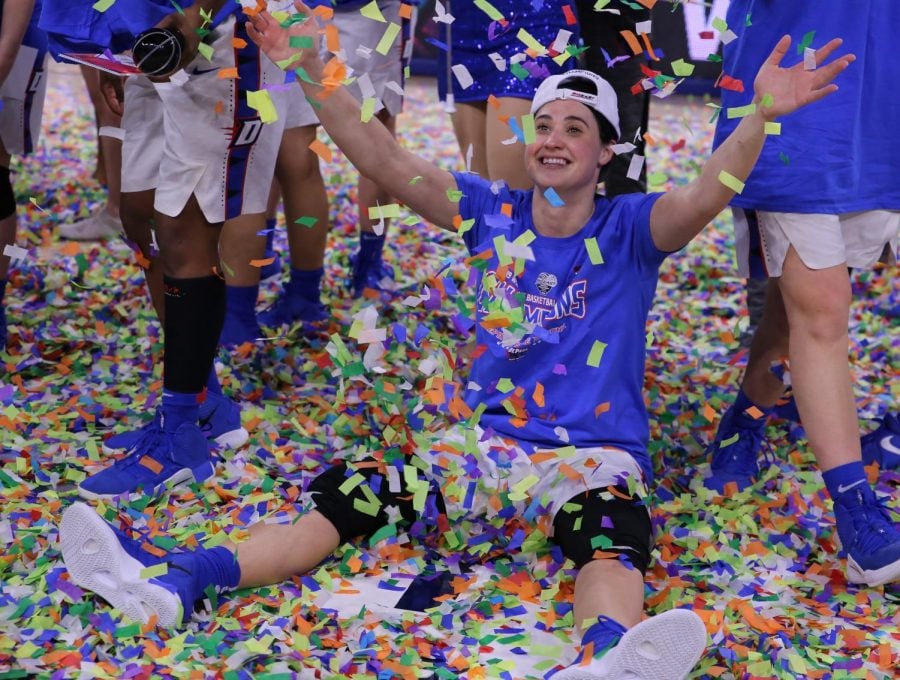 Plagued with injuries through most of her college career, Rebekah Dahlman of DePaul women's basketball conquered what her doctor thought impossible. Transferring during her senior year from Vanderbilt, Dahlman faced obstacles, and at the end persevered through the DePaul basketball program.
Leading her high school team to multiple class 2-A state championship appearances — winning the title sophomore year — Dahlman achieved many accolades in high school. Being the first player from Minnesota to score over 5,000 career points (5,060). She also became a McDonald's All-American, and got ranked 16th overall nationally and fourth as a guard by ESPN's HoopGurlz propelling her to receive a five star rating and an impressive grade of 96.
Then, Dahlman committed to playing basketball and majoring in sociology at Vanderbilt.
"I loved it, loved the atmosphere and loved the coach," she said. "My first season started out phenomenally and then it became Thanksgiving time."
Dahlman reflects on the day her college basketball career changed.
"I was air balling free-throws, then I couldn't feel my arm and when I pulled up my armband it was all black and blue," Dahlman said. "I couldn't even move my arm. My trainer sent me to the emergency room, and I'll never forget the doctor saying; 'you probably won't be able to play basketball for the rest of your life.' I was put into surgery right away because the blood clot was moving from my shoulder toward my heart. At the end of it all there were about six surgeries and I was not playing until I was cleared the beginning of sophomore year."
Going into her sophomore year at Vanderbilt, Dahlman was relieved, but surprised that she was able to play again. However, Dahlman once again endured tragedy.
"Sophomore year was a struggle just getting back into the flow of things with basketball," Dahlman said. "But then my boyfriend passed away, and that was mentally tragic. I was sitting out for a while with injuries at Vanderbilt, and I just had a lot of adversity through my college career as a student and player and decided to look at the bigger picture."
She understood that things needed to change and for that to happen a decision needed to be made. That decision was to transfer and play basketball for DePaul and pursue a degree in marketing.
"I decided to transfer after the first person who called me, Coach Bruno, getting off the phone that's when I knew this is who I wanted to play for," Dahlman said. "He made me believe in myself again, and he believed in me. Even though he tried to recruit me in high school, I wanted to take this opportunity."
Doug Bruno, who has spent 34 years as head coach of the women's basketball team, saw something unique in Dahlman.
"I think she is one of the most special human beings I have ever coached," Bruno said. "From a basketball perspective, this is just a really talented young woman that really brings that energy and ability to score. There is contagiousness the way Rebekah plays, and a mojo to her that's contagious."
Teammates have benefitted from Dahlman's contagiousness, most notably sophomore basketball player, Dee Bekelja.
"When I first got here she was one of the first one's I met, and then we became roommates this year and got really close" Bekelja said. "Every time she comes into the room she has this sort of energy that makes people happy and laugh."
Approaching her first year as a Blue Demon, Dahlman was mentally prepared to start anew. Yet, more adversity struck. In the first game of the DePaul 2017-18 season, she fell on her hand and fractured two bones.
"That was tough," Dahlman said. "That's not how I wanted to start off the season and didn't know if I would get another chance to recover or have another year to play."
Dahlman's role wasn't just helping the team win games, but also keep the team morale up.
"Something that I look up to her about, is to always be happy for your teammates," Bekelja said. "If Rebekah is having a bad game or not playing a lot she will still be on the bench cheering for everybody. She will hype everyone up and tell them how they are doing. Even if she was having a good game it would still be the same."
Dahlman values various things about her time at DePaul. For the brief experience she has had here, the values and lessons learned will be forever ingrained.
"This has not just prepared me in my college career, but for my entire future," Dahlman said. "This experience has prepared me to evolve and become a stronger leader. Just a better person overall. I know I can overcome anything because i've been through it all with losses of best friends, adversity with injuries, and the very tough process of transferring."
Yet the most important thing that she values is being a part of a team..
"These girls that I'm around every single day, they are like my sisters," Dahlman said. "As much as they look up to me, I look up to them. They bring so much for me, and without them I don't know where I would be. Especially for Coach Bruno, not many people can say they played for a legend. It's not just what is on the court, it is a lot about what is off the court. I'm so thankful to have played for this program because I took so much from it not just as a player but as a person."
Dahlman has proven an illustrious college career and hopes that her story influences others to fight through adversity.
"I didn't want to make the wrong decision, but at the same time I didn't want to look back and regret transferring," Dahlman said. "It was a scary process and I'm glad it turned out, as did everything turn out coming here to DePaul."