New wave of talent looks to lead women's basketball into future
While a lot of the attention is being placed on the DePaul men's basketball team and their incoming recruiting class, women's basketball head coach Doug Bruno has made sure to strengthen and improve his roster once again with four new signing and two transfers.
Bruno has coined the term "DePaulBall" during his tenure in Lincoln Park. Bruno and his "DePaulBall" strategy have put an emphasis on 3-point shooting, and that has been reflected in his recruiting over the years. That continue to be a strategy in recruiting and how the team plays on the court, but in their most recent recruiting class size and rebounding is the common theme.
In 2018-2019, DePaul only had two players on the roster who were over six feet tall: junior Chante Stonewall and senior Mart'e Grays. While they were the tallest players on the roster, it was junior Kelly Campbell who led the Blue Demons in rebounding with 7.7 rebounds per game.
In the Blue Demons' first-round loss to Missouri State, the Blue Demons got outrebounded 42-31, which developed as a theme throughout the game, but especially in the first half when Missouri State secured 23 rebounds to DePaul's 11. While the offensive rebounding was relatively close — 14-13 for the Lady Bears — they were able to use their size and height over the Blue Demons in the first half when they built a double-digit lead.
This past season, the problem wasn't that the Blue Demons couldn't rebound the ball, because they ranked third in the Big East. The problem was when Grays, the team's tallest player, would check out of the game, they had no replacement for her at the center position.
"There's no question that we need to get bigger, we need to be bigger," Bruno said. "But at the same time I don't subscribe to the theory that because you can't teach height. I want quality-sized players over than just big players. It's easy to get big players that can't play; I'd rather play with five guards than a big player who can't play. So, I think it's really important as we search to make our program bigger that we do so with quality players, not just bigger players."
Bruno will be without Grays, Tanita Allen, Ashton Millender and Rebekah Dahlman as the four will be graduating in June. The senior class helped lead the Blue Demons to a second consecutive Big East Tournament title over Marquette in March and the programs 17th straight NCAA Tournament appearance.
"This is the life we chose when you chose to coach college basketball," Bruno said. "It's a constant state of transition and four years is a very limited amount of time… You have to generally retool every year and that's what programs are and I'd like to think that we built DePaul into a program. So, we are going to miss very much Mart'e Grays, Ashton Millender, Tanita Allen and Rebekah Dahlman, we still must forge forward and we return two key seniors in Kelly Campbell and Chante Stonewall."
Next season, however, Bruno will have five players who are at least six feet tall and who have all proven to be good rebounders of the ball. The biggest addition for Bruno for next season was landing 6-foot-2-inch Kiara Dallmann, who transferred from Iowa Western Community College; she averaged nearly 14 points and 7.5 rebounds per game.
"Kiara Dallmann is a key recruit here," Bruno said. "6-foot-2-inch junior college transfer, that's going to be key to our recruiting because she can fit in right away and play the role that Mart'e Grays played last season. So, Kiara Dallmann is going to be really key here."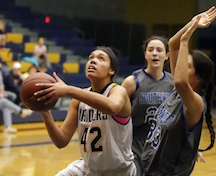 Dallmann isn't the only player whom Bruno expects to be thrown into the mix right away because DePaul will add four freshmen, with three of them being six feet tall and averaging over seven rebounds in high school.
"The freshmen class coming in, you have Nadege [Jean] who was here all of last year and rehabbing from her injury, so she will be a second-year freshman," Bruno said. "But then players like Marisa Warren, Kike Rimmer, Kayla Caudle and Hannah Purcell, these are all talented freshmen. So, we are really excited about the group that's coming in."
Caudle has built a reputation in high school as being a highly skilled rebounder and in her junior season averaged 15.3 points and 14.4 rebounds per game; at the end of her junior season, she was already Vernon Hills' all-time leading rebounder.
Rimmer and Purcell will also help add an inside presence for the Blue Demons because both averaged 16 points and seven rebounds per game, but the biggest challenge for the incoming players will be building chemistry with their new teammates.
"We have six new incomers coming, so I think that's going to be our biggest challenge: just being able to assimilate everybody," Stonewall said. "Placing everyone in roles that can be successful to the team."
The key transition for the new players will be adjusting and adapting to Bruno's system, which can take players time to learn the up-tempo system and being in the right spots at the correct time.
"I think it will take some time; any new program you get into is hard to adjust to," Campbell said. "But just helping them as much as we can with all the different plays, just help them assimilate to the program the best they can."
Campbell and Stonewall being the two leaders of the team now, their role gets bigger on the court, but also off the court as they look to build chemistry with a new group of players.
"We are not afraid to play freshmen, and yet I'm cautious to count on freshmen," Bruno said. "It takes them time, the adjustment from high school to college on many levels. They are adjusting to an all-new environment, they are adjusting to a new way to go to school where they have to study more on their own. They have to adjust [to] new teachers, new coaches, new teammates, living on their own without their parents.
"I mean, there are so many adjustments that go on with freshmen, the speed of the game, there's a lot that goes on in being a newcomer, and so I think that it takes them time. So, I would love for them to have a chance to play, but we don't sit here counting on their impact."