Esports party embraces online gaming at DePaul
The DePaul Esports Organization hosted a gaming party Tuesday, giving anyone a chance to stop by and play a variety of games while offering free food, giveaways, free t-shirts and a look at the DePaul Rocket League team practice before their matches. 
IPlay Games founder and CEO Kevin Fair helped set up the multiple gaming systems for students to use. Old-school mini arcade cabinets with the original Pacman, Street Fighter and Galaga were set up, with many students playing them. Stations with PS4s had newer Street Fighter games along with Mortal Kombat 11. Many students flocked to the Nintendo Switch station with Smash Bros set up. A station with a PS4 VR headset allowed students to play Beat Saber and step into the realm of VR gaming. Abraar Kazi, a senior finance major, played Beat Saber and used the VR headset for the first time in his life.
"It was a lot of fun; I have always heard my friends saying it felt realistic, but I had no idea it was that realistic," Kazi said. "It really felt like I was in another world and made me want to try out the other games VR had to offer."
Students were treated to free food and a chance to win some items on behalf of the esports organization. Some of the giveaways included popular EA games, a new keyboard from HyperX, gaming headphones from HyperX, and tickets to the Intel Extreme Masters (IEM) Chicago Counter-Strike: Global Offensive tournament.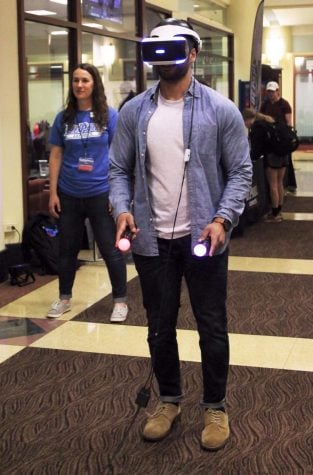 Immediately following the gaming party, there was an expert panel with video game industry leaders from Microsoft, Electronic Arts (EA), Sugargamers and other companies. An opening speech by Bob McCormick, the vice president for information systems at DePaul, told students that the main goal of the panel was to show the importance of branding within the video game industry. 
Matt Feodoroff, the senior director of global demand and partnerships at Microsoft, also spoke on branding and how the rise in popularity in the gaming industry opens new doors for companies to monetize. 
"A few things have happened since those 12  years or so I've been at Microsoft: the games themselves have dramatically improved over that time period, so the content is amazing and then the competitive aspect of it just naturally evolved from there as well," Feodoroff said. "The talent has just exploded as this passion has kind of evolved over the years."
 "The talent is so great, the access to the content is there as well, and from a commercial standpoint brands have started to take aware of it," Feodoroff said. "Brands are starting to pump money into it, which is helping everything I pretty much said before as far as games being developed, teams coming together, the amplification of their content, platforms used to watch the content, and it's really been exciting to watch over the past 12 or so years."
The panelists discussed how companies can benefit from sponsoring esports, how students can turn their passion for gaming into a career and where the money comes from with esports and various teams and tournaments. 
The gaming center is located in the DePaul Center Concourse Level C101 and is open Monday through Friday 11:30 am to 9:30pm.