Fast food can't compare to these homemade, budget-friendly recipes
Midterms are almost upon us, and it's getting harder and harder to come up with ideas for meal prepping as the weeks pass by. It gets more tempting every day to stop by your favorite fast-casual restaurant and blow both your food budget and your diet. Luckily, The DePaulia has a couple ideas that'll keep you as satisfied as those restaurant meals for far less cash or calories. These recipes were inspired by meals I've gotten at chain restaurants back home on the West Coast and that I recreated through trial-and-error while teaching myself how to cook. They're designed so you can add or leave out ingredients as your tastes and budget allow, and require minimal cooking skills or any special kitchen supplies.
Greek Turkey Bowl
With tzatziki and feta cheese
3-4 servings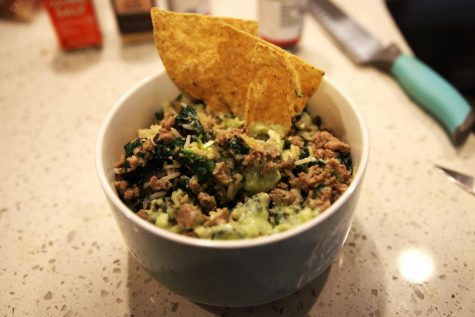 Ingredients:
-1 pound of ground turkey
-1 bag of baby spinach
-2 tablespoons of crumbled feta cheese
-½ cup sliced olives
-2 tablespoons of pre-made tzatziki sauce
-1 cup brown rice
-Seasoning salt
-Garlic powder
-Black pepper
Directions:
1. Bring 2 ½ cups of water and 1 cup of brown rice to a boil. Simmer for 15 minutes.
2. Remove the ground turkey from the package, break apart with spatula and season with seasoning salt, garlic powder and black pepper.
3. Add the baby spinach to a pan with your choice of oil or butter.
4. Once the spinach starts to cook, add the ground turkey to the pan and mix with the spinach.
5. Allow the spinach and ground turkey mix to simmer for about 10 minutes, turning over the turkey pieces to allow them all to cook evenly.
6. Add two tablespoons – or more or less, depending on how much you want – of feta cheese to the mix.
7. Add your favorite olives to the mix.
8. Switch the mix from the pan to a mixing bowl. Add two tablespoons of tzatziki sauce and mix all ingredients together.
9. Serve on its own, as part of a wrap, in a pita or with tortilla chips.
Egg Salad
With dill weed, paprika and avocado
3 servings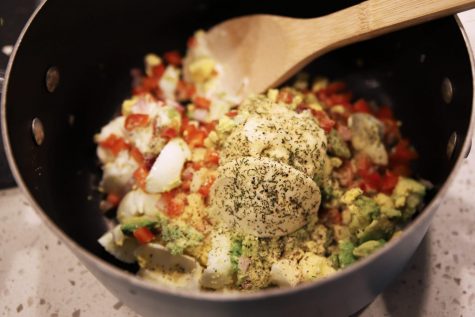 Ingredients:
-6 eggs
-1 medium red bell pepper
-1 red onion
-1 avocado
-2 tablespoons mayo
-Black pepper
-Onion powder
-Garlic powder
-Dill weed
-Paprika (optional)
Directions:
1. Boil the eggs for about 15 minutes.
2. Chop the red bell pepper and 1/5th of the red onion, dicing them into the smallest pieces possible.
3. Open and cut the inside of the avocado into small pieces.
4. Peel and slice the hard-boiled eggs.
5. Add all ingredients to a mixing bowl.
6. Add two tablespoons of mayo to the mix, and a pinch of black pepper, onion powder, garlic powder and dill weed.
7. Mix all ingredients together until the consistency is even.
8. Garnish with paprika if desired.
9. Serve on its own or as part of a sandwich.
Barbecue Steak Mac & Cheese
3 servings
Ingredients:
– 1 box shells & white cheddar
– 2 tablespoons barbecue sauce
– 1.2 pound beef stew meat
– 2 tablespoons whole milk
– red chilli flakes
– seasoning salt
– black pepper
– garlic powder
– onion powder
Directions:
1. Bring water and pasta to a boil.
2. Season the beef with seasoning salt, black pepper and onion powder.
3. Add the beef to a pan with oil and cook for about three minutes on each side.
4. After about 10 minutes, the pasta should be ready. Empty the contents of the pot into a strainer, then add the pasta back to the empty pot.
5. Add the cheese powder packet, garlic powder and milk. Mix, stirring until consistency of the cheese is even.
6. Add the barbecue sauce and a pinch of red chili flakes and mix.