St.Vincent's De Jamz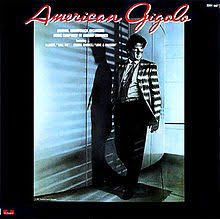 I was one week early to the spooky section, but what's done is done. In honor of the Chicago International Film Festival, I'm sharing some of my favorite songs from movies. This list is probably going to include some obvious favorites, but these songs are still jams.
1. "My Heart Will Go On"
Celine Dion (Titanic)
Maybe if I was in college in 1997, I would probably hate this song and the film in which it's featured, Titanic. However, both are classics and I will see no hatred of either in this paper. I often find myself listening to this song while doing mundane tasks like grocery shopping or doing laundry. Did you know that the official version of this track is actually a demo? Celine Dion nailed it on the first take, making any re-recordings entirely unnecessary. Her power.
2. "The Power of Love"
Huey Lewis & The News (Back to the 
Future)
I have never seen "Back to the Future" all the way through. But this song is an absolute jam. If I were a young adult in the 1980s, I would probably bump this tune while discussing the tenuous relationship between Reagan and Gorbachev. This song sounds exactly like the decade in which it was released and I'm here for it.
3. "Streets of Philadelphia"
Bruce Springsteen (Philadelphia)
This song won Springsteen his Oscar, and that alone solidifies its place on the list. This song is not designed for repeat listens, given the somber subject matter, but it is absolutely gorgeous every time. Springsteen speaks to the experience of the AIDS crisis without sounding preachy or like he's talking down to his audience, a very thin tightrope. 
4. "Footloose"
Kenny Loggins (Footloose)
Since I've included it on a previous list, I sadly cannot include the classic disgruntled workers anthem "9 to 5." For this list, its poor cousin will do. All jokes aside, this song is fun and upbeat, capturing the feeling of finally being free of your daily responsibilities. I can't dance, but for this song, I'll pretend.
5. "Call Me"
Blondie (American Gigolo)
I've never seen "American Gigolo," but I know this song very well. One of Blondie's biggest hits, this song is a power anthem. I'm not very cool, but this song makes me feel badass every time I listen to it. However, it does make me more inclicned to be in the move in which it's featured, as I'd rather go blind than see Jon Voight play a sex worker.