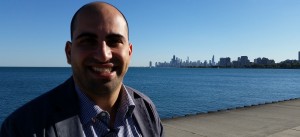 Professor Steven Salaita, the academic who lost his job offer at the University of Illinois due to controversial tweets about Israel, will be on campus today discussing academic censorship as well as the situation in Israel.
This will be the fourth Chicagoland stop for Salaita, who appeared at the University of Chicago, Northwestern and Columbia College earlier this week. In a phone interview with the DePaulia, Salaita discussed a range of issues.
"I'm mainly here to tell my story from my point of view, instead of having those both in support of me and also in support of the university tell it," Salaita said.
In August, tweets from Salaita's Twitter account came to the attention of U of I administration after some viewed them as anti-Semitic. The professor's tenured job offer was then rescinded by Chancellor Phyllis Wise, and later confirmed in an 8-1 vote by the university board of trustees. The action has caused uproar on campus and throughout higher education. Several guest speakers have said that they will boycott the university and many university departments have given Wise a vote of no confidence.
"It seems to be that a large factor in the board's decision was donor pressure," Salaita said. "The departments and students often have different interests than the board of trustees have."
If Salaita regrets one thing, it's that he believes people misconstrued what he was saying in those tweets.
"With many of the tweets that were so controversial, I would not disavow that criticism given the reports that were coming in," he said.
As for the future, the professor said that he will continue to do speaking engagements throughout the country, he will file a lawsuit against U of I, but he also plans to take it step by step.
When asked about divestment, an issue that was brought to a vote on campus last year and one that still pops up occasionally, Salaita offered his support for the movement, calling the students taking part in the movement "honorable" while questioning the university's adherence to its values.
"If DePaul is as committed to the church belief in social justice as it says it is, it has to remove its support from companies that profit from Israeli human rights violations," he said.
When he speaks, Salaita hopes to keep his situation in the broader perspectives of what he thinks is becoming a big issue in academic censorship and the marginalization of voices on college campuses.
"I'm well aware that my point of views are controversial," Salaita said. "But if we cannot have these conversations on college campuses, then where can we have them?"
Salaita will be speaking at 4 p.m. today in O'Connell Hall, room 360.