DePaul defeats St. Xavier 124-60 in exhibition game
The Blue Demons didn't shy away from what they do best in their first on-court action.
In their lone exhibition game against St. Xavier, DePaul made 21 threes, forced 26 turnovers and drubbed the Cougars 124-60 off of six players scoring in double digits. 
In the first quarter, DePaul came out firing. The team pressed St. Xavier from the very start and they let the three-pointers fly. About every player in the lineup has a green light from beyond the arc. The Blue Demons forced eight turnovers in the first half and hit four threes to go up 24-6.
In the second quarter, St. Xavier started a little bit better than the Blue Demons, until senior forward Chante Stonewall and sophomore guard Sonya Morris scored 16 points in less than three minutes to make it 35-12. The two combined for 33 points in the first half. 
The Blue Demons were consistently able to get open, with most of their three-pointers coming without a St. Xavier defender within three feet.  A combination of a suffocating press and a quick offense that found their spots, DePaul lead 67-24 at the break.
"I thought we were being extremely selfless, trying to find the open woman, making sure we passed it there on time, things like that," Stonewall said. "We just really took our time on offense."
In the third quarter, the Blue Demons kept all their momentum going. Their starters stayed in the game and helped run the score up to 89-33. Then, a couple of rotation players got their chance to shine, making the game 95-44.
The Blue Demons played a disciplined game on defense. They only had seven fouls in the first three quarters while only letting their opponents get to the line three times. This kept the game quick and clean, en route to their large victory.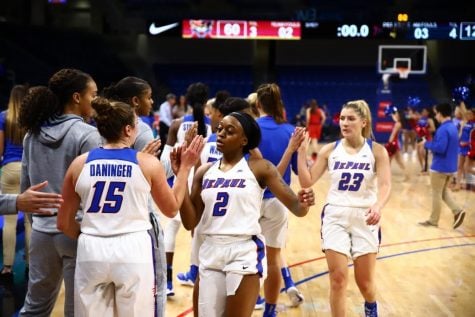 The game had been out of St. Xavier's reach since about two minutes after tip-off but DePaul didn't let off the gas. They went on a 12-2 run during the fourth quarter to lead 112-53. The Blue Demons rode out the rest of the game and finished off their exhibition game.
Junior transfer Deja Church was able to make an immediate impact in her first game as a Blue Demon. She made all four of her three-pointers and scored 20 points while notching seven rebounds. 
"I think it felt good, especially playing in Wintrust I never played here before, so it was different but I liked it," Church said.
Church and Stonewall were the two leading scorers on the night, but a few bench players shined as the rotation went deep. Junior guard Dee Bekelja scored 12 points on six of nine shooting in 22 minutes. Bekelja is slowly finding herself a bigger role on the team. 
"Dee has been a very patient and slowly simmering improved player," Bruno said. 
The Blue Demons open up their season on Friday, Nov. 8 against Miami (Ohio) at Wintrust Arena in the WNIT.