Preview: Women's basketball hosts Drexel in second round of WNIT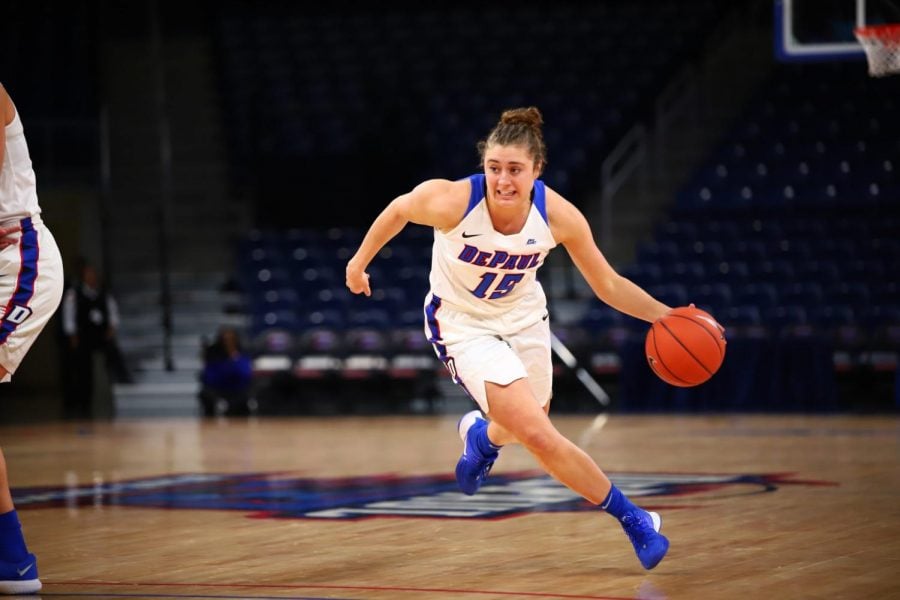 It's impossible to get a grasp of a team's outlook after one game, but when that game is handled as well as DePaul's drubbing of Miami (OH) last Friday, there are plenty of positives to take away. The opener of the preseason WNIT was solid for the women's basketball team, who won 98-79 at Wintrust Arena. The day after the game, the team closely watched Drexler play Davidson to see who their second-round opponent would be. 
Drexler prevailed off the back of 31 points from senior guard Bailey Greenberg and will come over from Philadelphia to square off against the Blue Demons in Lincoln Park. DePaul hasn't participated in the preseason tournament in years prior, but comes into this season's edition as the top-ranked team in the field, ranked 18th and 20th by the two national polls. 
The Blue Demons' own top scorer, senior forward Chante Stonewall, put up 23 points to go with 12 rebounds in their preseason WNIT opener. To open up the third quarter, the senior star scored the first seven points of the half, comfortably putting DePaul in control.
Along with Stonewall, sixth woman Jolene Daninger came off the bench to have a career night, posting 14 points and four rebounds. After the game, head coach Doug Bruno praised her work ethic and patience, as the guard sat out her freshman year with illness and worked her way into heavier minutes as a redshirt freshman. 
Daninger provides shooting off the bench but there is plenty of range from the starters. Sophomore guards Lexi Held and Sonya Morris both can shoot the three, with Morris impressing on Friday with 12 points. 
Junior transfer Deja Church also scored in double figures with 11. 
Stonewall's senior counterpart Kelly Campbell picked up right where she left off, posting a near triple-double line of 8 points, 7 rebounds and 8 assists. 
The Drexler Dragons are coming off a 74-63 win on Saturday, and are sitting at 2-0 with a win against Quinnipiac earlier last week. Greenberg had 31 points in that game as well. Sophomore guard Keishana Washington added 18 points to the WNIT win. 
Three things to look for in Monday's game:
1. How will the Blue Demons stop Greenberg?
The 5'11" guard has scored 62 points in two games and also leads the team in rebounds and 3-point shooting percentage. The hustle and skill from the senior guard was a key part of their 24-9 campaign last season. However, the Blue Demons should be up for the challenge. Against Miami, DePaul shut down their star guard Lauren Dickerson, getting her in foul trouble and holding her to 0 points through three quarters. 
2. Stonewall's dominance
After the game on Friday, coach Doug Bruno spoke highly of the senior who has expanded her role in virtually every year as a Blue Demon. This year, her rebounding has improved and she is looking to fill the scoring void that was left last season with a few seniors leaving. Against Drexler, someone will have to match the scoring of Greenberg and Stonewall's versatile game should help.
3. Rebounding and personnel
The Dragons have six players who are 6 feet or taller. This is in contrast with the Blue Demons, who are used to playing smaller and faster than most teams in the country. Usually, this would spell a problem when it comes to rebounding, but DePaul outrebounded the RedHawks 53-35 in the WNIT opener. There have also been some injuries to some of the frontcourt players on DePaul. Defensive rebounds will be key, as DePaul can run their transition game well off of boards. 
The Blue Demons and Dragons face off on Monday night at 7 p.m. at McGrath-Phillips Arena in Lincoln Park. The winner will face the better of a Boise State vs Missouri State in the semifinals.